An Oxfam cheerer at the London Marathon 2023. Credit: Richard Blaxall/Oxfam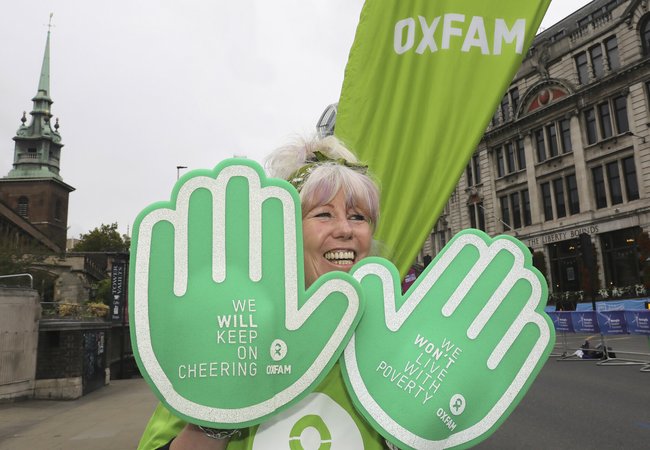 Promoting your event
Whether you are planning a gig, a clothes swap or your next sponsored challenge, the more people who know about your fundraising, the more money you'll raise. Check out our top tips on promoting your fundraising.
Top tips on promoting your event
Word of mouth
Don't underestimate the power of word of mouth – it's the ultimate marketing tool. Tell your friends, family and colleagues about your fundraising and get them to spread the word.
Promote the cause
This is crucial. If people know the inspiration behind your fundraising and the difference their donation makes, they'll be much more likely to support you. See the difference every donation makes.
Get sponsored by a local business
Asking a local business to sponsor you is a great way to advertise your event and keep your costs down. Try and talk to the manager in person or over the phone as opposed to in an email or letter.
Use social media
Social networking sites such as Facebook and Twitter are brilliant tools when it comes to promoting a fundraising event – check out our social media guide for some helpful tips. Use all the contacts in your email address book and encourage online friends to share your event with others.
A picture says a thousand words
Use photos throughout your publicity to personalise your event and attract more attention. Make sure someone is lined up to take snaps on the day of your fundraiser too – this will be a big help when it comes to collecting donations. How to take a great photo at your event.
Use your local media
Read our guide to writing a great press release and take a look at our sample. Contact your local paper explaining what you're up to. You can also contact your local radio stations to push for a plug on air. Check out our radio interview tips and if you're feeling really ambitious, why not approach your local TV news teams to see if they'll cover your story? Just don't let your new-found fame go to your head!
Need some more help?
If you're planning an event in your community and want extra support and advice, please contact our Supporter Relations team at fundraising@oxfam.org.uk.
The legal bit
In keeping with charity law, please include the following statements across all publicity materials:
All proceeds/profits will be donated to Oxfam. Oxfam GB is a member of Oxfam International, registered as a charity in England and Wales (no 202918) and Scotland (SC039042). Oxfam works with others to overcome poverty and suffering.
It's important you make it clear you are raising money in aid of Oxfam. If you're not an Oxfam employee, please note somewhere that you don't represent the organisation in a work capacity.
Tips for sponsorship success
Whatever your fundraising challenge – climbing Kilimanjaro, shaving your head, or cycling from London to Paris – people are always willing to sponsor you to do something inspirational. But how do you turn your challenge into a top-notch fundraiser? Here's some advice on guaranteeing yourself plenty of donations.
Collecting sponsorship
There are a couple of easy ways to collect sponsorship:
Create your personal Oxfam fundraising page. This site does the hard work for you, sending the donations to us and automatically claiming Gift Aid on donations - that's an extra 25% at no extra cost to you or your supporters!
Download a sponsorship form (PDF, 583KB) and ask your donors to fill in their details. Use this after your event to contact them and collect the money they have pledged to donate.
Top tips
Make it personal
People are much more likely to donate if your fundraising page is personalised, so upload photos and tell people what you're doing and why. Inspire donors by talking about Oxfam, our work, and how their donations make all the difference.
Make sure your first donation sets a good standard
This is really important, as people often decide how much to sponsor you based on the last donation made. Ask a family member or one of your more generous friends to get the ball rolling!
Keep it up to date
The more you keep everyone up to date with your training and preparations, the more likely they are to sponsor you. Set up a blog, Twitter, Facebook page or website, and be sure to post regular updates. Once you've completed your challenge, send a letter or email out. Include a picture of the event and let everyone know when you'll be collecting donations.
Tell everyone
Make sure you tell everyone – including your local paper – about your challenge. Ask the paper to advertise your fundraising attempt and link to your fundraising page.
Chase the money
The challenge is over? That doesn't mean you have to stop fundraising. Chase up the people you couldn't speak to before and show them some snaps of your struggle and achievement to guarantee a donation.