Take part in Captain Tom 100 with Oxfam
Take on your own 100 challenge with Oxfam, and help people overcome poverty.
It's one year since Captain Tom walked 100 laps of his garden for charity, and Friday 30 April would have been his birthday.
You, your friends and family can celebrate his achievements and raise vital funds for Oxfam by taking part in the Captain Tom 100 challenge. Between Friday 30 April and Monday 3 May, we want you to take on a fundraising challenge of your choice based around the number 100.
What could you do, your way?
It could be as simple as asking 10 friends to donate £10. Or doing 100 of something and asking friends and family to sponsor you. Do something simple, silly or seriously challenging – it's up to you!
Here are a few ideas:
Ask 10 friends to donate £10
Dedicate 100 hours of your time/skills in exchange for donations
Sell 100 of something you make, and donate the profits
Bake and sell 100 cupcakes
Do walks, runs or cycles over 100 hours and get sponsored for every mile you cover
Combine fancy footwork and a football and complete 100 keepie-uppies in one go
Get the family outside and see if you can spot 100 different animals, birds and insects – with sponsorship for every different creature they spot
Like many charities, the pandemic has had a huge impact on Oxfam's fundraising events and community activities. The Captain Tom 100 challenge is a great way of raising money to help Oxfam end poverty for good.
What a difference £100 can make
£100 could provide clean, safe water for 35 families for a month.
£100 could provide toilets and washing facilities for up to 50 families in the first stage of emergency response
£100 could provide a small business with one of our cash grants to help cover economic damages caused by the pandemic lockdown.
£100 could provide 10 people with emergency food supplies for one month.
We know Captain Tom would love the idea of inviting everyone to get involved and share their Captain Tom 100 so that together we can ensure 'Tomorrow will be a good day'."

Hannah Ingram-Moore, Captain Tom's daughter
Don't forget to share your plans on social media using the hashtags #CaptainTom100 and #Oxfam100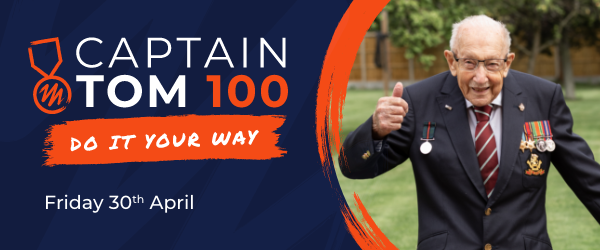 How else can I get involved?
If you are looking for other ways to take part or to challenge yourself even further, you can get involved in lots of different ways.
Volunteer 100
Volunteer 100 hours individually or collectively with friends/colleagues.
Donate 100
Donate 100 items to Oxfam. You can do this easily from home by requesting a donation bag.
Pledge to buy only second-hand items for the next 100 days.
Change 100
Pick up 100 pieces of litter.
Go vegan for 100 hours.
Make sure you follow Government guidelines to stay safe while taking part.
We hope that you will join us and the many people around the UK who will be taking on this challenge, in aid of the UK's charities and to help support life-changing work.
If you have any questions about taking part please get in touch