Oxfam Covid-19 Response in India
"Oxfam India has already started its action on the ground." - Amitabh Behar, CEO, Oxfam India.
Oxfam has sent hospital beds, oxygen cylinders, oxygen masks and equipment for measuring oxygen levels to India's capital city, New Delhi.
In Maharashtra state (state capital, Mumbai) we have distributed Personal Protective Equipment (PPE).
India is going through an absolutely unprecedented humanitarian crisis. People are dying at home, on the streets, at the hospital lobbies - because they're not being able to find medical supplies, a hospital bed, or oxygen. The hospitals, the entire health system is collapsing. It's crying for more supplies, for more oxygen. Oxfam India has already started its action on the ground. In Maharashtra, we have started with the distribution of PPE [Personal Protective Equipment] kits with face masks. And, very soon, we're going to be working with government hospitals in providing basic medical equipment like thermometers, oxygen concentrators, oxygen cylinders and trying to help the public health system."

Amitabh Behar, CEO, Oxfam India
Neha Rani Verma/Oxfam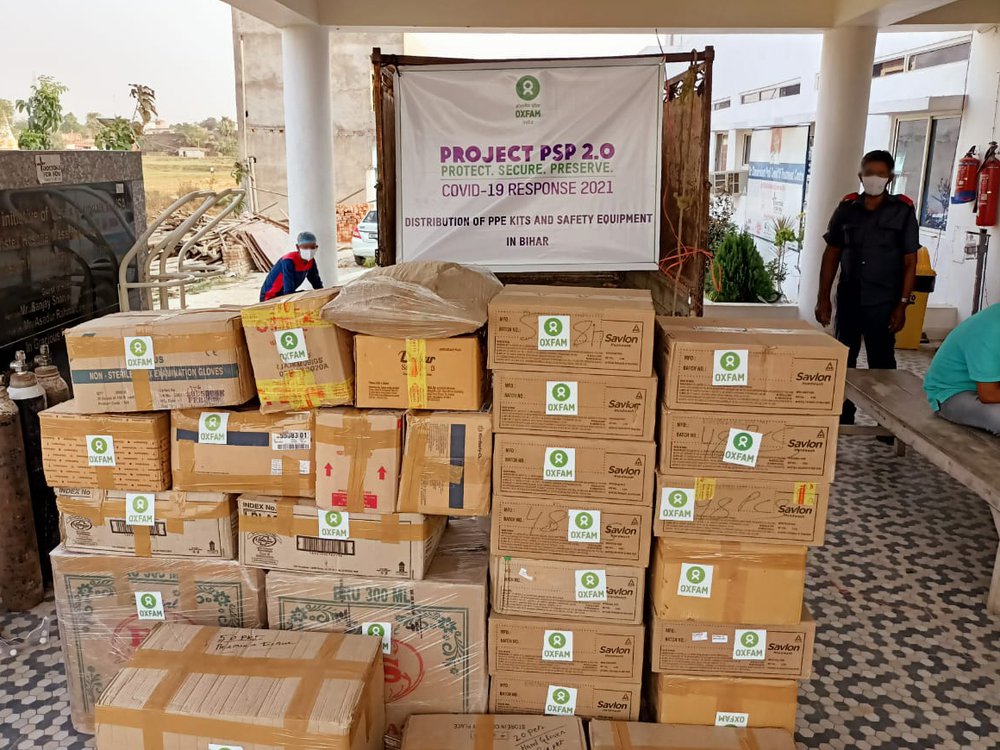 PPE kits, safety, and hygiene kits delivered to a COVID-19 hospital in Patna, Bihar state on 1 May 2021.
How your donations can help
£35 could help families who have lost income to get emergency food.
£60 could make sure frontline health workers stay safe with PPE.
£100 could help provide hospitals with oxygen tanks and other essential equipment.
The reason for the distrubution of PPE kits is that the Corona epidemic situation in Maharashtra is very bad at present and the lives of some of the staff serving the patients are in danger. It is a great pleasure to be able to avoid the dangers posed - by [using] PPE kits"
Nikhil Wagh, Humanitarian Project Coordinator for Oxfam India, in the Maharashtra State, where he is distributing PPE.
Why Oxfam?
Oxfam has been working with the poorest communities in India for 70 years. Right now, the team is coordinating with the Indian government to respond to the deadly second wave of Covid-19. But they desperately need help from Oxfam supporters across the world to meet the urgent need.
When disaster strikes, Oxfam India works with partners to provide those affected and the most in need with shelter, clean water and food, access to clean toilets and livelihood support. Oxfam is responding to the current crisis in India with oxygen supplies, hospital beds, PPE and other essential medical equipment.
How we spend donations
For every £1 you donate to this emergency appeal, we will allocate 9p to cover general support and running costs. There is a small chance that we will raise more money than is needed for this appeal. If this happens, we'll spend any additional funds on other Oxfam projects – wherever the need is greatest.