We used to eat only shiro (chickpea stew), now we have vegetables whenever we want."
Birhan is farming in Ethiopia
I know I can grow crops and earn money
Oxfam and it's partners are helping farmers diversify their sources of income and grow crops that are more resistant to drought. This gives farmers and rural families a new way to manage the risks they face from increasingly erratic weather.
Birhan's story
In 2015 we had no rain, our entire wheat crop was ruined and we had no animal feed either. My husband and I could not feed ourselves and our three boys. We used to eat only shiro (chickpea stew). Now we have vegetables whenever we want.
Petterik Wiggers / Panos for Oxfam America
What is Oxfam doing to help?
Oxfam and the UN World Food Programme are helping farming families learn new ways to manage the risks they face due to unpredictable weather. Through the scheme:
Households can access loans and drought insurance that provides compensation when crops fail.
Farmers can work on environmental projects that strengthen their communities.
Families learn new ways to save.
I got a loan to grow
Before we had no animals, now I have a business. I got a loan to buy sheep, four of them. Now we have 12. I had no garden and no vegetables; now growing them helps our diet and selling them helps cover our expenses.
I'm very happy inside, I'm satisfied.
Before I could not conceive of doing a business like this. I wanted to work, but didn't know what to do. I have a micro-garden with vegetables, tomatoes, cabbage, and onion. I've seen great changes. I have a business. Now after I got this training, I am thinking about all sorts of ideas. I know I can grow crops and earn money and buy new clothes. And I think about production. It's a different mindset.
Petterik Wiggers / Panos for Oxfam America
I'm very happy inside, I'm satisfied."
Birhan with her sheep in Ethiopia.
Petterik Wiggers / Panos for Oxfam America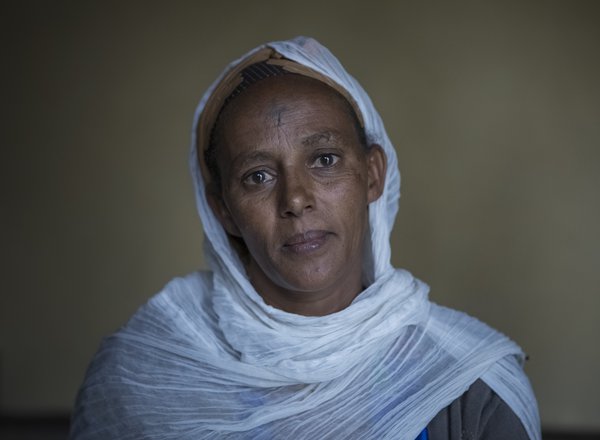 £60 could provide high quality seeds to farming families
Help more women like Birhan
I wasn't poor as an animal herder, but I became poor after the drought. I lost so many livestock. That's why I started farming.

Birhan
Business as unusual: What we've achieved together
"I want [my children] to succeed. This adult education helped me..."

Our 'Honey Supply Chain Project' includes business training as well as basic reading and writing skills for women like Alem, a beekeeper in Ethiopia. Projects like this demonstrate how women smallholder farmers can get good returns for their work, and take on leadership roles in their communities.

"I paid my children's school fees thanks to my pineapples."

Oxfam's Enterprise Development Programme helps promising businesses grow - businesses like the Tuzamurane Cooperative in Rwanda. The EDP provides tailored packages of loans, grants or bank-guarantees combined with expert advice, guidance and training.

More than 21,000 supporters called for an end to the secrecy which enables corporate tax avoidance.

A total of 42,000 people supported our tax campaign to persuade parliament to pass legislation to help end the secrecy which fuels corporate tax avoidance and deprives poor countries of vital funds.
25,000 people
buying drought insurance policies in Tigray and Amhara
87,000 farmers
in Ethiopia and five other countries in Africa involved in the Rural Resiliance Initiative
I,000 birr /month
(£22.50) saved by Birhan to cover school expenses for her children
Discover more stories