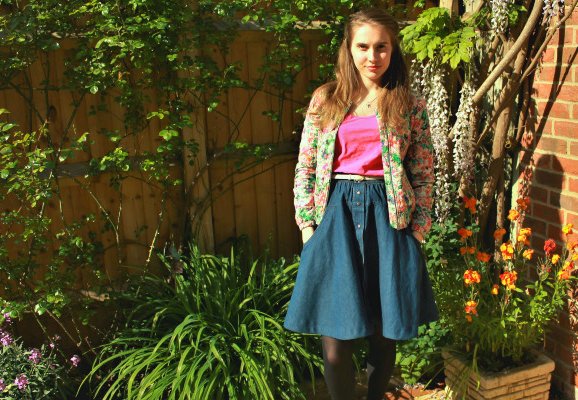 Here's how to make your denim go that little bit further and work for you...
Claire Whittaker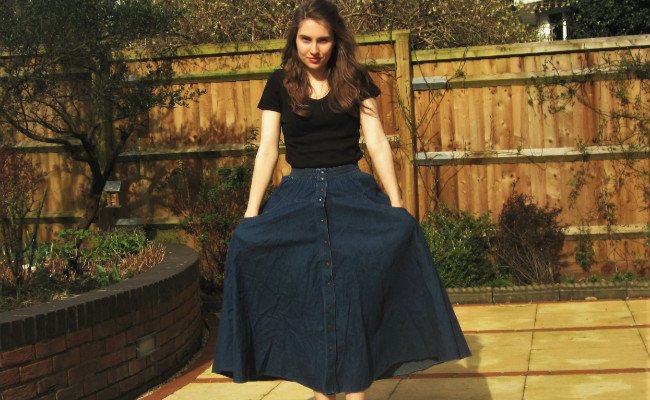 Got a skirt that's not quite the right fit?
When I was doing my usual Oxfam hunt in Broad Street I stumbled on this fab denim skirt for just £6.99, at such a bargain price I felt I just had to buy it. I found the denim fabric was a bit too heavy to be in the maxi-type style it was in so I decided to shorten it to a DIY A-line knee length. If you find a denim gem at your local Oxfam or Oxfam Online Shop, or you have a denim dress in your wardrobe you never wear because of the length you have the option to give it a bit of a revamp to give it that extra bit of love.
Step One: Pin your skirt roughly to the length you think you want it and try it on. It won't hang very well in this first try-on but it will give you an idea of whether it's about the right length before you go in with the scissors.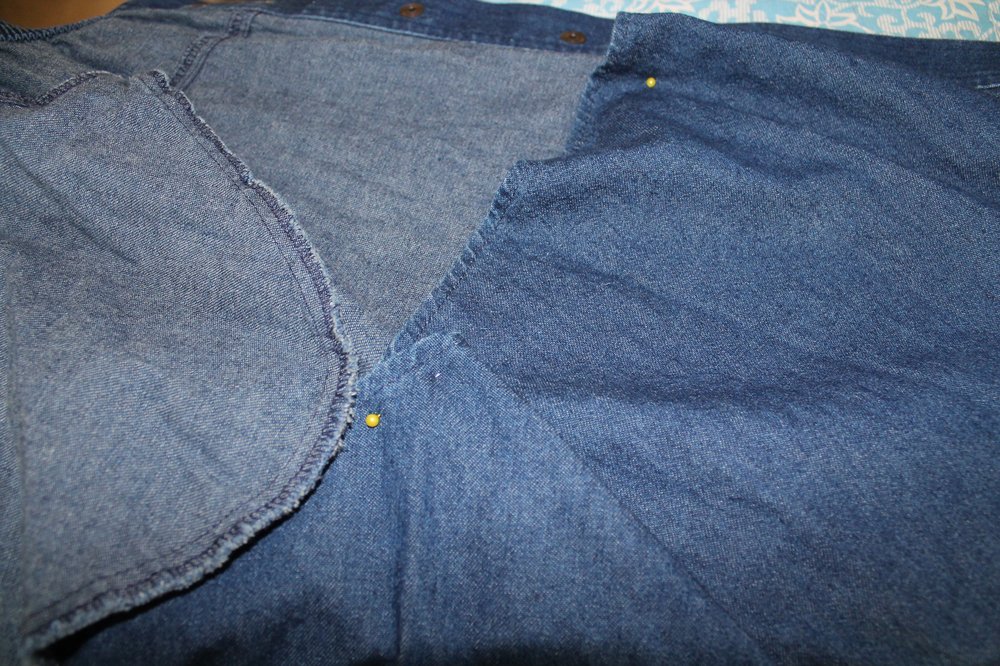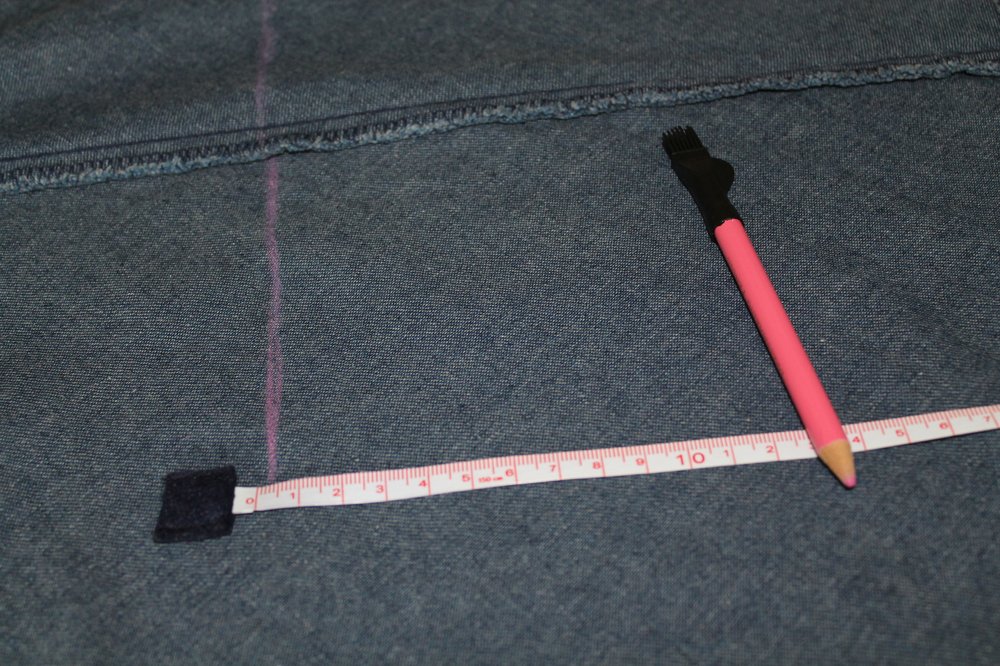 Top Tip: If your skirt has buttons like mine you want to fold the hem directly above the button at the length you want it. Buttons will not normally be right against the base of the skirt so this makes it look less noticeable that you've altered it. It does mean that the button and button-hole will be on the back of the hem when you're finished however.
Step two: Once you've worked out what length you want the skirt draw a line around the skirt with tailors chalk about an inch past where you want the length to be. I left a slightly larger gap as I had account for the fact that I'd need to sew around the press studs on the front. Use a tape measure to get this even.
Cutting denim. Photo: Claire Whitaker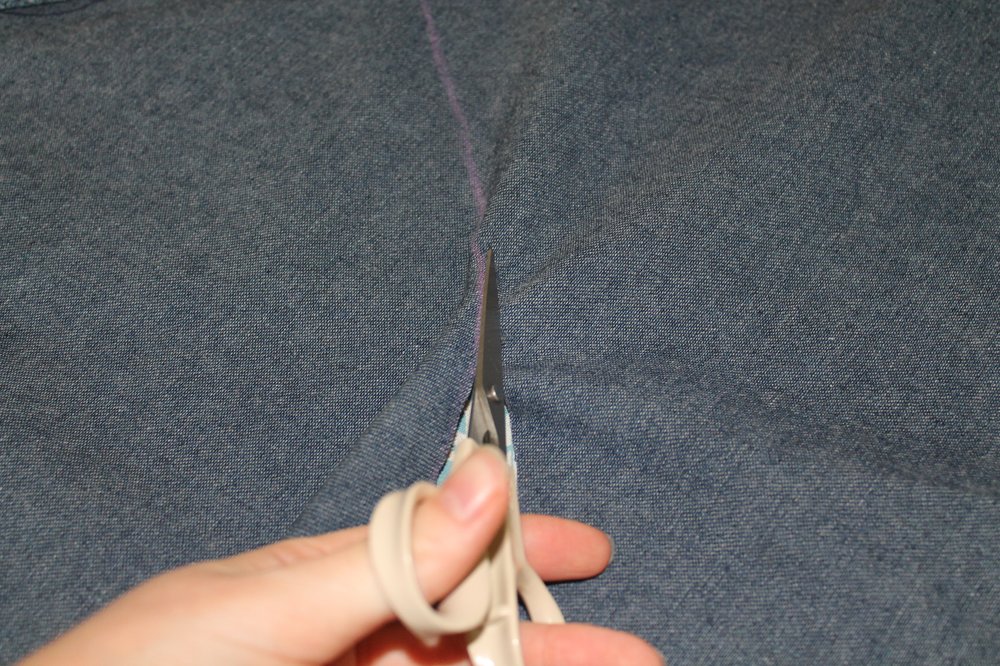 Step three: Cut along the line.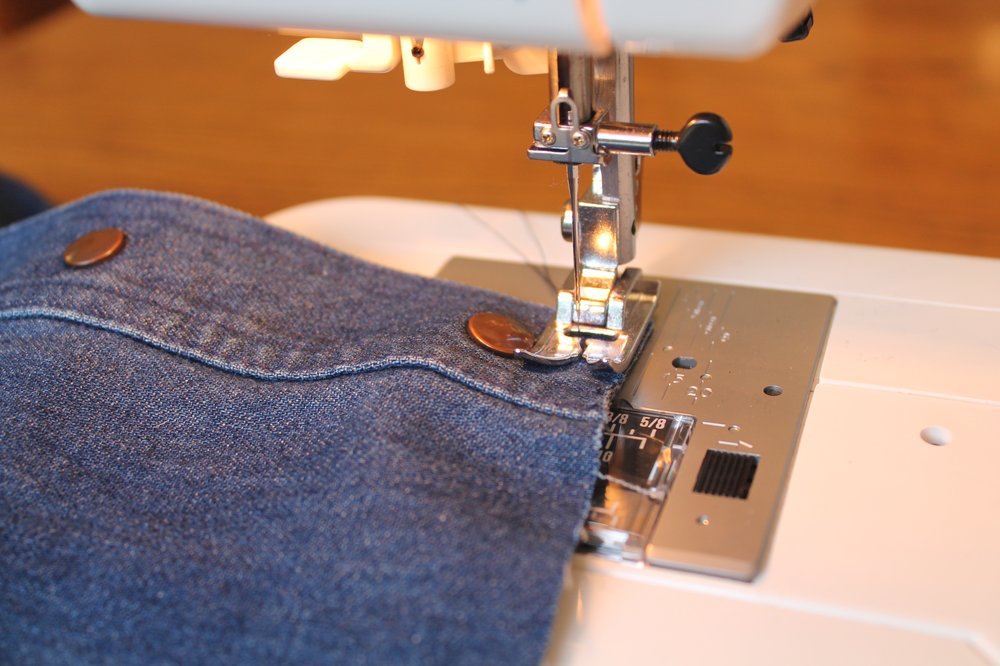 Step Four: Using an overlocking stitch on your sewing machine sew around the base of the skirt. This should help prevent the raw edge from fraying. If you have an Overlocker machine that cuts the fabric as you go even better! I don't use a tucked under hem on denim as the fabric is more bulky and it doesn't always lie well against the skirt.
Top Tip: If (like me) you're a wobbly sewer use the same technique as we did to cut the skirt using a measured line in tailors chalk as a guide to get a nice straight line of stitching.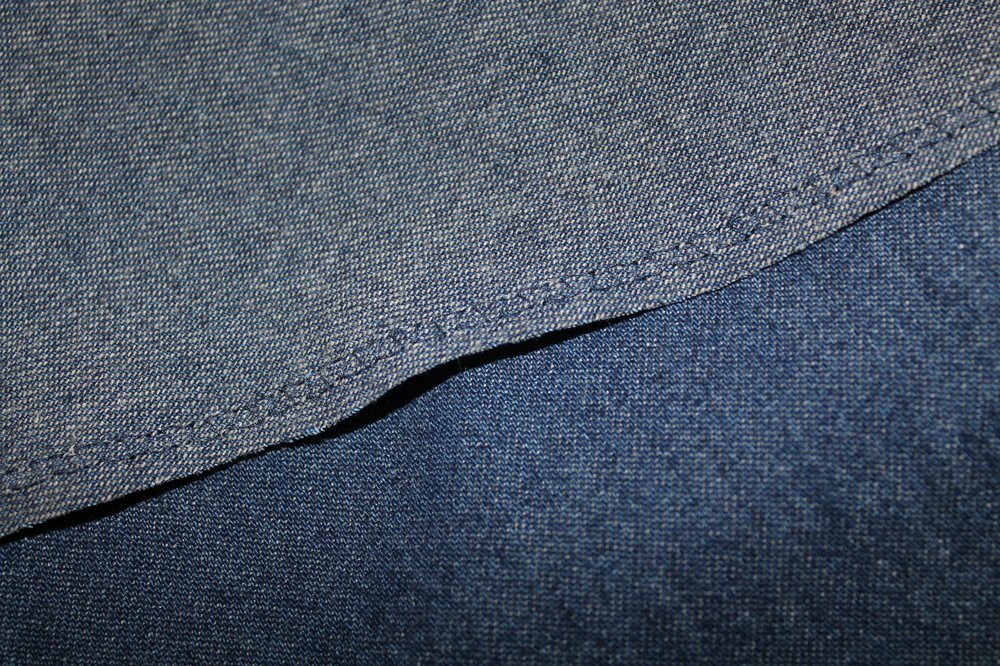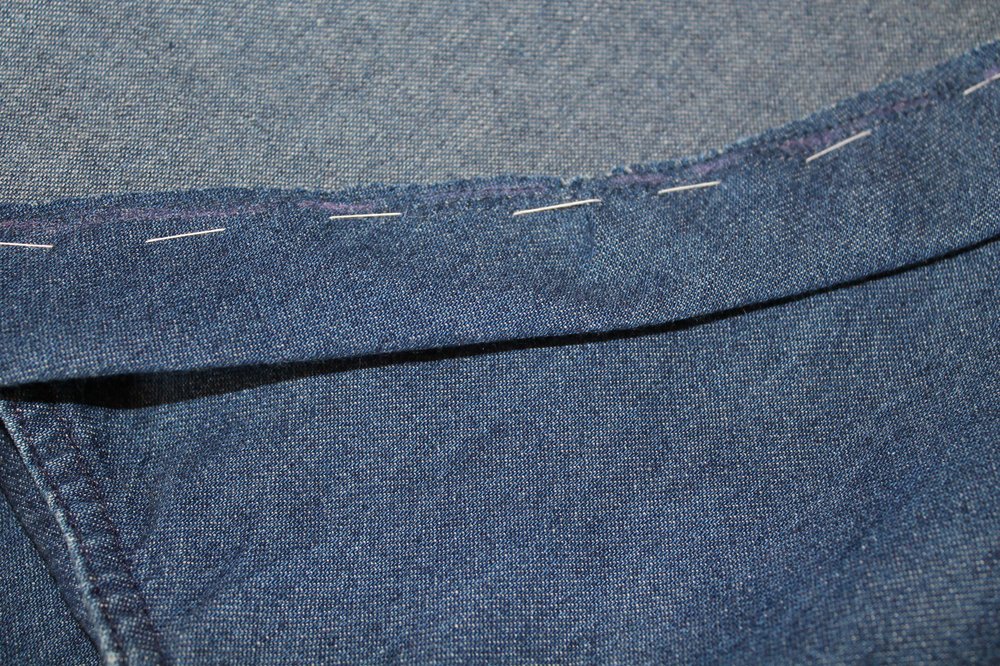 Step Five: If needed trim down the edge closer to the overlocking stitch. Then fold up and pin the bottom inch (or slightly less if you trimmed the fabric) to create the hem using a measure to make sure it's even around.
Step Six: Tack the hem and iron in the crease.
Step Seven: Using a straight stitch sew around just under/ over the top of the overlock stitch. Don't forget my top-tip for sewing straight I put in above! I would also recommend leaving long ends so you can cast on and off by hand after using the machine rather than doing the 'back and forth' method as this gives a neater finish
Step Eight: Tah-Dah! You're done! Just whip out those tacking stitches and tidy up any loose ends and your skirt is ready to be worn and loved once more.