Lasting change starts small
Global hunger is rising, but Magdalene's community and many others are working to end hunger for themselves. Donate now to support vital work like this.
How you can help communities end hunger with the right resources: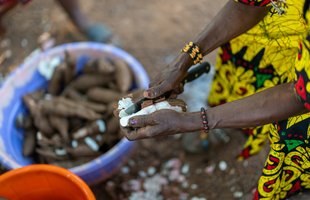 £25

climate-resistant crops

£25 could help Oxfam and our local partners to provide climate-resistant crops like cassava stems, and training that supports communities to start farming and continue ending hunger for themselves.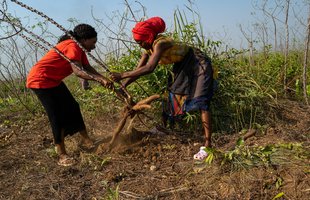 £50

farming tools and essentials

£50 could help provide farming tools and essentials people need to cultivate land and crops and begin to feed whole communities.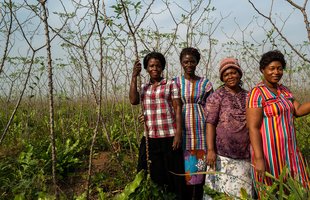 £75

grants for businesses

£75 could support a small grant to enable farming businesses to grow and diversify, enabling communities to have a secure source of food for years to come.
Lasting change starts small, with all of us
Climate change and rising food prices are pushing people into extreme poverty and hunger. But in Magdalene's community, Port Loko in Sierra Leone, and in communities elsewhere, people are making small changes that lead to new sources of food that could last year after year. With support and training from Oxfam's local partners, Magdalene turned cassava into fortified flour to help overcome malnutrition in her community. When we all come together and take small actions, we can make a big difference. We can support more communities as they work towards ending hunger for themselves.
Melvina and Magdalene (right), two members of the FEMINET group on their cassava farm in Port Loko, Sierra Leone. Credit: Nana Kofi Acquah / Oxfam.
Before we embarked on cassava farming, life was hard. I can remember people were not having enough food to eat, their children were going to school hungry. As a woman, when you see your child is happy, you're happy!"
Magdalene in Sierra Leone
Ending hunger in communities can start with a small action
Globally, roughly one in ten people are going hungry. And a combination of crises is making it harder for people to leave poverty. Right now, the cost of living crisis is putting essentials beyond people's reach, and many living in poverty are paying the price. To make matters worse, extreme weather is disrupting food production and livelihoods of people in countries least responsible for carbon emissions.
While all these factors are causing record levels of inequality, there is hope when we come together for lasting change.
What's the bigger picture?
28m
The climate crisis in East Africa has left pastures dry, livestock dead and crops wilted. These food shortages have been made worse by conflict and the rising cost of living, leaving more than 28 million facing extreme hunger.
57%
57% of people in Sierra Leone live in poverty. Sierra Leone is one of the countries most vulnerable to the effects of the climate crisis, with frequent floods destroying crops and leaving communities without enough food to eat.
90%
The changing climate is causing severe and prolonged drought in 90% of Somalia, killing crops and destroying livelihoods. More than 670,000 people have been displaced because of the lack of food and water.
Lasting change starts with all of us.
Joevetah (in red shirt) and Daniella (red headscarf) harvesting cassava in Port Loko, Sierra Leone. Credit: Nana Kofi Acquah / Oxfam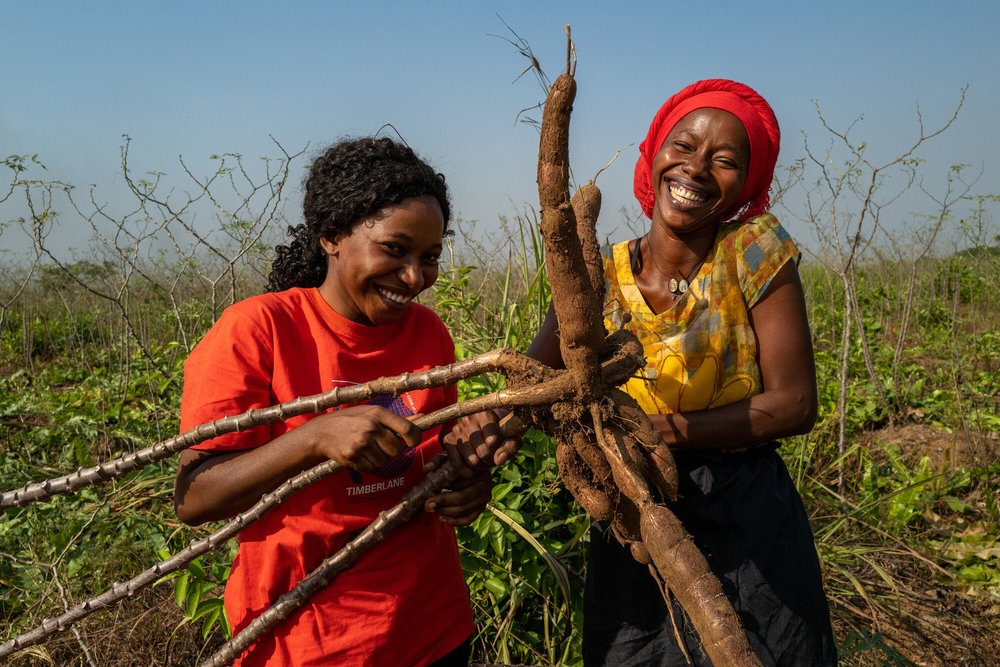 Africa's population is youthful. We have to take it upon ourselves to feed the continent. The rapidly growing population is a huge market for farmers."

Joevetah, 18, Youngest member of FEMINET farming group, Sierra Leone.
Magdalene harvests cassava on the farm she shares with members of the Female Pastors Network (FEMINET) in Port Loko, Sierra Leone. Credit: Nana Kofi Acquah / Oxfam.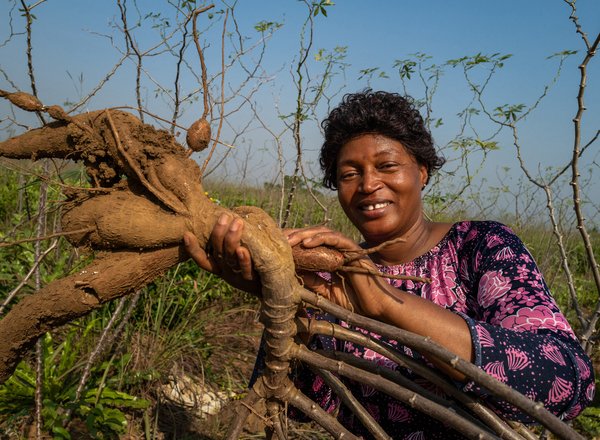 Lasting change starts today, with all of us.
Start your small step today. Donate.