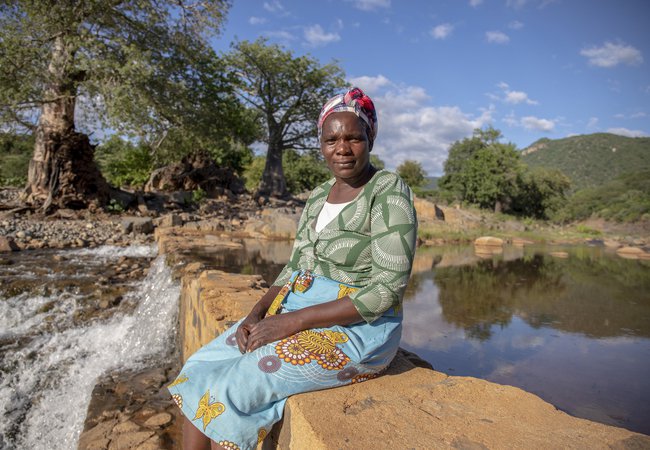 Why we're calling for climate justice
While the climate crisis is affecting us all, it's hitting some communities worse. And it's the people who've done the least to cause it who are impacted the most.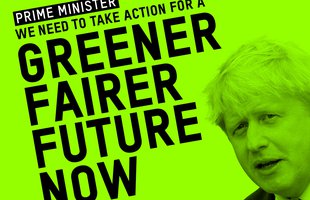 It's an injustice that ability to cope with the climate crisis is based on where you live. On what resources are available to you.
Everyone deserves a fair chance to adapt to climate change. But right now, many rural and indigenous communities around the world rely heavily on natural resources. These resources are hit by the rapidly changing climate – crops aren't growing, and rain isn't falling.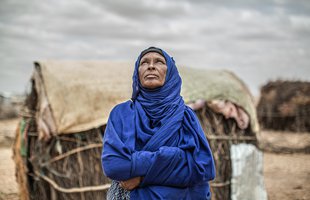 Call for

community support

"I can tell you there is a lack of rainfall and it is a lot hotter climate now," says Amina. We work with people hit by climate disasters, like Amina. So they can protect themselves and stay safe for the future.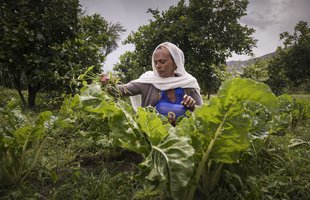 Call for

Climate adaptation

"We used to eat only shiro [chickpea stew], now we have vegetables whenever we want," says Birhan. Drought-resistant seeds. Reinforced homes. Training on how to grow new crops. Innovations like these mean the people like Birhan, most at risk from the effects of climate change, can carry on living, earning and learning, whatever the future brings.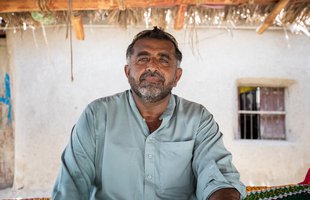 Call for

Holding governments to account

"If the Government improves the water distribution through the canals and the drainage system, our lives would greatly improve," says Muhammed, who did advocacy training with Oxfam.
Irrigation for the future
In Nyanyadzi, Zimbabwe, farmers are challenged by climate change. They face repeated droughts and flash floods threatening harvest and crops.
With the United Nations Development Programme and the Southern Alliance for Indigenous Resources, Oxfam supported people to build gabions, which act as silt traps, and rehabilitate the irrigation scheme with the farmers of Nyanyadzi.

The Nyanyadzi river feeds a gravity-powered irrigation scheme. It is regulated by gates to control the water flow. More than 400 hectares of fields are irrigated, reaching over 720 farmers.
Fighting for climate justice
An early signal on climate change

Oxfam publishes Weather Alert! - a report establishing a connection between unusual weather patterns and the negative impacts of a hidden climate crisis on the world's poorest people.

People and polar bears

Oxfam campaigners from around the world come together at the United Nations Climate Change Conference in Bali. Dressed as polar bears and carrying 'Save the humans' placards, they highlight the impact of climate change on humans as well as the natural world.

Global Climate Hearings

In the run up to climate conference COP15 in Copenhagen, Oxfam convenes 'climate hearings' where people from around the world come together to testify to the impact of climate change on their lives. Thousands of people participate globally, sending a unified, urgent message on climate change to the world.

Challenging food companies

Together with farmers, consumers and investors, Oxfam launches the Behind the Brands/ Behind the Barcodes campaign, calling on the world's biggest food producers to cut emissions. 238,000 people support the campaign and Kellogg's and General Mills commit to significant reductions. Other food production companies follow.

Funding for Climate Adaptation

Oxfam plays a key role in securing a commitment for 50% of the Green Climate Fund to be allocated to much-needed climate adaptation. The UK is the first country in the world to commit 50% of its climate finance to adaptation.

Calling time on coal

Oxfam campaigning helps secure the UK's commitment to phase out coal by 2025 and the historic decision by the European Investment Bank to end all fossil fuel lending.

Take action now!

Tell Prime Minister Boris Johnson to take a global lead on climate finance and reducing carbon emissions as the UK prepares to host climate conference COP26
How you can help