"If I get enough water I really have a good farming season" - Sarah. Image: Cynthia Matonhodze/Oxfam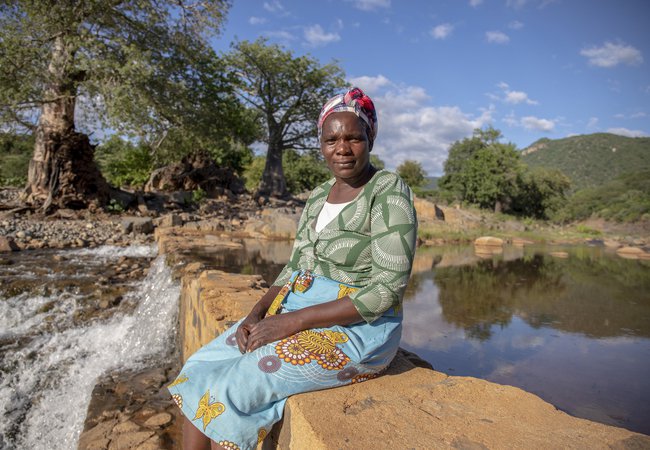 How Oxfam is helping people through climate change
We are

responding fast to communities hit by climate change

Extreme weather is destroying homes and wrecking lives. And it's hitting the people who have done the least to cause the climate crisis. When disaster strikes, Oxfam, partners and volunteers get there fast, combatting the effects of weather events like floods and droughts, to save lives.

We are

helping people adapt to climate change, today and tomorrow

Innovations like drought-resistant seeds, reinforced homes, and training on how to grow new crops mean the people most at risk from the effects of climate change, but who are tasked with tackling climate change, can carry on living, earning and learning, whatever the future brings.

We are

holding the most powerful to account over climate change

Governments and companies have promised to tackle the climate crisis and protect the people it hits hardest. We help make sure the people facing the climate crisis get the support they need to stop climate change from destroying their futures. And help hold the people in power to account.
Oxfam installed a weather station in Zimbabwe funded by ECHO project #ReadyToAct. Weather alerts by text message now help farmers to protect their homes and crops. Image: Cynthia Matonhodze/Oxfam
How your donations have helped support those impacted by climate change
Oxfam GB has directly reached 200,000 people through programmes related to climate justice.
In Pakistan, we are supporting farmers to reclaim fields damaged by salt water. And helping them get fresh water for their fields and for household use.
We are working in nine cities across four Asian countries supporting urban communities to combat climate change.
Cyclone Amphan hit areas of Bangladesh and India in 2020. Local partners were able to prepare by disinfecting cyclone shelters, and continuing efforts to stop the spread of disease.
Super Typhoon Rai hit the Philippines in 2021. Oxfam staff, partners and communities got 72,000 people access to food, water, hygiene kits, shelter, solar lights, and other essentials.
Irrigation for the future
In Nyanyadzi, Zimbabwe, farmers are challenged by climate change. They face repeated droughts and flash floods threatening harvest and crops.
With the United Nations Development Programme and the Southern Alliance for Indigenous Resources, Oxfam supported people to build gabions, which act as silt traps, and rehabilitate the irrigation scheme with the farmers of Nyanyadzi.

The Nyanyadzi river feeds a gravity-powered irrigation scheme. It is regulated by gates to control the water flow. More than 400 hectares of fields are irrigated, reaching over 720 farmers.
A Changing Climate
0.1%
Kenya, Ethiopia, Somalia and South Sudan produce 0.1% of global emissions.
52%
The richest 10 percent of the world's population accounted for over half of the emissions added to the atmosphere between 1990 and 2015.
8x
The money needed to help people affected by extreme weather-related emergencies like floods or drought is eight times higher than 20 years ago.
Over-relying on planting trees and as-yet-unproven technology instead of genuinely shifting away from fossil fuel-dependent economies is a dangerous folly. We are already seeing the devastating consequences of climate delay."

Nafkote Dabi, Climate Change Lead, Oxfam International
Fighting for climate justice
An early signal on climate change

Oxfam publishes Weather Alert! - a report establishing a connection between unusual weather patterns and the negative impacts of a hidden climate crisis on the world's poorest people.

People and polar bears

Oxfam campaigners from around the world come together at the United Nations Climate Change Conference in Bali. Dressed as polar bears and carrying 'Save the humans' placards, they highlight the impact of climate change on humans as well as the natural world.

Global Climate Hearings

In the run up to climate conference COP15 in Copenhagen, Oxfam convenes 'climate hearings' where people from around the world come together to testify to the impact of climate change on their lives. Thousands of people participate globally, sending a unified, urgent message on climate change to the world.

Challenging food companies

Together with farmers, consumers and investors, Oxfam launches the Behind the Brands/ Behind the Barcodes campaign, calling on the world's biggest food producers to cut emissions. 238,000 people support the campaign and Kellogg's and General Mills commit to significant reductions. Other food production companies follow.

Funding for Climate Adaptation

Oxfam plays a key role in securing a commitment for 50% of the Green Climate Fund to be allocated to much-needed climate adaptation. The UK is the first country in the world to commit 50% of its climate finance to adaptation.

Calling time on coal

Oxfam's campaigning helps secure the UK's commitment to phase out coal by 2025 and the historic decision by the European Investment Bank to end all fossil fuel lending.

Thousands march during COP26 in Glasgow
How you can help