Loss. Loss is tough. Continuous loss wears you out.
Wajir has faced devastating loss.
It has been 4 years since the rains last fell in Wajir. Loss has been the outcome. Loss of livestock. Loss of livelihoods. And in some cases, loss of hope.
The drought has ravaged the lives of many people living in this locality. We have lost almost all our livestock that was the backbone of each and every community living here."
I am on assignment in Northern Kenya.
The heat rises from the tarmac when we land. It's a hot day in Wajir. Temperatures here get to 45 degrees!
Our first trip takes us to a village approximately 34 kms from Wajir town by the name Mirgo Harun. Our trip there is characterised by images of dried-up carcasses by the road, dried-up shrubs, dried-up rivers that used to be filled with water, trees that once had life.
I am staring at drought in the face and it was staring back – unmasked and unmoved.
A cow that has died because of the drought. Image: Sommie's Photography/Oxfam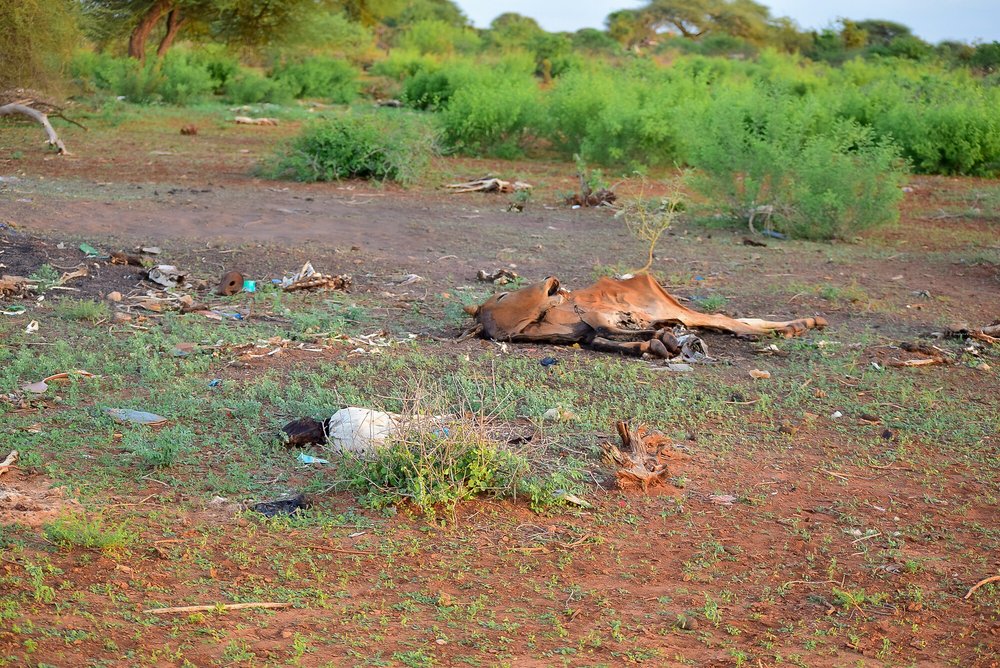 For the last four years, the people of Wajir have undergone one of the most severe droughts ever experienced. Bare barren land all over, it is a grim image.
I meet women who have had to walk long distances just to get water for their families. I hear stories of children not getting enough nutrients who are also plagued with respiratory diseases. I hear stories of breastfeeding mothers and pregnant women who don't have access to nutrients. Families have had to move in search of water and pasture.
The drought is real!
Water is so scarce people have to go for days without a single shower, or even a change of clothes.
We arrive at Mirgo Harun. It is here that we meet 38-year-old Amina. We walk to her homestead where we meet some of her children, among them 1-year-old Mansoor. She picks him up and she leads us to her goat pen. Amina tells us she had 39 goats before the drought and now she is left with only 6. That's 33 goats dead from lack of pasture and water.
Amina and her child with a water container in Wajir, Kenya. Image: Sommie's Photography/Oxfam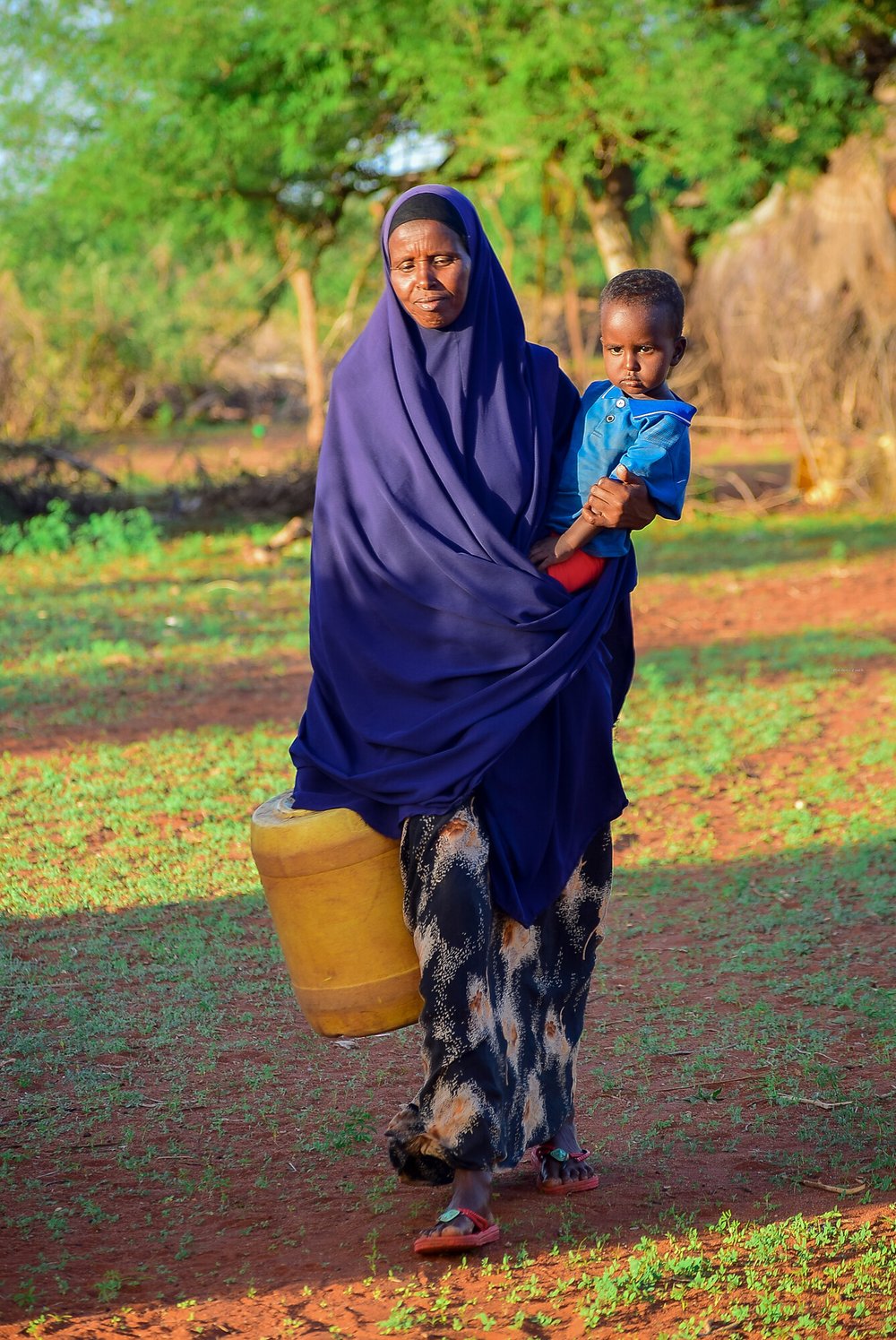 You see, Amina comes from a pastoralist community; and in these communities, farming is the main source of livelihood. That Amina barely has any livestock left, means she's not in a position to provide for her family.
Out of the 6 goats left, 4 are still strong enough to go out to look for pasture. Inside her pen, we see two goats – a mother and her kid. The mother is tied to a post and the kid is lying lifeless on the ground, barely alive, unable to stand or even lift up its neck. It kept on twitching its eyes. It was a devastating sight to see.
I signal Muslima over (Muslima is our gracious interpreter) because I don't understand why we can't give the lifeless goat some water and save it from its agony. It is then that she explains to me that there is a threshold for how long an animal can go without food or water – which is about 5-6 days. After that, nothing can be done. They wouldn't even take the food or water if you offered them. So, what you do is wait their death out. You just sit and watch them die. If they are out grazing, and some of them are too weak to stand or move, then you know their time has come. You leave them behind and move on with the ones that are strong enough to move. And that to me was one of the saddest things that I have ever heard.
To know that these communities are least responsible for this climate crisis yet are the most affected is heartbreaking. To know that they have suffered loss time and time again and will continue to suffer loss is crippling.
The people of Wajir may have been dealt a serious blow, but they have stood their ground and forged ahead with renewed hope and determination.