Emergency in Gaza
Gaza Crisis Appeal
The terrifying escalation of violence in Gaza and Israel has taken a devastating toll on Israeli and Palestinian civilians.
This is an appalling humanitarian catastrophe.
Please donate what you can today
Help provide food, clean water, sanitation and hygiene items, and begin work rehabilitating water and wastewater networks, as soon as it's safe.
Oxfam's Gaza Response
Five tonnes of water and supplies including water tanks, jerry cans and water testing kits, left Oxfam's supply centre for Gaza.
The shipment has arrived in Egypt, but we can't say when it will be allowed to cross the border.
Virtually no aid is now going into Gaza. Whatever Israel might allow to trickle in is insufficient and cannot be safely distributed to civilians being forced to run for their lives.
More on the Israel-Gaza emergency
Last updated: 07 December 2023
Being a mother of five children, I couldn't even sleep. I felt I was guarding their sleep. That if I slept for a bit, something would happen, as if me being awake would prevent anything from happening, but it's just how it felt."

– Fidaa Alaraj, who works for Oxfam in Gaza. She's been sending us audio messages from the region
What's happening in Gaza?
Thousands of Palestinians have been killed. A huge number are children.
Israeli hostages remain captive.
Babies are fighting for their lives in hospitals without electricity
Food, water, fuel and medicine are all running out, leaving people sick, starved and dying.
Relentless airstrikes are hitting civilians and children, shelters and hospitals.
"A three-year-old child cannot sleep because of the sound. I ask him to sleep during the day, and he says: 'The plane will bomb us, so how can I sleep?'" Huwaida in Gaza. Image: Marwan Sawwaf/ Alef MultiMedia/ Oxfam
We rely on a form of social solidarity... we hope that this crisis and nightmare will end soon, and we will return to providing our services in a stronger position than we are now."
- Huwaida, a dedicated professional employed by Oxfam's partner CFTA
What is Oxfam doing in Gaza?
Distribution of hygiene kits in the Gaza Strip as part of the emergency response. Image: Palestinian Environment Friends (PEF)/ Oxfam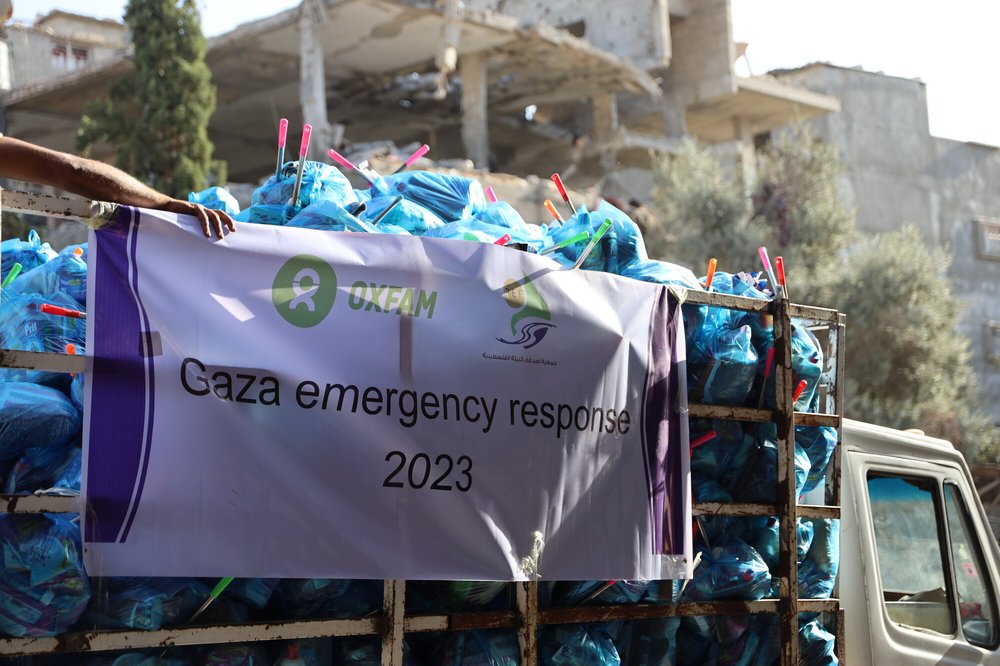 Oxfam has worked in the Occupied Palestinian Territory and Israel since the 1950s to build the resilience and protect rights through programming, including in water, sanitation and hygiene, cash assistance and more.
Oxfam partners — The Palestinian Medical Relief Society (PMRS), Juzoor, CFTA, and Palestinian Environmental Friends (PEF) — are responding in their communities, distributing vouchers and cash for food along with hygiene items such as soap, shampoo, menstrual products and toothpaste to people living in makeshift shelters in Rafah and Khan Younis, south of the Gaza strip.
The continuing bombardment has made a full-scale humanitarian response impossible. There is so much more still needed to support millions of people.
We are calling for a lasting ceasefire and end to the siege
The international community must act to prevent a catastrophe of unimaginable proportions and to address the immediate and long-term consequences of the Gaza water and food crisis.
That's why we have been  calling for an immediate and lasting ceasefire and for Israel to restore water to Gaza.
The decision by the Government of Israel to withhold and restrict essentials like electricity, water, internet, phone connections, and crucially fuel, is a potential violation of their obligations under international law.
The uninterrupted flow of aid and the fuel required to deliver it must be secured, safeguarding the dignity and rights of affected civilians.
We've reached a point where midwives are having to assist in delivering babies over the phone, as there's no security even in childbirth. Our plan is to deliver aid as soon as roads open up... We're in constant contact with those on the ground, awaiting any chance to help."

- Spokesperson from one of Oxfam's partners, Palestine Medical Relief Society.
Do people have enough water in Gaza?
The water is disgusting, most people are having to drink brackish [salty] water from wells. There is no electricity, so we have to fill buckets and carry up to the roof tank. Our whole family are sick with diarrhoea."

– an Oxfam member of staff in Gaza
Do people in Gaza have enough food?
People do not have enough food in Gaza. Starvation is being used as a weapon of war.
Just a tiny percentage of typical food supplies have been delivered to Gaza since the total siege was imposed.
A staggering 2.3 million people urgently need food. Some of the food allowed in, like rice and lentils, is of little use as people have no clean water or fuel to prepare them.
When will a full scale response be possible?
A full scale humanitarian response is only possible when the bombardment completely stops, and it is safe enough. When this is the case, our response will include:
Providing people with clean water, sanitation and hygiene items
Rehabilitation of water and wastewater networks that have been destroyed in the bombing.
Food and other essential household items for people who have lost their homes or their incomes.
Where is humanity? Children are experiencing severe trauma from the constant bombardment, their drinking water is polluted or rationed and soon families may not be able to feed them too."

– Sally Abi Khalil, Oxfam's Regional Middle East Director
Gaza now also faces communication blackouts as the ground and air offensive intensifies. People desperately need food, water and fuel. The ongoing violence and siege mean they can't get it.
What is the population of Gaza?
2.3 million people live in Gaza and are in desperate need of food, water and fuel, now.
How big is the Gaza Strip?
The Gaza Strip is 25 miles long and 6.2 miles wide. It's a strip of land even smaller than the Isle of Wight – with 15 times as many people living on it.
Most people are refugees, or descendants of refugees. Even before the escalation of violence 7 October, the ongoing conflict meant most people were trapped in this small area.
How can you help Gaza?
Oxfam strongly urges all parties to immediately cease all military offensives and maintain restraint to prevent further escalation of violence that will only harm innocent civilians on both sides. The surge in military escalation underscores the persistent failure of leaders to address the prolonged occupation and Gaza blockade."

– Mustafa Tmaizi, Oxfam Acting Country Director in OPT and Israel
Donate so we can respond through our partners already in Gaza
Any donation you make will help us respond as soon as it's safe. Our decision to respond in any crisis is always driven by humanitarian need alone. Even before this escalation, 80% of people living in Gaza relied on aid.
A donation from you can help Oxfam staff and partners respond in Gaza as soon as it's safe to do so. Please donate what you can today.
Gaza risks becoming a breeding ground for cholera and other diseases. The situation for civilians is already intolerable. Our staff are telling us that in some cases, there are up to 70 people crammed into a single room. Humanitarian aid must be allowed into Gaza now."

– Amitabh Behar, Oxfam International Interim Executive Director
Why we are not responding in Israel
The violence perpetrated on Israeli civilians by Hamas was appalling and Oxfam condemns the attacks in the strongest terms.
Our decision to respond in any crisis is always driven by humanitarian need alone.
The Israeli government and local and national organisations currently have the capacity to meet needs in Israel. Oxfam's appeal is therefore focused on providing help to Gaza, though we are monitoring the situation in Israel carefully.
What is Oxfam's position on the conflict?
We condemn all attacks, violence and targeting of Palestinian and Israeli civilians. Attacks that target civilians are never justifiable. All parties must respect international law and cease their attacks. We have witnessed the deadliest day for civilians in the history of modern Israel and the deadliest year in the West Bank since UN records began. The cycle of violence must end.
This conflict isn't new. Even before these attacks, 8 out of 10 people in Gaza were reliant on international aid. For 16 years, Palestinians have lived under Israeli-enforced blockade in Gaza, with most people unable to leave at all.
Civilians on both sides continue to pay the price for the failure of their leaders to resolve a conflict which has led to the longest occupation in modern history. Unless the international community actively works to address these root causes that have been the catalyst for this new round of hostilities, this cycle of denial of rights and violence will only continue.
It's time to speak out and say that every life — Palestinian and Israeli — should be valued and treated with humanity. And that we refuse to be divided in our call for lasting peace and justice. We are calling on our government to hear us and act.
We'll keep updating this page with more information about our response through our partners in Gaza.
The situation is extremely tense and getting darker... Handling my kids really is my priority. Handling how they deal with the fear... Just trying to keep them safe, just manage their screams when they hear the bombings."

– Najla Shawa, Oxfam Country Relations Manager speaking from Gaza in October.
Frequently asked questions
How we spend your money
For every £1 you donate to this emergency appeal, we will allocate 9p of your donation to cover general support and running costs. There is a small chance that we will raise more money than is needed for this appeal. If this happens, we'll spend any additional funds on other Oxfam projects — wherever the need is greatest.