The world cannot stand by as starvation is used as a weapon of war in Gaza
Starved and under siege, Gaza is both a humanitarian catastrophe and a crisis for our humanity, say Bushra Khalidi, Lawrence Robinson and Awssan Kamal.

Before a global food security summit in London, they set out how international law forbids cutting off food to civilians and why only a lasting ceasefire will allow the massive response Gaza needs to end hunger, both now and in the longer term.
A refugee camp established by the United Nations Relief and Works Agency (UNRWA) in Gaza. Image: Ibrahim Alotla/ Alef Multimedia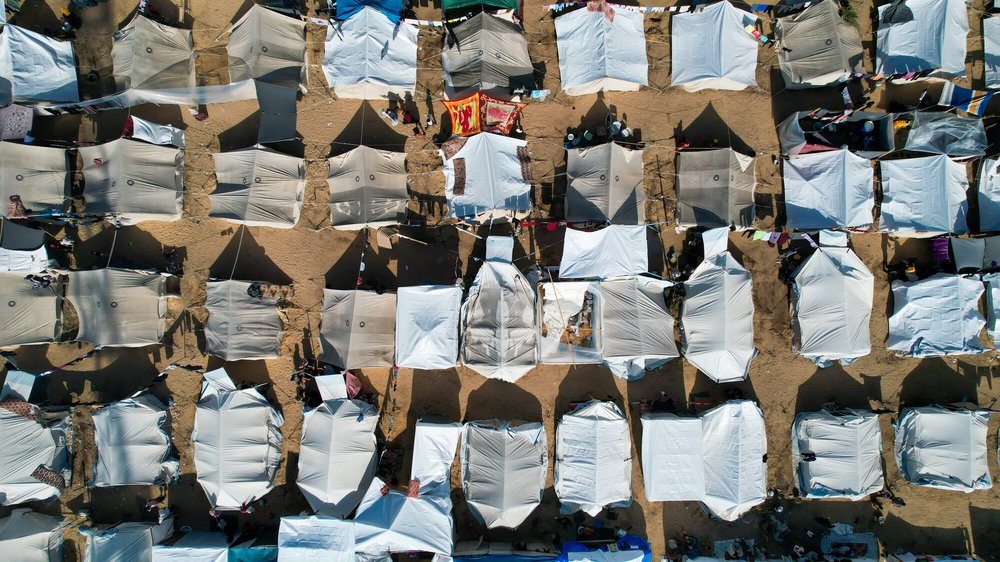 So yesterday we had no bread. It seems there's no hope for bakeries to come back, because they were just bombed more than once, and they completely ran out of fuel when they tried to reopen…"
Cutting off Gaza's food supplies is an affront to fundamental human rights
Even under the pre-existing illegal blockade, access to food and essential goods had been actively cut through infrastructure damage or indirectly through political and trade restrictions. That already difficult situation has been made much worse since the escalation of the conflict 7 October.
According to the latest data, food deliveries have dwindled alarmingly, to a tiny percentage of their previous averages.
This stark reduction highlights an escalating crisis which may lead to malnutrition rates rising sharply among children and the elderly.
With the Gaza Strip now under siege for more than a month, the world faces the prospect of watching men, women and children running out of food, dying from thirst, or suffering life-long consequences from malnutrition.
Such starvation is illegal under international law – and it has to stop
Starvation as a method of warfare not only breaches International Humanitarian Law but also contravenes specific provisions of the Geneva Conventions and the Rome Statute of the International Criminal Court.
These documents categorically define such actions as war crimes, underscoring the gravity of the situation in Gaza. Starvation was unanimously condemned by the UN Security Council in 2018 with resolution 2417. As defined by UN experts, "starvation" is not just an issue of access to food for survival; rather it is understood to encompass the "intentional deprivation not only of food or water, but also of other goods indispensable to the survival of a civilian population".
starvation" is not just an issue of access to food for survival; rather it is understood to encompass the "intentional deprivation not only of food or water, but also of other goods indispensable to the survival of a civilian population."

- As defined by UN experts
Yet such intentional deprivation of civilians is happening right now in Gaza.
As a result, Oxfam has warned that starvation is being used as a weapon of war against civilians in Gaza in an act of collective punishment.
International law is clear, as are Israel's duties and obligations:
As the occupying power, the Israeli government has a duty to protect Gaza's civilian population and ensure that people have access to food, water and other essential supplies. As the Gaza situation deteriorates, the international community must uphold the principles of International Humanitarian Law and call for all parties to the conflict to facilitate unhindered access for humanitarian operations across the Gaza Strip.
As Oxfam and other agencies have repeatedly said the scale of operations needed to feed Gaza and bring other lifesaving aid cannot happen with half measures such as humanitarian "pauses", "corridors" or "safe zones": instead we need a full and permanent ceasefire and we need it now.
The devastating impact of the conflict on food supplies
On 9 October, following the killing of over 1200 Israeli civilians and more than 200 Israelis taken hostage Israeli Defence Minister, Yoav Gallant, declared a "complete siege" of Gaza with "no electricity, no food, no water, no fuel."
Food infrastructure has been directly attacked. Airstrikes have also led to the destruction or damage of bakeries and supermarkets.
People often need to travel further from their homes and risk attacks to be able to obtain food. Gaza's only working wheat mill was reportedly destroyed on 15 November which means locally produced flour will no longer be available.
"Access to food is almost impossible"
Our own colleagues – who had dedicated their lives to supporting the food and economic security of fellow Gazans – tell us of their own struggles to get food in this environment.
Access to basic needs like food water and the fuel is almost impossible, it's very difficult. We're getting water day by day with so many efforts, coordination... waiting, trying, planning just to get the water for the day. As for food, it's noticeably decreasing in the markets as well. It's very hard to get flour or essential food items."
Every day the situation gets worse. Children are experiencing severe trauma from the continuous bombardment, their drinking water is polluted or rationed, and soon families may not be able to feed them. How much more can they endure?
Clean water, a basic human right has also become a luxury commodity in Gaza. With an average of only 1 –3 litres of water available per person for all water use, people resorting to drinking salty water and untreated water, and the cost of bottled water skyrocketing, the situation is critical.
That water shortage also impacts food preparation  as even available staples like rice and lentils require clean water for cooking.
A context of historic food insecurity
25 miles long and 7 miles wide, the coastal enclave is home to 2.3 million inhabitants.
Even prior to this most recent escalation in hostilities, 1.2 million people in the Gaza strip were estimated to be facing acute food insecurity.
Trade restrictions have had a huge impact on food prices in markets with the cost of essential commodities often soaring even before the current crisis, given Gaza's limited access to global markets.
Progress was slow – but even that has now been destroyed
Despite its size, Gaza prior to the conflict had shown agricultural potential.
However, much farming has now been made impossible with the almost constant bombardment and attacks, the lack of fuel and water, and the over 1.6 million people forced to flee to southern Gaza.
This comes on top of existing challenges for local farmers from water scarcity to restricted access to farming land near the borders. The long blockade also limited the imports of farming equipment further restricting the sector's output and development.
Oxfam has worked in the Occupied Palestinian Territory and Israel since the 1950s to build the resilience and protect rights through programming, including in water, sanitation and hygiene, cash assistance and more.
But the gains from decades of investment in humanitarian and development programmes – administered by international organisations, funded by states around the globe, and led by our own colleagues and local partners – have been crushed in a matter of weeks.
When aid restarts, we must not return to the unacceptable recent past
Now Gaza of course needs a lasting ceasefire and immediate aid, but this effort should aim to build up to something better than the unacceptable status quo before the conflict, where Gazans have endured years of a harsh blockade limiting supplies and bringing widespread hardship. Gaza was even before this crisis highly dependent on international aid.
The previous blockade, already illegal under international law, gravely limited the Palestinian people's access to basic necessities like food, water, and healthcare. Any call for immediate aid must also push for an end to the blockade and occupation, acknowledging the dignity and rights of the Palestinian people.
Harnessing technology such as solar power and desalination plants is crucial for sustainable solutions. Collaborative efforts at regional and international levels can help secure long-term food security for everyone in Gaza. Affordability of food, enhancement of domestic production, and ensuring the free flow of aid are essential steps towards this goal. Boosting domestic food production isn't just about food security; it's also about stimulating Gaza's local economy and creating jobs, which are critical for long-term stability.
We need a lasting ceasefire now to bring food and hope back to Gaza
With its lifelines now cut off, the UN has added Palestine to its list of countries and territories of highest concern in its "hunger hotspots" report.
Oxfam has called on the UN Security Council and its members to act immediately, emphasising the need for a lasting ceasefire, humanitarian access and ensuring essential supplies reach the population in Gaza. To address this crisis, we are calling on the international community to push for an immediate and lasting ceasefire and:
For all parties and belligerents in the conflict to adhere to international humanitarian law and international human rights law, including the right to access to food and water.
Allow access for humanitarian aid for all those affected by the conflict.
To address root causes without which the cycle of violence and denial of rights will continue.
These measures could significantly alleviate the suffering in Gaza and set a precedent for lawful international conduct.
The international community needs to act in Gaza as it has a duty to act in all global humanitarian crises
It has a crucial role in facilitating change not just as observers but as an active participants in creating a sustainable and just future for Palestinians.
The world must swiftly act to stop the catastrophe of starvation. A lasting ceasefire is the only way to bring food to all those in desperate need now and it is the only way to build hope for food security in the future.
What you can do now
Bushra Khalidi is Policy Lead, Oxfam Country Office, Occupied Palestinian Territory.
Lawrence Robinson is Protection and Hunger Policy Adviser, Oxfam International.
Awssan Kamal is Co-lead, Rights Resilience Response, Oxfam GB.
This blog is also published on Oxfam's Views and Voices blog.