Ahmed, Oxfam staff member, at a water storage facility in Somalia, provided and constructed by Kaalo and Oxfam, has completely dried up as water harvesting has ended after the lack of rainfall for almost four years. Image: Petterik Wiggers/Oxfam Novib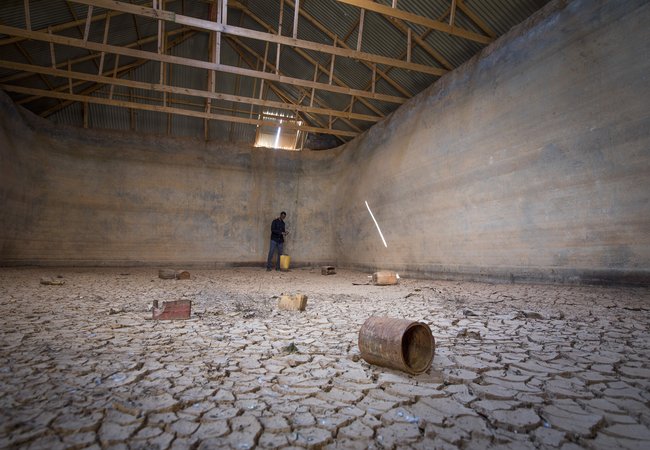 Here are some things you need to know about famine.
What is famine?
Famine means an extreme food crisis, when many people can't access the food and nutrition they need in order to survive.
During a famine, huge numbers of people die. Not necessarily from hunger: they will die from diseases, because their bodies have become weak from poor nutrition. For people forced to go without food for a long time, even mild diseases can kill.
Causes of famine
Lots of different factors can lead to a lack of food...
Climate change means extreme weather events are becoming more frequent and more severe, making it even more difficult for communities to recover after each
Droughts and floods destroy crops and livelihoods.
Livestock, vital for the survival of the communities, die from lack of food and water.
Armed conflict means increased levels of violence, displacement and lack of access to basic services. Breakdown in government and institutions  can make it harder to get food and water.
But whatever the cause, famine is never a natural disaster, it is human-made. Famine can be prevented, if people in power make the right choices. A declaration of famine is a declaration of failure.
When is famine declared?
The United Nations and other organisations, including Oxfam, use five categories to determine levels of food insecurity in a region. These are known as the "Integrated Phase Classification" (IPC). Most of the IPC levels are already very serious – IPC 3 is "crisis" and IPC 4 is "emergency". But famine can only be declared when a country or region reaches the worst level, IPC 5: "catastrophe/famine". At IPC 5:
1 in 5 households experience an extreme lack of food and other basic needs.
More than 30% of children suffer from acute malnutrition.
There are 2 deaths per 10,000 people, or 4 child deaths per 10,000 children, every day.
Why do we need famine declarations?
Often, governments will only start significantly donating to a crisis once a famine has been declared. Yet emergency levels are reached long before governments declare a famine, and they know that their choice to delay will cost thousands of lives. A recent UN study shows that an estimated 43,000 excess deaths might have occurred in 2022 in Somalia resulting from a deepening drought.
It should never take famine and deaths to spur governments and institutions into action. Even one person dying for lack of something as basic as food is indefensible. Yet so often people in the poorest countries are suffering and dying from preventable problems, because the people with the most power, money and influence, fail to take action. With the necessary funding and early action, we can avoid famine and prevent so many deaths.
What is happening in East Africa?
Right now there is a hunger crisis in some countries in East Africa and it's reached catastrophic levels:
More than 300,000 people in Somalia are experiencing famine-like conditions.
27 million people across the region face severe hunger.
Kenya, Somalia, and Ethiopia are witnessing the driest conditions in 40 years.
South Sudan has suffered a fifth year of severe flooding.
The ongoing conflict in Ukraine and Russia is disrupting global supply chains, and causing food prices to soar.
All of this affects people's ability to grow, sell and buy food. It's having devastating impacts on communities. So many people have already died. Crops fail and livestock die, removing vital sources of nutrition and income. The people hit hardest are those least equipped to cope. Half of young children in Somalia are malnourished.
So East Africa is on the brink of famine. But famine is not inevitable – this tragedy can be avoided, if people in power act now.
What is Oxfam doing in East Africa?
Oxfam is supporting local partners across Kenya, Somalia, Ethiopia and South Sudan, to provide cash, water, and essential hygiene kits. We're supporting communities to become more resilient to extreme weather. And working with local partners to provide training and tools for sustainable farming. But the crisis is massively underfunded. If world leaders act now, we can avoid famine and so many more deaths.
What can I do?
We're calling on the UK government to step up action on climate change, and provide funding to prevent famine. A declaration of famine is a declaration of failure – but there is still time to do the right thing. If enough of us speak up now, and put the necessary pressure on the UK govt so that they do not waiting until it is too late to act, we can help secure extra funding to prevent children, women, and men from dying of preventable deaths.