What's happening in Gaza and Israel?
The situation in Gaza and Israel has been fast moving and at times confusing. We condemn all violence, including attacks on Palestinian and Israeli civilians. Here's what's happening...
Last updated: 01 December 2023
Starvation is being used as a weapon of war
Just a small percentage of typical food supplies have been delivered to Gaza
More than 2 million people urgently need food.
Each person has access to limited water each day.
In Gaza, water has become a luxury item
The world cannot leave 2.3 million people struggling to survive without access to clean water, which is a fundamental human right.
Read article
Where is humanity? Children are experiencing severe trauma from the constant bombardment, their drinking water is polluted or rationed and soon families may not be able to feed them too."

– Sally Abi Khalil, Oxfam's Regional Middle East Director
What has happened in Gaza and Israel?
On Saturday 7 October, Hamas, a Palestinian armed group, began a barrage of rocket fire from Gaza into Israel, entered Israel and carried out appalling, brutal attacks on civilians.
The Government of Israel responded by undertaking ongoing airstrikes into Gaza resulting in catastrophic casualties.
Israel also announced it was stopping all supplies of food, fuel and water from entering Gaza. Thousands of people have been killed in Israel and Gaza over more than a month, with thousands more injured.
Over 2 million people in Gaza are trapped under siege.
The ongoing airstrikes have forced hundreds of thousands of people from their homes.
They are sheltering together in over-crowded schools, mosques and with family and friends with no power and limited access to water, food, hygiene, and health services. Meanwhile rockets launched from Gaza have forced people across Israel into bomb shelters.
Residential towers in the Gaza Strip were turned into rubble during an Israeli airstrike, with at least twenty-five residential towers being targeted. Image: Alef Multimedia Company/ Oxfam
Yesterday we saw hundreds of bodies buried in collective cemeteries, unidentified."
How did we get to this?
Even before Israel announced total siege on Gaza, a blockade has been in place for over 16 years. It has devastated Gaza's economy, left most people unable to leave Gaza, restricted them from essential services such as healthcare, and cut Palestinians off from each other. 80% of people in Gaza already relied on international aid to survive.
That Saturday was the deadliest day for Israelis in their history.  And this comes after a year of attacks against both Palestinian and Israeli civilians. Even prior to the escalation of hostilities this week, this year marked the highest recorded fatalities in the West Bank the UN has recorded since 2005.
But tensions have escalated for decades and Palestine has been under military occupation for more than 56 years. It is abundantly clear that military force cannot resolve this conflict.  Violations and violence are not bringing us any closer to the peace that Palestinians and Israelis need and deserve.
Gaza. Image: Yousef Hammash / NRC
We have 12,000 cancer patients in Gaza. 70% of them used to go outside of Gaza to get their medication. Those cancer patients, what will happen to them?"
What will Oxfam do?
Oxfam implores the international community to use its utmost influence to intervene. Israel has an obligation to obey international humanitarian law and distinguish between military and civilian targets. We call on it to immediately recall this order and allow humanitarian aid into Gaza.
We have been working in the Occupied Palestinian Territory and Israel since the 1950s. We work with the most vulnerable communities in Gaza, West Bank and East Jerusalem, where the government of Israel maintains full military and civil control.
Our decision to respond in any crisis is always driven by humanitarian need alone - ensuring that people most in need of help are prioritised and taking into account the ability of states to provide assistance for its people.
The Israeli government and local and national organisations have the capacity to meet the current needs in Israel. Oxfam's humanitarian appeal is therefore focused on providing help to people affected by the crisis in Gaza. While Oxfam is currently not responding in Israel, we do have partners there and we are monitoring the situation carefully. Should the situation change we will reassess.
In Gaza we are preparing to respond as soon as conditions allow. When we can operate, our response will include providing people with clean water, sanitation and hygiene items, rehabilitation of water and wastewater networks that have been destroyed in the bombing, food and other essential household items for people who have lost their homes or their incomes.
Distribution of hygiene kits in the Gaza Strip as part of the emergency response. Image: Palestinian Environment Friends (PEF)/ Oxfam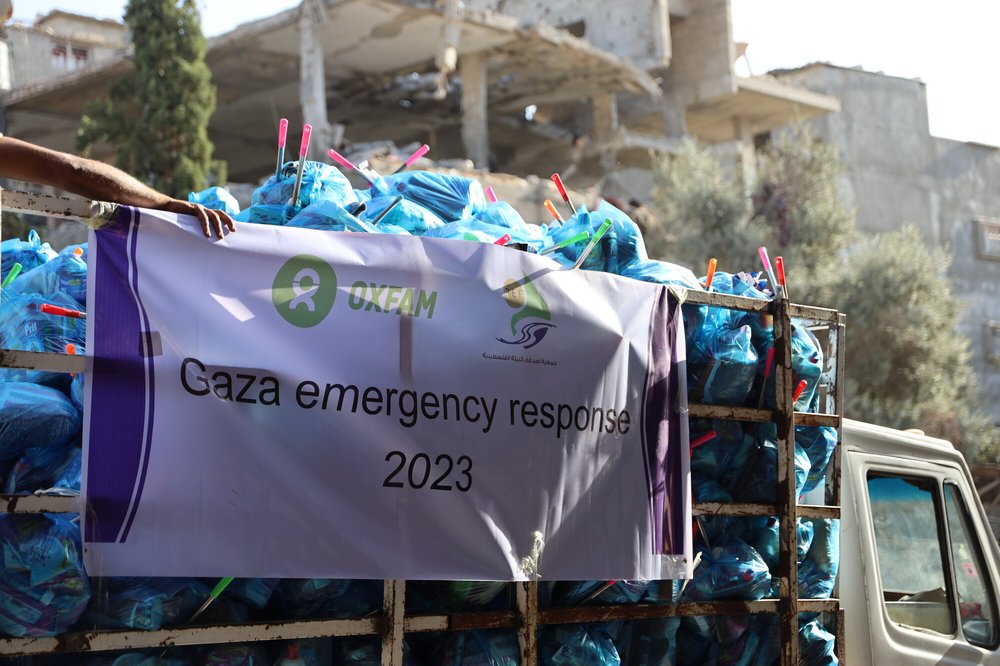 What needs to happen now?
The evacuation order by Israel must be immediately recalled, in line with international humanitarian law
Israel has an obligation under international law to uphold the distinction between military and civilian targets at all times.
An immediate lasting cease to all hostilities
The international community must work effectively with the parties of the conflict to reach a ceasefire that lasts.
It is long past time to break the cycle of war
That means genuinely tackling the root causes of injustice and violence that is being perpetrated under the occupation.
A refugee camp Gaza Strip which was bombed by Israeli airstrikes on Oct 21. Image: Walid Nabahin/ Oxfam
There was bombing while we were out, but the street was still full."
You can speak out for a ceasefire!
Oxfam and other agencies argue strongly that a full ceasefire is the only real solution.
Background image: Marwan Sawaf/ Alef Multimedia/ Oxfam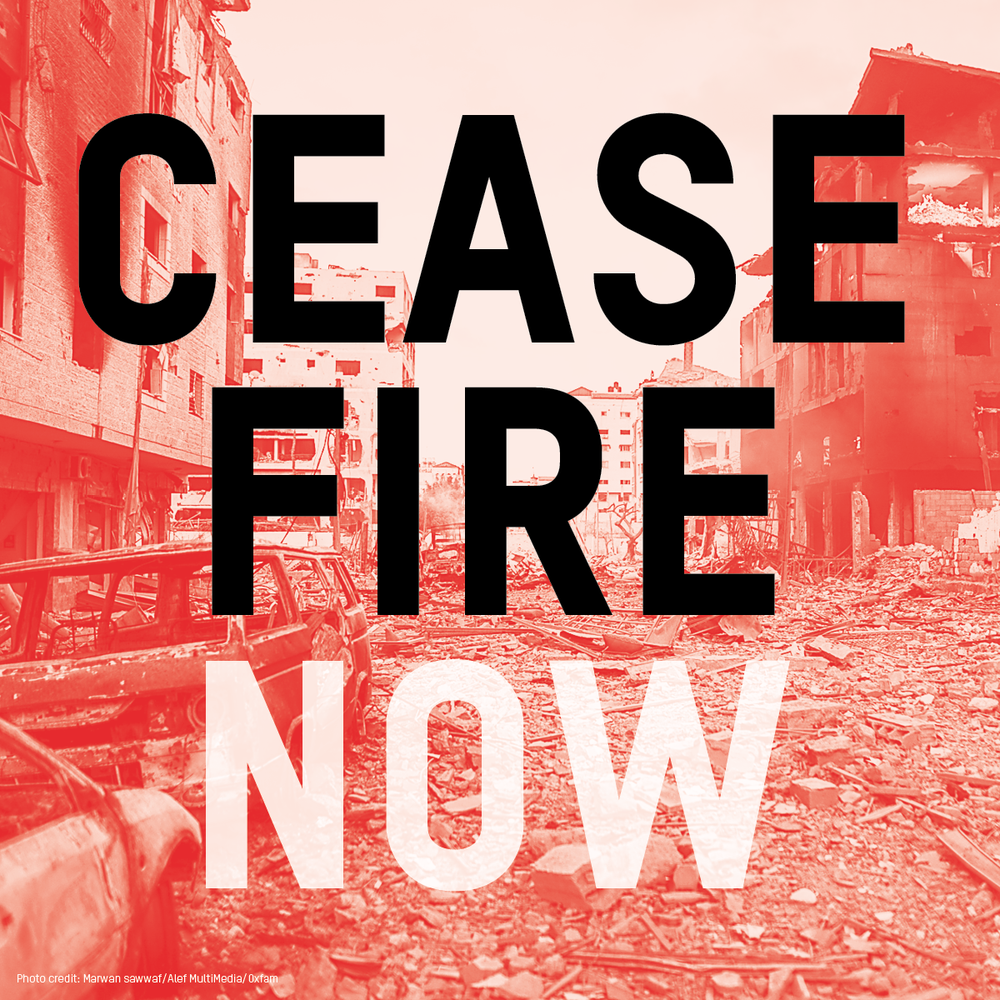 Where can I find out more?
The destruction caused by the Israeli airstrikes in Al Remal neighbourhood in the middle of Gaza City during the fourth day of the escalation. Image: Marwan sawwaf/Alef MultiMedia/Oxfam