G7 economies could lose 8.5% per year by 2050 without more ambitious climate action
- Published:
- Short URL: https://www.oxfam.org.uk/mc/cxphpv/
Human and economic impact on low-income nations will be much worse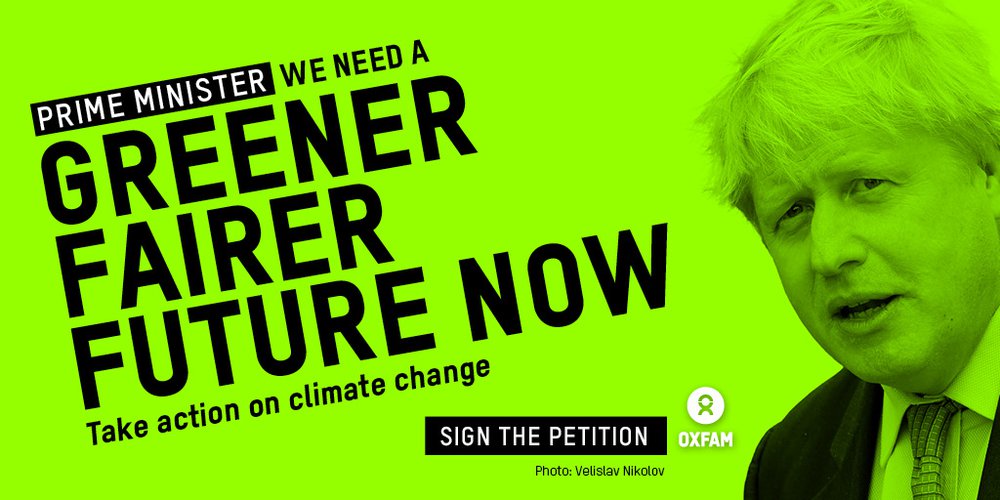 The economies of the G7 nations could see an average loss of 8.5 percent annually by 2050 ― equivalent to $4.8 trillion ― if leaders do not take more ambitious action to tackle climate change, according to Oxfam's analysis of research by the Swiss Re Institute. Oxfam is calling on G7 leaders, who are meeting in the UK later this week, to cut carbon emissions more quickly and steeply.
Oxfam found this loss in GDP is double that of the coronavirus pandemic, which caused the economies of the same seven nations to shrink by an average of 4.2 percent, resulting in staggering job losses and some of the largest economic stimulus packages ever seen. But while economies are expected to bounce back from the short-term effects of the pandemic, the effects of climate change will be seen every year.
The UK economy is projected to lose up to 6.5 percent of its value by mid-century on its current trajectory, compared with only 2.4 percent if it succeeds in pushing other nations to reduce emissions fast enough to meet the goals of the Paris Agreement.
Swiss Re modelled how climate change is likely to affect economies through gradual, chronic climate risks such as heat stress, impacts on health, sea level rise and agricultural productivity. All of the 48 nations in the study are expected to see an economic contraction, with many countries predicted to be hit far worse than the G7. For example, by 2050:
India, which was invited to the G7 summit, is projected to lose 27% from its economy
Australia, South Africa and South Korea, also invited, are projected to lose 12.5, 17.8 and 9.7 % respectively.
The Philippines is projected to lose 35%
Colombia is projected to lose 16.7%
Oxfam warned that for low-income countries, the consequences of climate change could be much greater. A recent study by the World Bank suggested between 32 million and 132 million additional people will be pushed into extreme poverty by 2030 as a result of climate change.
Danny Sriskandarajah, CEO of Oxfam GB, said: "The climate crisis is already devastating lives in poorer countries but the world's most developed economies are not immune. The UK Government has a once-in-a-generation opportunity to lead the world towards a safer, more liveable planet for all of us. It should strain every diplomatic sinew to secure the strongest possible outcome at the G7 and COP26, and lead by example by turning promises into action and reversing self-defeating decisions like the proposed coal-mine in Cumbria and cuts to overseas aid."
All G7 governments have unveiled new climate targets ahead of the UN COP26 climate summit hosted by the UK in November, with most falling short of what is needed to limit global warming below 1.5°C. As some of the world's largest historical emitters ―responsible for a third of all CO2 emissions since 1990― they should be leading by example in this crucial year.
G7 governments are also collectively failing to deliver on a longstanding pledge by developed countries to provide $100 billion per year to help poor countries respond to climate change. Only two G7 countries - the UK and the US - have said they will increase climate finance from current levels. France decided to maintain its current level of climate finance while Canada, Germany, Japan and Italy have yet to state their intentions. Oxfam estimates the G7's current commitments amount to $36 billion in public climate finance by 2025, with only a quarter ($8-10 billion) of that for adaptation.
The UK Government, as host of the G7 summit this week and COP26 climate talks in November, has an opportunity to lead the world towards a safer and more liveable future. But this will only be possible if it can exert pressure on other governments to cut emissions more quickly and steeply to keep global warming below 1.5°C, while living up to its own commitments. It is also vital that all G7 governments dramatically increase climate finance, especially for adaptation, over the next four years.
Ends
To arrange an interview with an Oxfam spokesperson, contact Kai Tabacek on ktabacek1@oxfam.org.uk / 07584 265 077
Notes to editors:
Oxfam is today launching a petition calling on Prime Minister Boris Johnson to lead global action on reducing carbon emissions, and to 'walk the talk' by reversing recent decisions to approve a new coal-mine in Cumbria, new licenses for North Sea oil and gas exploration and cuts to the aid budget.
The Swiss Re Group is one of the world's leading providers of reinsurance, insurance and other forms of insurance-based risk transfer, working to make the world more resilient. It anticipates and manages risk – from natural catastrophes to climate change, from ageing populations to cybercrime. The aim of the Swiss Re Group is to enable society to thrive and progress, creating new opportunities and solutions for its clients. Headquartered in Zurich, Switzerland, where it was founded in 1863, the Swiss Re Group operates through a network of around 80 offices globally.
Projections of GDP loss are from Swiss Re Institute's Economics of Climate Change publication. The authors modelled the economic impacts of climate change on 48 countries in four different temperature paths and used different impact scenarios to account for the large parameter uncertainty and missing climate impact channels usually present in the climate economics literature. The projections used in this press release assume high stress factors and global warming of 2.6°C by mid-century, which is a level of warming that could be reached based on current policies and climate pledges from all countries. All figures relate to real GDP. The GDP projections compare a warmer world with a world unaffected by climate change.
GDP losses in G7 countries as a result of the pandemic are from the UK's Office for National Statistics and refer to real GDP between October 2019 and September 2020.
World Bank projections of the number of people who will be pushed into extreme poverty are here.
Estimates of climate finance were calculated by Oxfam and include pledges of public climate finance, not 'mobilised' private finance.
Cumulate CO2 emissions for all countries was 803.84 billion tonnes in 1990 and 1,650 billion tonnes in 2019, a difference of 849.08 billion. Cumulative CO2 emissions for the G7 nations combined was 461.2 billion tonnes in 1990 and 740.39 billion tonnes in 2019, a difference of 279.17 billion. G7 nations made up 32.88 percent of all emissions since 1990. Source: Our World in Data: https://ourworldindata.org/co2-emissions
Press contact
For comments, interviews, or information please contact the Oxfam GB Media Team: