It's tough living in these tents. The water crisis is still here."
Nur is looking after her family in a camp in Bangladesh.
We know how to wash our hands, how to be safe.
I know about coronavirus. We are not afraid. We know how to wash our hands, how to be safe. We heard from volunteers, they told us.
Life in the refugee camp
There are many challenges we are facing including hot weather. More than 36-37,000 people are currently living in different blocks. 900,000 people fled from Myanmar in 2017 and got settled in different camps. In my family, there are 14 members living inside two different tents. I have been living in this refugee camp for over three years.
There is only one tube well in my block. I walk from one corner to another corner to collect water.
How Oxfam is responding in the largest refugee camp in Bangladesh
In a Bangladesh refugee camp, 855,000 Rohingya people live in extremely overcrowded conditions.
We have scaled up measures like soap distribution and sanitation facilities.
We have stepped up our work on hygiene promotion in the camp.
Coronavirus in the camp
I know about coronavirus. I heard that we have to clean hands often with soap. Then we have to dry our hands. We have to do it to prevent the disease. We also have to maintain distance from each other.
We are not afraid. We know how to wash hands, how to be safe. We heard from volunteers, they told us. We know that we have to clean our hands every 20 minutes. We have to dry our hands and stay clean to stay away from the disease.
If we can eat well, we will stay healthy. If we get soap then we can wash hands, and take shower and we can stay away from disease.
If we get soap then we can wash hands, and take shower and we can stay away from disease."
Volunteers from [organisations including Oxfam] come to us to make us aware of the coronavirus.
This virus transmits from one person to another. The affected person will have a high fever, body pain, coughing, and breathing problems. An affected person needs to stay separate from others in the family. If someone gets sick, we have to take the person to the hospital. If someone has a pain in the throat, body pain or fever. Then we have to take them. If he or she does not go to the hospital, they may die.
Inside the tiny tents, it is hard to socially distance. We wash our hands with soap frequently. I keep my child clean. When coughing or sneezing we use our elbows. We try to maintain at least two feet distance with others outside of the family while talking. We have minimised going out of the household and when my family members and I go out of the shelter we use masks.
Fabeha Monir/Oxfam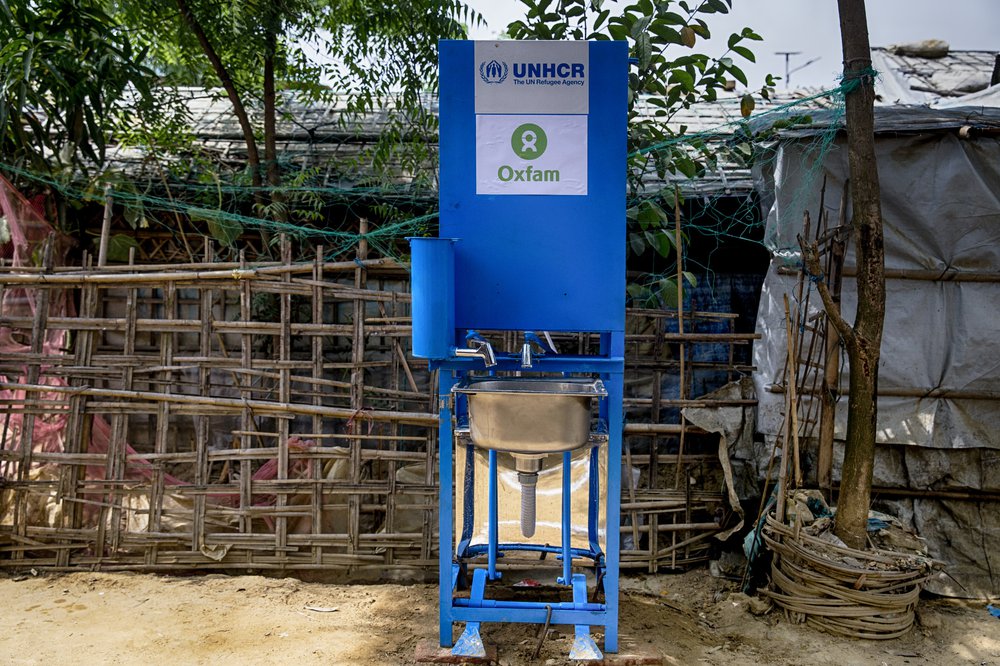 Returning to Myanmar
I dream to get my son educated when he grows up.
I wish we could get our identity as the Rohingya community in Myanmar. And move back there and lead our life with family and relatives. I always pray to Allah to go back to Myanmar to my place some day soon.
Promoting health and education: what we've achieved
In 2010/11, we supported 25 schools across the Gao and Koulikoro regions of Mali.

Working with our long-term local partners, we constructed and renovated school buildings, installed water points and latrines, trained teachers in modern, interactive teaching techniques, and helped set up school clubs, mothers' associations and school committees.

These worms save lives. Oxfam's Tiger Worm Toilets turn waste into fertiliser.

We first started developing our amazing Tiger Worm toilets in 2013. The worms decompose the waste and turn it into clean, safe fertiliser. Which means better sanitation and fewer health problems for poor communities and refugee camps around the world. It's just one of the ingenious ways Oxfam is helping people escape poverty, for good.

"I want [my children] to succeed. This adult education helped me..."

Our 'Honey Supply Chain Project' includes business training as well as basic reading and writing skills for women like Alem, a beekeeper in Ethiopia. Projects like this demonstrate how women smallholder farmers can get good returns for their work, and take on leadership roles in their communities.

Oxfam provided clean running water for the first time at Nurse Tsitsi's clinic in Zimbabwe

Thanks to Oxfam's solar piped water system, the Somerton Clinic in Masvingo District, Zimbabwe now has access to clean, safe running water. Expectant mothers no longer have to bring their own water to the clinic.

Water for 100,000 people in Central African Republic

To help stop the spread of the coronavirus, our teams on the field are installing 20 temporary emergency water points in the Central African capital, which will be gradually replaced by 10 permanent boreholes, so that nearly 100,000 people will have access to clean water.
200,000
People are living on unsafe land, the UN warns.
266,000
Oxfam has reached at least 266,000 people with water points, toilets, showers and other essentials.
300,000
Oxfam aims to reach 300,000 people, keeping them safe with clean, safe water and hygiene facilities.
Discover more
Water

stories