Oxfam Christmas Appeal
As prices of food and energy keep rising, and more people are struggling in more parts of the world, it may feel like we're living in dark days. But there is light to be found in communities who are coming together with Oxfam and local partners to pioneer new projects for a brighter future.
In Dhading, Nepal, Pampha and her neighbours worked with Oxfam and local partner, Forum for Community Upliftment System Nepal (FOCUS Nepal), to put an end to years of extreme water shortages. While further south in the Nunthar district, Sangita's community group were supported by Oxfam partner, the Rural Development Centre Nepal, to make natural leaf plates and create their own job opportunities. And in Pakistan, Samjho's community brought clean water back to the village after the devastating floods.
Across the world, communities are lighting the way to brighter futures with clean water, community businesses and new livelihoods. Donate to Oxfam this Christmas to support them: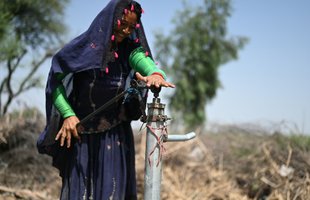 £25

Water solutions for families

£25 could help support more families with hand pumps and local water solutions in their community.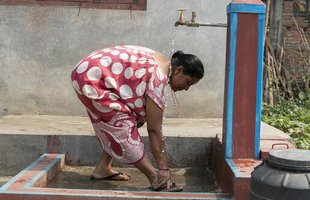 £50

Sustainable water systems for communities

£50 could help a community to develop a sustainable water supply system that will give them time and resources to earn an income.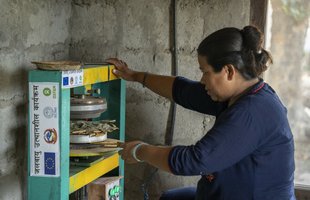 £80

Support community-led businesses flourish

£80 could help provide equipment and training, enabling community groups to start new businesses that can flourish and grow.
Support Oxfam this Christmas and help communities build a brighter future for all.
Pampha and Rama's community shared just one tap for the entire village
In partnership with FOCUS Nepal and Oxfam, Pampha and her local community built a better and more sustainable water system. The system was designed with the community's needs in mind. That included taps being installed for every household, providing water for two hours every morning.
The new water system is completely sustainable, with everyone in the community paying for it to be professionally managed and maintained.
Now, with more support, we can work in partnership to bring sustainable water supplies to more parts of rural Nepal.
Rama, Pampha's neighbour, washes at the tap in her home in Dhading, Nepal. Photo: Kishor Sharma/Oxfam.
I wish everyone would have this facility. No one should face difficulty or suffer for water.""
Sangita's new sustainable business
Global problems including poverty and pollution are interlinked and, as Sangita's story shows, so are the community-inspired solutions.
After seeing tourists visiting her area leaving plastic plates, Sangita hit on an idea to reduce plastic pollution and support women to earn a living: making traditional biodegradable leaf plates.
With support from Oxfam and local partners Rural Development Centre Nepal (RDC), Sangita and a group of local women were able to buy a leaf-pressing machine and receive training to start their business.
Sangita holds up a duna tupari – a traditional leaf plate – that she's crafted to sell in Nunthar, Nepal. Photo: Kishor Sharma/Oxfam.
We came up with the idea of making leaf plates, but we needed to learn about production. We coordinated with the RDC and they bought the [plate pressing] machine for us. They showed us how to operate the machine, how much heat is needed and how to change the dye.""
We are benefitting a lot from the duna tapari sales. It has been generating an income for us, women are also able to work and we no longer have to depend on our husbands. So I am very happy."
Samjho helped turn disaster into opportunity for her community
Even before the devastating floods across Pakistan in 2022, the closest water pump for Samjho's community in the Sindh province was a long walk away, and the water wasn't safe to drink. But after the floods, the damage to water supplies meant more communities urgently needed safe, reliable water.
Samjho collecting water in her village in Sindh province, Pakistan. Photo: Tooba Niazi/Oxfam
I no longer have to worry that my child will fall sick of drinking this water.""
Samjho, Sindh province, Pakistan.
Samjho's community worked with Oxfam and local partner, Strengthening Participatory Organization, to install new hand pumps in their village as part of the area's early recovery programme. Together, they turned disaster into an opportunity for vital long-term improvement for their families.
Samjho (far left) with her community and their new hand pump, Sindh province, Pakistan. Photo: Tooba Niazi/Oxfam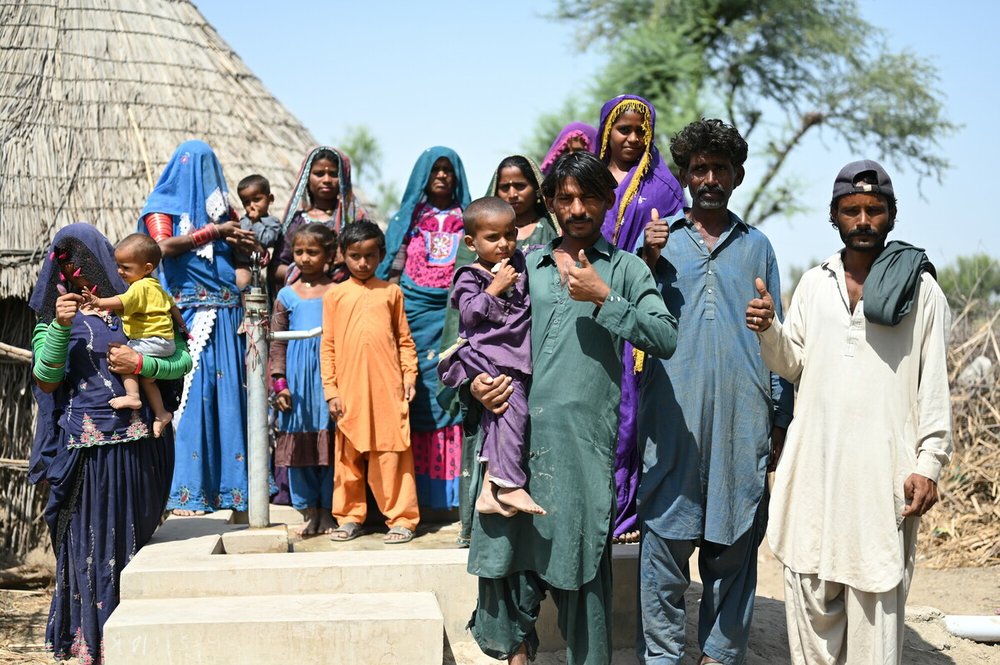 Right now, it's even more important that we all work together – with local partners, communities and agencies – lighting the way with long-term solutions as well as tackling immediate needs like water scarcity. Only by truly collaborating with communities all over the world can we overcome the inequality that keeps people in poverty.
Support Oxfam this Christmas and help communities build a brighter future for all.
Pampha in Nepal. Photo: Kishor Sharma / Oxfam.