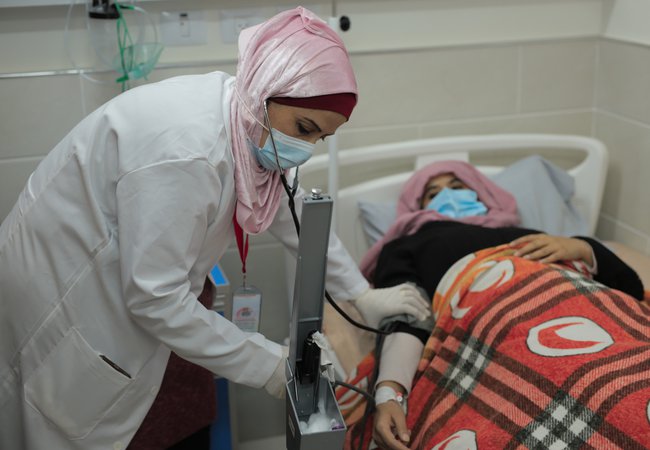 The pandemic only made things worse. My workload increased, which already reflected in my life and on my family."
Making things fair
A fairer, more equal world is possible. The wealth of the ten richest men in the world has increased by £400bn during the pandemic – more than enough to vaccinate every person in the world and prevent anyone falling into poverty.
A people's vaccine, not a profit vaccine
Unequal access to vaccines stops us controlling the spread.
Due to big pharma monopoly over covid-19 vaccines, 9 new people have become billionaires during the pandemic
9 out of 10 people in most developing countries won't get a vaccine this year
At current speed, it will take 57 years for people in low-income countries to be fully vaccinated.
Problem: there simply aren't enough vaccines being made to vaccinate the world.
Solution: big pharma must share the taxpayer-funded science, tech and know-how behind the vaccines. Qualified manufacturers can then produce more vaccines.
More vaccines mean communities around the world can be vaccinated.
We're part of the Peoples Vaccine Alliance. We're calling on governments and big pharmaceuticals to help. To vaccinate the world and control covid-19:
The UK Government must support the temporary removal of patents relating to covid-19 vaccines and technologies. Then vaccine recipes can be shared and more produced.
Pharmaceuticals must share the science, tech and know-how behind the vaccines. They can do this by joining C-TAP (Covid Technology Access Pool). It facilitates the sharing of vaccine recipes).
Pharmaceuticals must commit to non-profit pricing during the pandemic. Then countries can afford to buy vaccines (and not go into debt). Then they can vaccinate their citizens free of charge.
Financial investment is needed. In manufacturing capacity and infrastructure. Then vaccination programmes can go ahead.
Oxfam is part of a coalition of organisations and activists called The People's Vaccine Alliance. Together we are calling for free and accessible vaccines. We demand that pharmaceutical companies share the science, technology and know-how behind the vaccines so that all of us have access to vaccines to protect our health. People should come before profit.
"People out there would be forgiven for thinking that every major vaccine company is working flat out to vaccinate the world, but this is simply not the case. We need every company on earth who can make safe and effective vaccines for COVID-19 to be making them right now. We urgently need to lift the veil of corporate secrecy and instead have open-source vaccines, mass produced by as many vaccine players as possible, including crucially those in developing countries."

Anna Marriott, Oxfam Health Policy Manager.
The coronavirus pandemic has hit an already unequal world. A world where a tiny group of over 2,000 billionaires have more wealth than they could spend in a thousand lifetimes. A world where nearly half of humanity is forced to scrape by on less than $5.50 a day.
It took just nine months for the fortunes of the world's top 1,000 billionaires to return to pre-pandemic highs. It could take people living in poverty over a decade to recover.
Oxfam's Inequality Virus report
Our latest research published in our report, The Inequality Virus found that -
The increase in wealth of the 10 richest billionaires since the Covid crisis began is more than enough to both pay for a Covid-19 vaccine for everyone on the planet and reverse the rise in poverty caused by the pandemic.
Globally, women are overrepresented in the sectors of the economy that are hardest hit by the pandemic. If women were represented at the same rate as men in those sectors, 112 million women would no longer be at high risk of losing their incomes or jobs.
The World Bank has calculated that if countries act now to reduce inequality then poverty could return to pre-crisis levels in just three years, rather than in over a decade.
Creating a just economy
Governments around the world have a small and shrinking window of opportunity to create a just economy after COVID-19. One that is more equal, inclusive, that protects the planet, and ends poverty.
One measure Governments can take is to introduce a wealth tax on the world's wealthiest people. This money could fund a post-Covid recovery plan, one that puts people over profit at its heart.
Tackling inequality
We've been campaigning to tackle economic inequality and other inequalities exacerbated by it, such as gender inequality, for many years. Because we know, through our work in communities, that our broken economic system is holding people back. There's enough wealth and resources in the world to ensure no one lives in poverty.
The gap between the richest and the rest, especially those living in poverty is out of control. While people at the top get influence, opportunities and power, people living in poverty miss out on the basics they need - like a decent education, healthcare, and jobs.
Women and girls, especially those living in poverty, are often hit the hardest.
The world's 22 richest men have more wealth than all the 325 million women in Africa. Women and girls are putting in 12.5 billion hours every day of care work for free, and countless more for low wages. Their work is essential to our communities, underpinning thriving families and a healthy and productive workforce. Yet most of the financial benefits of the work done by women is rewarded to the richest, the majority of whom are men. This unfair economy exploits and marginalises many women and girls while increasing the wealth and power of a rich elite.
It doesn't have to be this way. Extreme inequality and poverty are not inevitable. When governments choose to make tax fairer, invest in public services and ensure fair wages for everyone, the gap can shrink and the number of people in poverty can drop.
We can reform our economy to ensure people, not profit, are at the heart it. People have the right to a decent and dignified life free from poverty. Free from fear of the cost of falling sick or struggling with childcare costs. Every child should have the opportunity to fulfil their potential. Work should be flexible and secure. And women and girls should be paid fairly and given equal opportunities. This could be a massive step towards creating safer, more equal and happier societies which benefits everyone.
We can fight inequality and beat poverty for good if we come together and demand action.
What we are calling for
The richest companies and individuals to pay their fair share of tax
Free public services, like schools and hospitals, for everyone
Decent work, living wages and an end to the gender pay gap
What can I do?