Oxfam teams up with British designer Matilda Goad to promote second-hand homewares
- Published:
- Short URL: https://www.oxfam.org.uk/mc/8vwkks/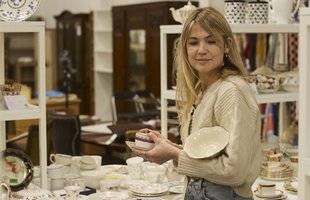 British designer Matilda Goad browses for homewares in the Oxfam superstore
For photos, shot by Billal Taright, and video, click here.
Oxfam has teamed up with British designer Matilda Goad to promote its pre-loved homewares this Spring. As well as stocking clothes, many Oxfam shops sell china, kitchenware, ornaments, linens, pictures and books, while the Oxfam Online Shop also has a large collection. Goad, a keen second-hand shopper, shows how to transform living spaces and buck passing trends with unique, quality finds from Oxfam, taking a more cyclical approach to home furnishing.
She visited the Oxfam superstore in Oxford and browsed the Oxfam Online Shop, sourcing tablewear, vintage Lucite candlesticks, a rattan kidney sofa, and monochrome gingham fabric which she transformed into a cushion cover.
Goad said: "For as long as I can remember, I have always loved the thrill of seeking out unique second-hand pieces. I found so many interesting items at Oxfam that I will cherish for a very long-time to come. Shopping second-hand homewares at Oxfam extends the life of items, which is important, and I like knowing I have contributed to the circular economy and helped to raise money for Oxfam's lifesaving and life-changing work."
All Oxfam homeware has been donated to its shops, which are community hubs contributing to a sustainable circular economy. The money raised by Oxfam homeware helps some of the world's poorest people access the basics in life like clean water, sanitation, food, shelter, and education.
Goad, who has her own product line, believes that you should combine new and old to create your ideal home. She said: "Personally, I think the key to a good interior is the layering of old and new from both a practical and aesthetic point of view. I'll often find and rewire a vintage lamp and add one of my shades on top, or source second-hand fabric to reupholster a piece of furniture."
Taking a considered and thoughtful approach to interiors is key for Goad. She said: "I like to decorate slowly and consciously, adding pieces over time depending on what treasures I come across."
Lorna Fallon, Director of Retail at Oxfam, said: "Shopping second-hand homewares at Oxfam extends the life of items, which is better for the planet reducing waste and the emissions that contribute to the climate emergency. Not only that, but whenever you buy something from Oxfam, you're raising funds to help some of the world's poorest people. So why not pop into your local Oxfam shop, or go to the Oxfam Online Shop and see what you can find? And if you are thinking of having a refresh, donate them to us and we'll find your homewares a second home!"
Oxfam has been reusing and reselling items since the 1940s, when the first Oxfam Shop opened.
Matilda's tips for shopping second-hand
Silverware
Silverware feels a little out of favour right now, and for that reason there's plenty of it to be picked up at a great price, second-hand. I am always drawn to vintage barware, for example clam dishes for olives and cocktail shakers.
Books
There's something quite romantic about second-hand books. I love knowing they've been read and enjoyed and then handed down for someone else to appreciate.
I buy most of my books second-hand, at a fraction of the price, and usually with only minor wear and tear. Don't disregard larger books or coffee table books where the jackets are damaged. Instead, simply remove to reveal a fresh new layer, that's more than fit for purpose.
Lamps
I find when second-hand shopping that often, great lamp bases will be overshadowed by the outdated shades they're styled with! Learn to look past the shades and focus on the bases, as there are gems to be found and a lamp can be given a whole new lease of life with the addition of a fresh shade. I regularly have lamps rewired, replacing old cables for silk flex cable in a jewel tone.
Frames
Frames are one of my favourite things to pick up second-hand. Like with a lamp, look at pictures for their frames and not just for the painting or photograph. I tend to pick up frames that I love when I come across them and store them ready for when I have the right thing to put inside!
Vases
I have a shelf at home filled with vases and vessels I have collected over the years at car boot sales, antiques fairs, and charity shops. There's an abundance on offer and they always come in useful, especially the smaller bud style vases that require one single stem to make a statement. They also make great presents! My only rule is that I never buy something that's chipped (unless easily repaired), as it will likely sit in the cupboard and remain unused.
Notes to Editors
About Matilda Goad
Matilda Goad & Co. was founded in 2017 by British designer and Creative Consultant Matilda Goad, with the launch of an e-commerce shop selling Goad's distinctive scallop-edged rattan lampshade, which has since become an iconic design classic with a global fan base.
Goad's taste is highly influenced by a bucolic childhood spent in West Sussex, in an 18th-century cottage decorated in a gently eccentric fashion by her mother. Her idiosyncratic style evolved when she moved to London at 18 to study art at Camberwell College of Arts, then went into fashion, completing stints as a stylist at Russian Vogue and Wonderland magazines.
Over the years Goad has collaborated with several British brands on sell-out product ranges, including Liberty, Matchesfashion and Papier. The designer has also created eye-catching window displays, installations and presentations for brands such as Farrow & Ball, JAMB, Shrimps and Soane Britain, highlighting her aptitude as a talented multi-disciplinary designer.
About Oxfam
Oxfam is a global movement of people all working towards the same goal – an end to the injustice of poverty. Together we save and rebuild lives in disasters, help people earn a living, and speak out on the big issues, like inequality and climate change, that keep people poor.
Oxfam has more than 500 shops in the UK. By buying and donating your homewares through Oxfam shops, you can help to protect our planet, while helping the poorest people around the world to escape the injustice of poverty.
To visit the Oxfam Online Shop go to: https://onlineshop.oxfam.org.uk/
To find your local Oxfam shop go to: https://www.oxfam.org.uk/shops/
Ends
Press contact
For comments, interviews, or information please contact the Oxfam GB Media Team: