Reaction to UK announcement on surplus vaccines
- Published:
- Short URL: https://www.oxfam.org.uk/mc/yy8jev/
Responding to the announcement from the Prime Minister, that the UK will send the majority of any future surplus vaccines to the COVAX scheme to support developing countries, and speed up the time to develop new vaccines to 100 days, Oxfam's Head of Inequality Policy, Max Lawson, said:
"While the UK government's pledge to donate any future surplus COVID-19 vaccines to COVAX is welcome, it is unlikely that the majority of people in many of the world's poorest countries will get a vaccine this year.  Developing new vaccines in 100 days is a laudable goal, but if those vaccines are priced out of reach of most nations they will still wait years before they can vaccinate their citizens.
"If the UK and other G7 countries want to avoid charges of vaccine hypocrisy, they must act quicker to ensure poorer countries get vaccines and stop defending Pharmaceutical corporations' profits.
"As G7 host the UK government should support the proposal at the World Trade Organisation to temporarily suspend intellectual property rights for all COVID-19 vaccines and encourage other nations to do so.
"During this unprecedented pandemic, vaccine science and know-how must be shared with qualified manufacturers around the world, rather than remaining the exclusive property of a handful of pharmaceutical giants. The UK and other G7 leaders have a huge part to play in getting pharmaceutical giants to do this and ensuring we have a vaccine for the people, rather than a vaccine for profit."
Ends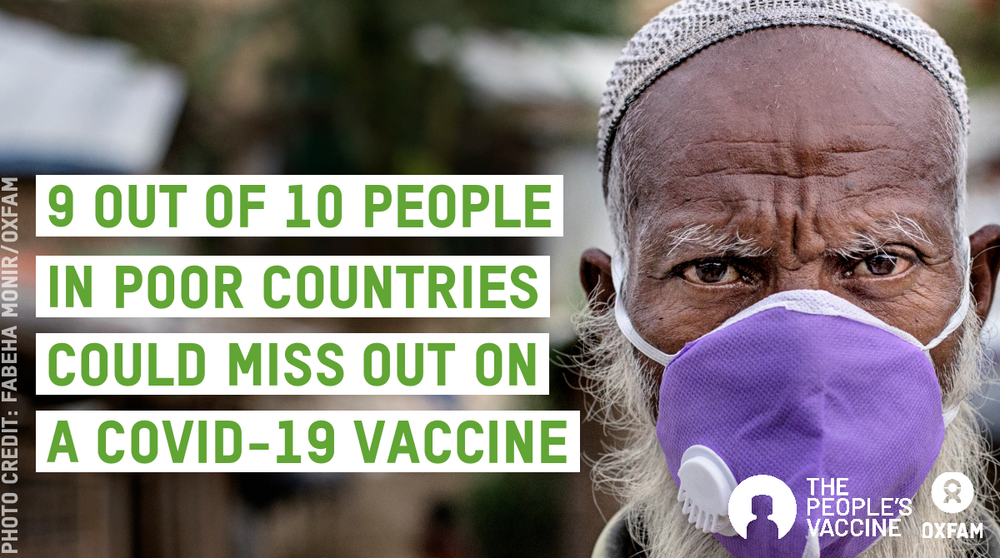 Press contact
For comments, interviews, or information please contact the Oxfam GB Media Team: