Sienna Miller launches Oxfam's #SecondHandSeptember to fight throwaway fashion
- Published:
- Short URL: https://www.oxfam.org.uk/mc/yaaj36/
Sienna Miller for Oxfam's Second Hand September 2021. Image: Tom Craig/Oxfam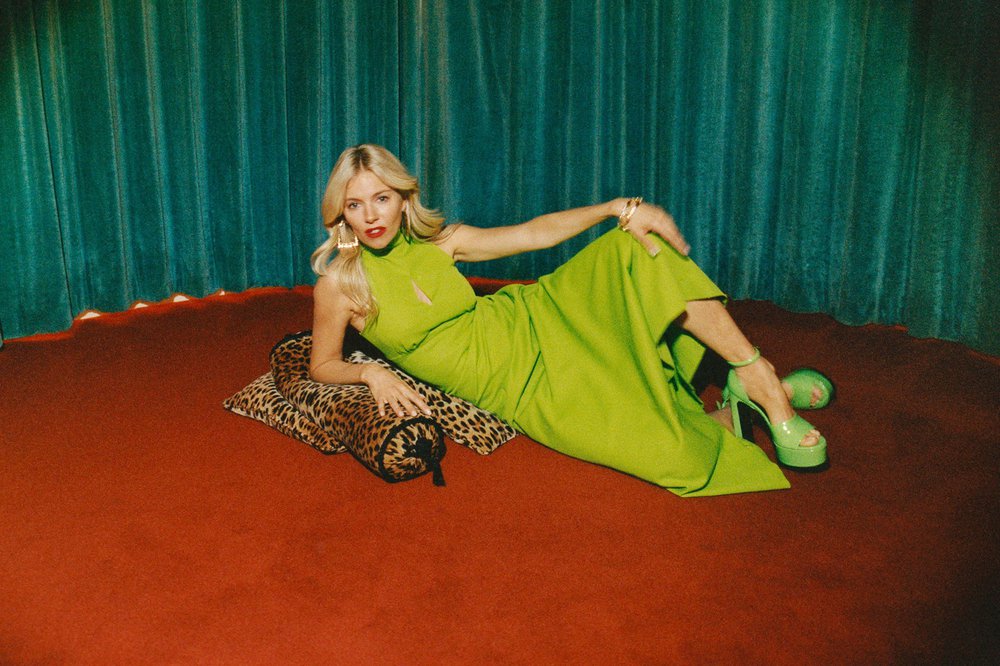 Actress Sienna Miller is fronting this year's #SecondHandSeptember campaign to raise awareness about the harmful effects fast fashion – clothes that are produced in high volume and at relatively low cost to the consumer – have on the planet.
Oxfam's campaign comes ahead of the UN climate summit COP26, which will be held in Glasgow in November, and is a vital opportunity for global leaders to take decisive action to tackle the climate emergency.
Consumers send 13 million items of clothing a week to landfill, and the textile industry accounts for up to 10 percent of the world's greenhouse gas emissions – more than international aviation and shipping combined. To help reduce emissions, Oxfam is asking consumers to only buy second-hand clothes for the month of September and donate their pre-loved items. Shoppers can raise awareness by sharing their one-of-a-kind finds using #SecondHandSeptember and tagging @OxfamGB.
Miller will feature on posters in the windows of more than 500 Oxfam shops nationwide, dressed to impress in Oxfam clothes, which will be available to buy in Oxfam's pop-up shop in Selfridges, London.
Sienna Miller said: "I am delighted to be the face of Oxfam's Second Hand September to help draw attention to how choosing second-hand fashion can be kinder for our planet. These small changes can make a huge difference. And rooting around in a charity shop is like hunting for treasure. Be a magpie! #secondhandseptember"
The Oxfam/Selfridges pop-up shop, which is styled by Oxfam's independent fashion advisor Bay Garnett, celebrates all the vintage treasures that can be unearthed in Oxfam shops, such as heritage tweed or sheepskin coats. Garments which evoke nostalgia for the 1980s, such as punk inspired clothes with zips and studs and velvet dresses, also feature, alongside some of the garments Miller is modelling. Illustrator James Lacey, of Pointless Illustrations, has designed a one-off T-shirt for the event which will be on sale in store.
Bay Garnett said: "I have always loved charity shopping - the creativity involved in putting random clothes together to make an outfit, and the independence of choosing second-hand. But aside from the fun, we all need to think about shopping second-hand with the climate emergency in mind - so that we're using less of the planet's virgin resources, and sending less to landfill. No matter how small our acts and choices seem, we can all make a difference. I love how the Selfridges pop-up shop brings Oxfam prices to Oxford Street, making it a choice that's accessible to everyone's pockets."
People can also support Second Hand September by shopping on the Oxfam Online Shop or by finding their local store using the online shop finder tool.
Oxfam is helping people cope with severe weather events, as well as plan for the consequences of future climate change. As well as responding to disasters such as Cyclone Amphan in India and Bangladesh in 2020, Oxfam is helping communities adapt, by growing more resistant crops, building flood defences and improving early warning systems for when disasters strike. Oxfam is also demanding urgent and decisive action from world leaders, and is looking ahead to COP26 as a vital opportunity take decisive action: to urgently reduce global emissions and significantly increase finance to help communities worldwide to survive and thrive despite the climate crisis.
Danny Sriskandarajah, Chief Executive of Oxfam GB, said: "The climate crisis is already wreaking havoc on people's lives with extreme weather events that are destroying homes and harvests.
"Scientists warn we have just nine years to prevent catastrophic global temperature rises so all of us – governments, companies and individuals - have a role to play in rapidly reducing carbon emissions.
"Choosing second-hand is one way we can leave a lighter footprint on the planet while sending a message to retailers that we want them to slow down fashion. By shopping at Oxfam, you're also raising money to help some of the world's poorest people cope with the impacts of climate change."
The Oxfam x Bay Garnett pop-up shop runs from 6 September until the end of December and the money raised will go to Oxfam's work beating poverty around the world. Approximately £29m is raised each year from selling clothing in Oxfam shops. The profit raised from this is enough to provide clean water for more than two million people during a drought.
Sebastian Manes, Executive Buying and Merchandising Director of Selfridges, said: "We are thrilled to be welcoming back Oxfam and Bay to Selfridges. Last year's Oxfam shop was a great success, and we were excited to be able to extend the project and invite in some really exciting collaborators throughout the 3-month residency."
Ends
Notes to editors:
Oxfam
Get involved in Oxfam's #SecondHandSeptember initiative by buying only second-hand clothes for 30 days or more and donating your pre-loved items. Learn more at www.oxfam.org.uk/second-hand-september
Oxfam has more than 70 years' experience championing second-hand. The first shop was opened in Broad Street, Oxford, in 1948 to raise money from the donations of second-hand items for the Greek famine.
Oxfam is a global movement of people all working towards the same goal – an end to the injustice of poverty. Together we save and rebuild lives in disasters, help people earn a living, and speak out on the big issues, like inequality and climate change, that keep people poor.
Oxfam has 561 shops in the UK. By buying and donating your clothes through Oxfam shops, you can help to protect our planet, while helping the poorest people around the world to escape the injustice of poverty. To find your local Oxfam shop go to www.oxfam.org.uk/shopfinder. Visit Oxfam's Online Shop at onlineshop.oxfam.org.uk
To make a clothing donation via the post, order a free bag here: https://onlineshop.oxfam.org.uk/donate-clothes
Baukjen & Isabella Oliver (House of Baukjen)
To support Second Hand September, sustainably and socially conscious clothing company House of Baukjen will be launching a new Pre-Loved scheme for their womenswear brand Baukjen. Customers can donate items they no longer wear to Baukjen and their sister maternity brand Isabella Oliver (which already has a Pre-Loved initiative) to be re-loved, repurposed or recycled with 50% of the net proceeds donated to Oxfam.
EBay
Second hand powerhouse eBay is supporting Oxfam's Second Hand September for a second year running, championing the joy of buying and selling pre-loved items. This September, they will be matching pound-for-pound when any customer resells for Oxfam on eBay -you can donate up to 100% of the proceeds of any items you sell to Oxfam.
Joules
Joules stores will be promoting our partnership "Don't Let Good Taste Go To Waste" which gives Joules customers the chance to give clothes a second chance and increase their lifespan. Simply pop into a Joules store, ask a member of staff to show you to one of the drop-off points where you can leave all the clothes and footwear you want to donate. These items will then be passed on to Oxfam shops to raise much needed money to fight poverty around the world.
Selfridges
In August 2020, Selfridges launched its sustainability strategy, Project Earth, with a bold commitment to change the way we shop and the way it does business by 2025. Selfridges' Project Earth is built on three themes - driving a transition to more sustainable materials, exploring new business models, and challenging the mindsets of its partners, customers and teams – and is underpinned by science-based targets as it looks to a net-zero future. As part of its models' commitment, in September 2020 Selfridges collaborated with Oxfam and Bay Garnett to create a successful resale pop-up at Selfridges Oxford Street. Now, Selfridges is marking the first anniversary of the Project Earth launch by publishing its progress update, focusing on the highlights and hurdles one year on.
Superdry
To help customers give their pre-loved clothes a new lease of life, whilst having a positive impact on someone else's, Superdry will be launching an in-store 'Give Back' scheme, which encourages customers to support a more sustainable lifestyle. By donating their pre-loved clothes through one of the 'Give Back' boxes, available in selected UK stores, Superdry will be twinning with their local Oxfam shops to not only support the revival of an item for resale, but also the communities they operate in.
Press contact
For comments, interviews, or information please contact the Oxfam GB Media Team: