Miquita Oliver is supporting Oxfam's Second Hand September. Image: Andy Oxley/Oxfam
Second Hand September
Take part in Oxfam's Second Hand September and shop second hand to reduce waste, take a stance against climate change, and help create a fairer world - all while looking super fabulous.
What is Second Hand September?
Second Hand September is a campaign that promotes donating, reusing, rewearing and restyling your clothes during September – and beyond!
Explore slow fashion, sustainable fashion and ethical fashion, shop and donate second hand and help create a fairer world.
Since 2019, Second Hand September has inspired thousands of people to shop in a way that is kinder to people and planet. Read more about Oxfam's sustainability here.
Donate clothes
Fashion doesn't have to add fuel to the climate crisis. Donate your pre-loved clothes, and give them another life. Every item you donate gives clothes a second life, reduces waste, and funds change that the world needs, now.
Why shop second hand?
What you wear has never been more important. The fashion industry is one of the worst offenders for greenhouse gas emissions. Meanwhile, people who have done the least to cause the climate crisis are facing the very real consequences.
Shopping and donating second hand is one step we can take towards building a better, safer, fairer world.
Why Second Hand September?
Climate change is impossible to ignore – and it's pushing people deeper into poverty. So, it's more important than ever to act now, to prevent this global crisis from becoming a global catastrophe.
When a new pair of jeans is made, an estimated 16.2kg of CO2 is emitted – the equivalent of driving over 58 miles in a car.
So, by recirculating our clothes – buying, wearing and donating second hand – we can help to reduce the demand for new clothes. And this could in turn help to reduce the damage to our planet.
By shopping with Oxfam, you're investing in vital work to beat poverty – standing with communities worldwide as they fight the climate crisis and speak out against the global inequalities that push people deeper into poverty.
Oxfam second hand clothes ambassador Miquita Oliver. Image: Andy Oxley/Oxfam
I don't get rid of clothes now. I look for linen and cashmere and fabrics that are going to be in my life for a really long time. It changes the way you dress. You just feel a bit more fly!"
Miquita Oliver, television presenter
Read Miquita's blog post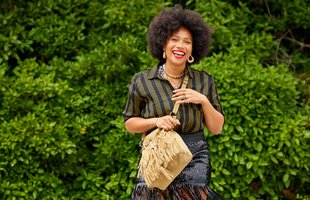 #SecondHandSeptember
"You're going to find some amazing outfits shopping second hand." - Natalie Lee (@stylemesunday)
Share your secondhand finds on social media and join an incredible community of pre-loved devotees! Explore #SecondhandSeptember on Instagram.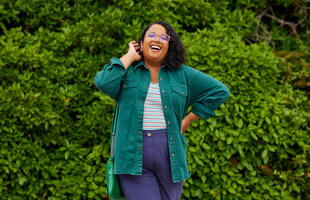 #FoundInOxfam
"I love giving a stylish new life to second hand finds" - Ghenet Randall (@ghenetactually)
Bought something incredible from Oxfam and want to tell the world about it? Explore #FoundInOxfam on Instagram.
Never taken part in Second Hand September?
Who can take part in Second Hand September?
Anyone can take part! Over the past few years, thousands of people have taken up the challenge of not buying anything new for 30 days .
You can find inspiration by searching #SecondHandSeptember on Instagram – it's full of photos of people sharing the second hand gems they've found. You can also find some great tips on the Oxfam blog.
Oxfam's guide to sustainable shopping
Not sure exactly where to start? Don't worry, we got you covered with some tips and product recommendations!
Summer dresses in the Oxfam Superstore in Oxford. Image: Oxfam
Does second hand clothing feel as good as new?