I love second hand clothes, it's my favourite way to shop."
Miquita Oliver, television presenter, in the UK
Second Hand September
We believe in protecting our planet and helping people beat poverty around the world. Find out how you can help with ​Oxfam's Second Hand September – a challenge to only buy second hand clothes for 30 days or more.
Let's make fashion fairer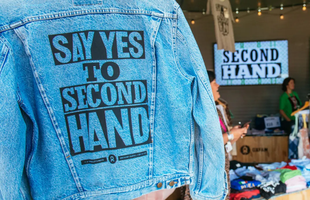 Fashion done well can be world-changing. The fast fashion system isn't any one individual's responsibility to fix – but each of us has the power to make a difference with our choices, and with our voices.
What is Oxfam's Second Hand September?
Become part of our movement – pledge to buy only second hand items for 30 days or more in the month of September. Use the hashtag #SecondHandSeptember on Instagram, TikTok and Twitter when you post your finds, and don't forget to tag @OxfamGB!
Together, in the last 3 years of Second Hand September, we've reached millions of people with hundreds of thousands of posts across social media.
You can use #SecondhandSeptember with any second hand item you buy, but when you shop with Oxfam, not only are you helping to keep clothes out of landfill and refreshing your wardrobe without costing the earth, you're also helping to raise money to help people beat poverty.
Oxfam provides emergency aid to people facing disaster, conflict and climate crisis. We also empower people to build back their lives in the long term, to form more resilient communities.
You can search over 250,000 goods including men's and women's clothes, books and homewares, and filter for price, category, brand, colour and condition – so it's easy to browse the web for current trends and inspiration, and then find something similar on our online shop. All sales go towards funding Oxfam's vital work.
Packages are sent out from our online shop at a flat rate of £3.95 no matter how many items you buy, in recycled and recyclable packaging.
Need some sustainable fashion inspiration?
Shopping second hand has now become a big lifestyle change. From not buying new clothes, to buying homewares, and even plants, second hand!"

Zara, Oxfam Festivals Team, UK
Your donations help Oxfam fight poverty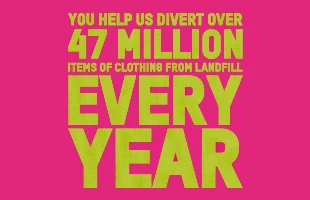 Found: Harris Reed's demi-couture collection
Harris Reed created a spectacular collection of 10 pieces for London Fashion Week 2021. All from second hand items he bought in the Oxfam Kingston Riverside wedding boutique.
He kindly donated one of the looks to Oxfam. The money raised will be used to support people around the world to work their way out of poverty.
Why does Oxfam champion second hand clothing?
Oxfam has used second hand clothing to help raise money to fight poverty since opening the UK's first charity shop in 1948. Today we and our partners handle over 12,000 tonnes of textiles every year. Buying second hand clothing from Oxfam helps to reduce textile waste, and encourages us to think of the life our clothes can have before and after we own them.