Clothes hanging at the Oxfam Superstore in Oxford. Image: Andy Doherty / Oxfam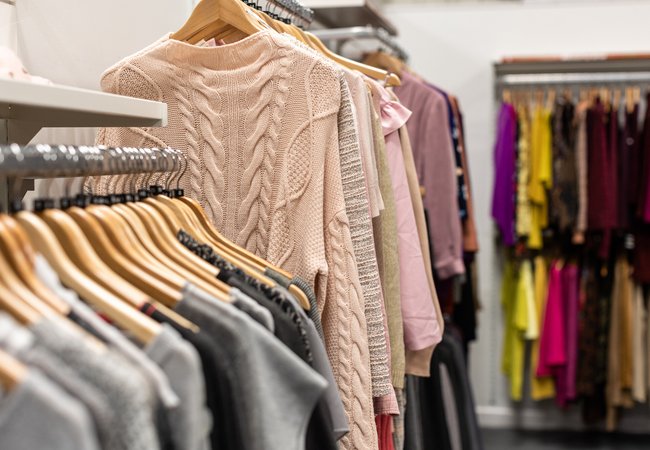 People are changing the way they buy clothes, with a greater emphasis on ethical and sustainable fashion.
What is ethical fashion?
'Ethical fashion' refers to fashion that is fair to people and planet. That is made by, and bought from, producers that factor in issues like fair working practices, equitable pay for garment workers, use of sustainable materials, and environmental responsibility in clothes making and buying.
For some, ethical fashion also means fashion that is vegan.
The difference between sustainable and ethical clothing
Sustainable fashion prioritises how sustainable the whole fashion process is, often highlighting its environmental impact.
This includes the lifecycle of the garment, the production process and the shipping.
Ethical fashion prioritises the wellbeing of the people or animals involved in the fashion process as well as addressing its environmental impact.
The two terms overlap and are often used interchangeably.
Many ethical fashion companies commit to paying their employees a fair living wage and providing safe working conditions. So too do many sustainable fashion companies.
The boundaries between what ethical fashion is and what sustainable fashion is isn't clear-cut: the two concepts are inextricably linked.
It's impossible to separate fashion's social issues from its environmental ones: the climate crisis impacts people's livelihoods, pollution directly impacts the health of the people producing the clothes, and so on.
Is buying from charity shops ethical?
Choices like second hand buying from charity shops or buying less can help us consume responsibly in a way that considers the impact our choices have on the planet and humanity.
For example, if every UK adult were to do all their clothes shopping at second-hand stores this Second Hand September, they could prevent 578.5 million kg of CO2 from entering the atmosphere, which is equivalent to a plane flying around the world 787 times.
Buying second hand keeps clothing items in use for longer, avoids unnecessary recycling, incineration, or landfill, and at the same time generates funds to support charity work.
Money that Oxfam raises through the sale of second hand clothes helps to fund Oxfam's work tackling the injustices that fuel poverty around the world. This includes supporting communities hardest hit by the climate crisis.
These funds enable Oxfam to work with partners and communities around the world to campaign for sustainable economic policies to halt rising temperatures, promote fair trade, and create an economy that encourages people to make conscious choices by opting for second-hand clothes over fast fashion.
Visit your local Oxfam shop and see what they have in stock this week.
The benefits of buying second hand clothes
There are many benefits to buying second hand clothing.
Often second hand fashion can be cheaper for the consumer when compared to buying items new. This means you can find good quality 'ethical' clothing at affordable price points.
But does this mean that buying second hand clothes is better than buying new ethical fashion?
If you can afford to buy ethical fashion new it is always beneficial to support retailers who are making the effort to produce ethical garments. However, the statistics show that Less than 1% of material used to produce clothing is recycled into new clothing. So wearing second hand clothing encourages reusing and recycling, saving our planet from some added harmful emissions and reducing reliance on raw materials.
Ethical clothing brands in the Oxfam Shop
Aside from our local shops which have a variety of second hand clothing, including second hand ethical clothing brand clothes when donated to us, we also have our range of products called Sourced by Oxfam.
The Sourced by Oxfam range brings together the best of ethical, sustainable and brand-new items that our Oxfam team has carefully sourced for you from around the world.
It is here that you can purchase a recycled sari scarf, some Fairtrade cat socks or a Moomin tote bag.
Our products come from accountable suppliers who put people and planet before profit. Whether that's through championing Fairtrade, caring for our planet, or creating fair employment for the people behind the products. You can find more information on our full Sourced by Oxfam range on the Oxfam shop website.
Transform your wardrobe
Upcycling your clothes is another great way to make sure you're not part of the problem. By giving your charity shop finds or your existing wardrobe a makeover you can spruce up your clothes or even give them a new style.
Oxfam's commitment to sustainable and ethical clothing
Oxfam is committed to working towards a more sustainable and ethical fashion industry.
We run the Oxfam Second Hand September campaign every year where we encourage people to buy second hand clothing rather than new. Drawing people's attention to the impact of the fashion industry on the planet and people and highlighting our commitment to climate justice and ending inequality.
Oxfam became the first national charity to develop its own facility for recycling and reusing clothes, helping reduce the number of clothes that go to landfill. Our Batley plant and recycling partner CTR handle 12,000 tonnes of textiles every year from donations to Oxfam.
Oxfam has policies in place so that items that we don't sell in-store or online are sold to recycling traders where they can be made into wipers or mattress filling for example.
Oxfam also no longer directly exports clothing to overseas markets, instead, we try to find solutions within the UK.
We do our best to ensure that as few donated clothes as possible end up in landfill or waste.
We have also continued our long-standing Shwopping partnership with M&S for the Back-to-School season, with dedicated school uniform Shwop boxes in over 200 M&S stores across the UK.
Oxfam has also partnered with Selfridges on numerous occasions offering both in-store Shwop boxes as well as curated selections of women's clothing.
Ethical fashion is up to us
Emma James English/ Oxfam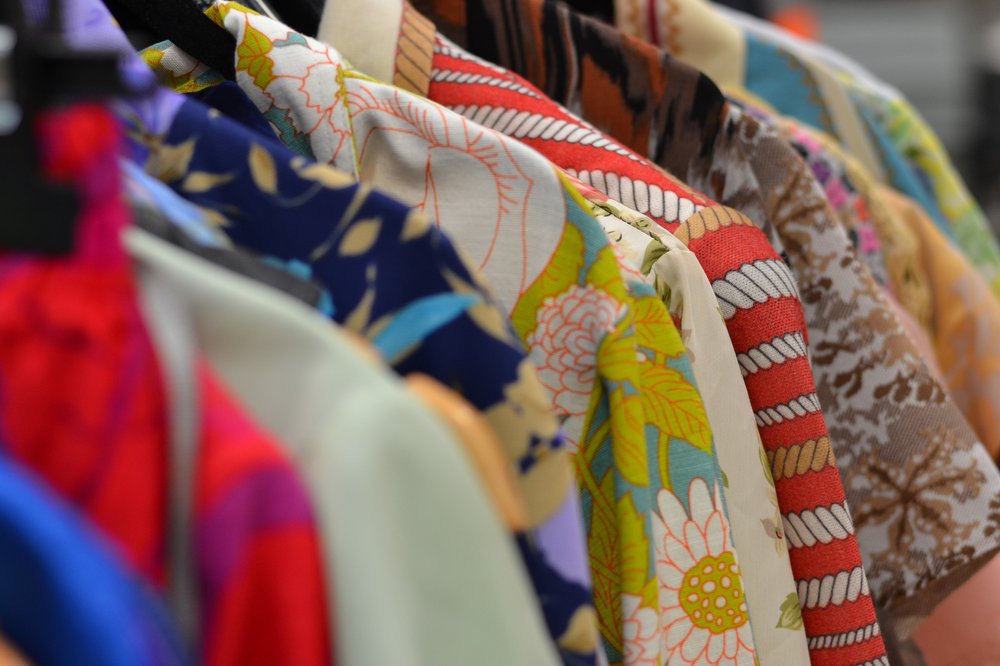 This Second Hand September we hope you'll join us in working towards a more sustainable and ethical fashion industry.
Ultimately, any choices you make to shop second hand, for ethical fashion or sustainable fashion help work towards the goal of a more conscious fashion industry.
Our blogs have lots of tips and resources to help you make informed choices and have a lot of fun along the way.
References