East Africa Hunger Crisis - which countries are affected?
East Africa Hunger Crisis - which countries are affected?
Kenya, Ethiopia and Somalia are facing one of the worst droughts in history. South Sudan has suffered a fifth year of severe flooding.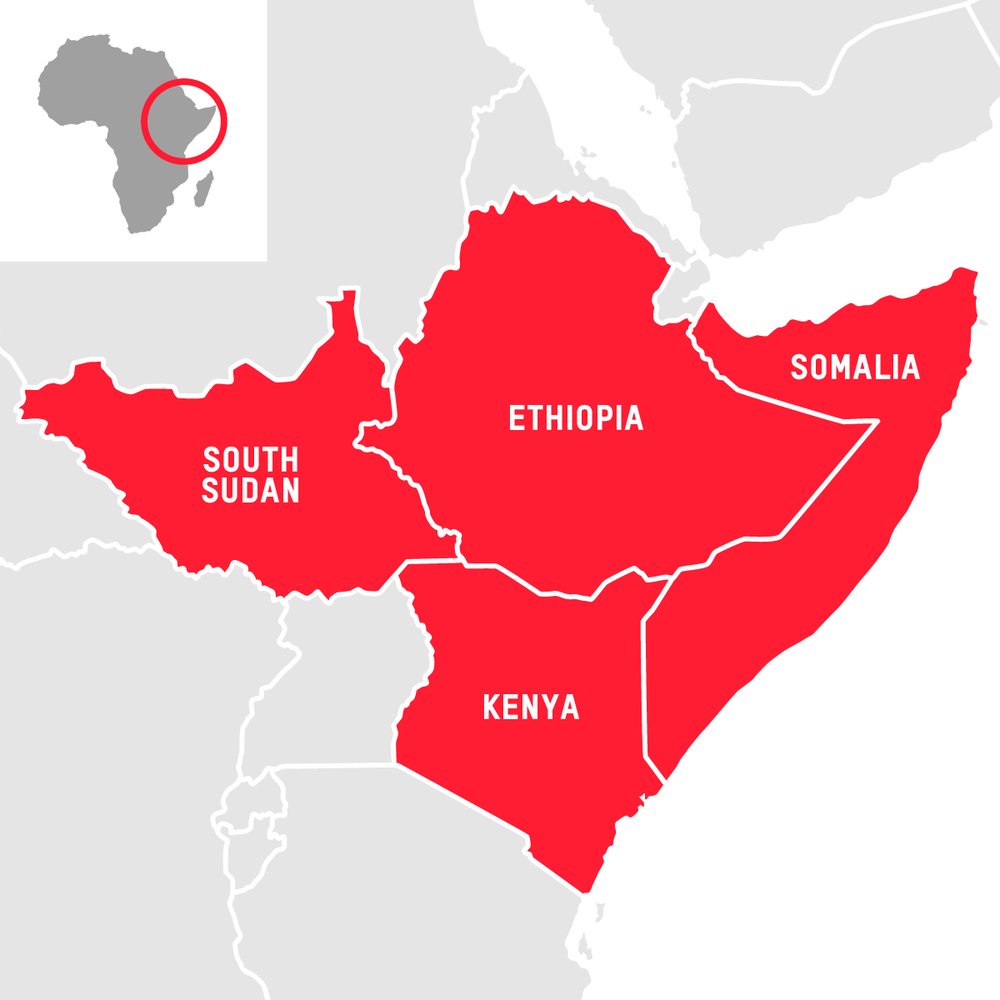 Somalia
Floods, crop-devouring locusts and Covid-19 have hit hard a population already living under the strain of poverty and decades of armed conflict and insecurity. 7.7 million people will need humanitarian assistance this year. Around half of the country's children are likely to be acutely malnourished.
Ethiopia
In the drought affected areas, between 7.4 and 9.9 million people are estimated to be facing severe hunger. The number of livestock dying from lack of food and water is staggering and increasing by the day. Millions have seen their livelihood suffer across four southern drought-affected areas. The northern regions of Ethiopia are severely affected by conflict. Levels of malnutrition in children and lactating women are alarmingly high.
Kenya
Droughts, floods and disease outbreaks are becoming more frequent and intense, leaving little opportunity for affected communities to recover. An estimated 4.4 million people are facing severe hunger.
The risk of conflict over depleted resources, gender-based violence and children dropping out of school are all on the rise.
South Sudan
Over the last five years, early seasonal rain has caused rivers to overflow and the country has experienced widespread flooding. Approximately 7.74 million people are facing crisis levels of hunger - 63 % of the population - with approximately 87,000 people facing famine-like conditions. Women, children, elderly people, and people with disabilities are most affected.
What can I do?
Share this video
No-one should be facing famine in 2023. Show solidarity.
Donate
Support our work in East Africa, where local partners are providing families and communities with lifesaving water, shelter, sanitation, and cash to buy local supplies.