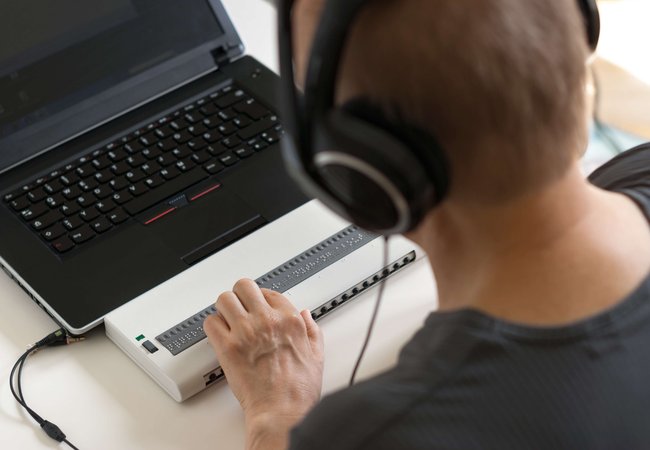 We have been busy working through this year's objectives to make our digital content more accessible. We defined these objectives earlier this year with the UK charity AbilityNet.
Accessibility objectives
Our Accessibility objectives fall into the following categories:
Vision
Leadership
Process
Capability
Procurement
Now that team members have established their roles, we have been focusing on our staff's capability to create accessible content.
Changing our processes will follow later, as we need to ensure guidance exists before we can ask people to change how they work.
The right skills to deliver our vision
Ensuring we have the right skills to deliver our vision has been our priority. We have recently run webinars with the AbilityNet team on creating accessible Indesign and Word documents.
Our production teams have now all been on a one-day training course, which covered creating accessible web pages and testing methods to ensure basic accessibility requirements.
We have also provided training on amending and testing documents in Adobe Acrobat and creating Accessible Social Media Content.
Coming up soon is accessibility training aimed at graphic/web designers and content writers.
The first of these sessions is an alternative (Alt) text workshop with Holly Tuke, who is registered blind. Holly works on the Social Media team for the Royal National Institute of Blind People.
Making training accessible
We have created a section on our intranet for recordings of our webinars and other useful information. These resources are also available to the freelancers and agencies we work with via cloud storage and a private YouTube playlist.
Making these resources available is the first milestone in asking teams to create accessible content. An added benefit is that it doesn't limit which freelancers or agencies we work with, as we can provide them with all the guidance they need.
Intranet pages have also been created to share accessibility testing tools and recommended training.
Building accessibility into the procurement process
Now we are ready to start reviewing our procurement processes.
Our ultimate aim is to ask freelancers and agencies to provide content that meets Web Content Accessibility Guidelines 2.2 AA compliance, which is an internationally recognised standard.
To achieve this, we need to understand how our processes currently work, as well as any concerns people have.
We are in the process of finalising a survey to gather this information.
Our accessibility vision
We have also been collaborating on our vision statement for accessibility. Getting the wording right has been a challenge, but we're nearly there, and I look forward to sharing it with you in our next blog post.