At Oxfam GB, we've been looking into our current level of accessibility and finding out how to make reasonable changes to our ways of working.
From one accessible document to a working group
About three years ago I responded to a question about making a Word document accessible for screen reader users.
I wrote a few short presentations about how to make accessible content in MS Word and on websites. Then teamed up with Oxfam's Digital Programmes Lead. Together, we started a monthly accessibility meet up to share knowledge and advice.
A person who is blind uses a computer with braille assistive device. Image: Chansom Pantip on Shutterstock.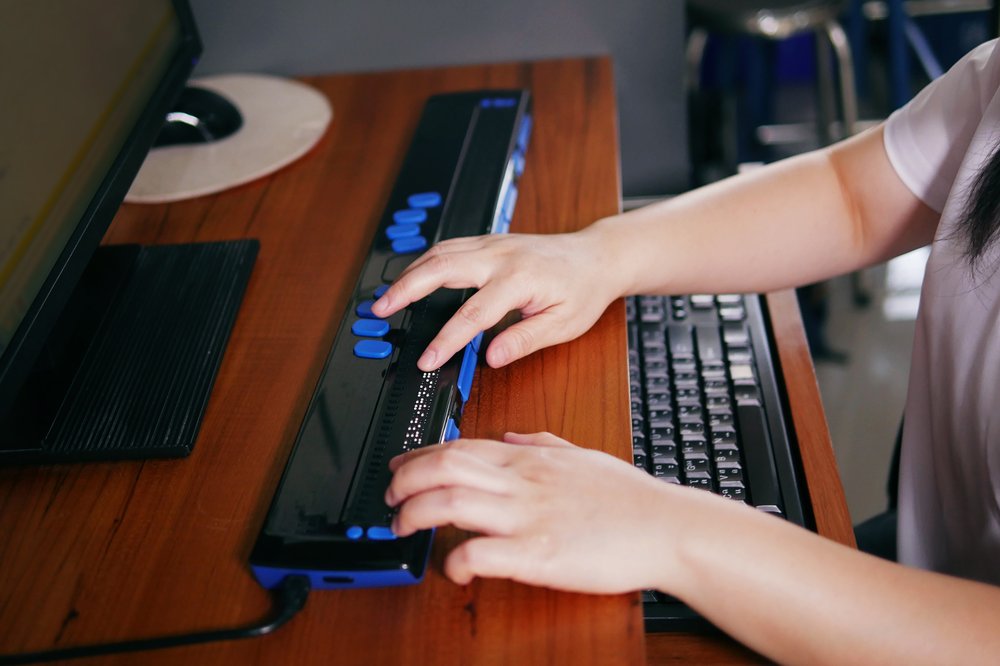 Speakers on everything from screen readers to bereavement
I assumed our Accessibility Group would last two to three months, and that was over three years ago!
In this time we have arranged expert talks on anything from using screen readers to the psychological and emotional affects of bereavement.
We have had tremendous support from guest speakers, who have given us their time for free.
The internal staff group currently has a large and consistent following and we have talks booked up to June 2024.
Examining our own accessibility practices and standards
We have now started to ask deeper questions about our own accessibility practices and standards for creating digital content for our supporters.
As is the case for many digital content creators, resource, time, training and guideline gaps meant accessibility beyond things like alternative text (the text that describes images for screen readers to read aloud) wasn't being included in project plans. We wanted to do more.
To improve our accessibility we would need to measure our current level of accessibility. Then make a plan to make reasonable changes to our ways of working.
Consulting accessibility experts
I approached AbilityNet, a UK based charity who help organisations like Oxfam on their journey to digital inclusivity.
AbilityNet happened to have the perfect tool for us, The Digital Accessibility Maturity Model (DAMM).
The Digital Accessibility Maturity Model (DAMM) survey
The Digital Accessibility Maturity Model is designed to help organisations understand how well they are doing with digital accessibility. Then create a roadmap for improvement.
The assessment part of this process involved a survey, which was to be completed by more than 60 people involved in digital content creation, and then two workshops to understand our current status for the five key areas:
Vision
Capacity
Leadership
Processes
Procurement.
A table made with AbilityNet showing where Oxfam GB is at the moment on accessibility.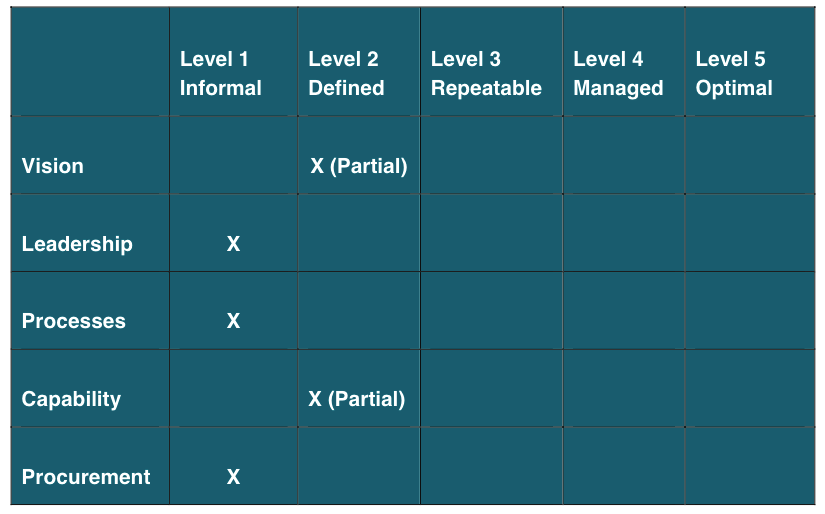 The evaluation scored us mostly at Level 1, with some partially defined accessibility processes.
Setting accessibility maturity goals for the year ahead
The next step was to agree a set of achievable goals for the next 12 months to move us more fully into Level 2 accessibility maturity.
Since then we've created a project plan and assigned teams to work on our objectives.

Year one is very much about laying the foundations for creating accessible content, such as training and policy. However, some teams are keen to stretch themselves to do even more.
The Head of Digital has agreed to sponsor the project, and has already committed the resources we need to address training gaps and to developing a deeper understanding of areas where we can make improvements.
And I now head up accessibility at Oxfam GB, and allocate a percentage of my time to managing the DAMM project. With a lot of support from colleagues, which I am very appreciative of.
Work has now started on this year's content and training objectives.
We'll be sharing more on the process, challenges and outcomes.
Watch this space 🙂