Net Zero – Time to Tighten the Net
Land-hungry 'net zero' schemes would require an area the size of all the farmland on Earth for tree planting. This would put food security for those living on and farming the land at risk.
The climate crisis is already here
We must avoid the worst effects of the climate crisis. It's hitting communities in low-income countries hardest. Even though they've done the least to contribute to it.
Using land alone to remove the world's carbon emissions to achieve 'net zero' by 2050 would require at least 1.6 billion hectares of new forests. That's equivalent to five times the size of India. Or more than all the farmland on the planet, our report found.
To avoid further catastrophe, we must stop adding to the amount of carbon in the atmosphere. And to do this, corporations and high-emitting countries must reduce their carbon emissions. Emissions need to be as close to zero as possible. It's urgent.
A portrait of climate activist Isaac in Malawi. Image: Thoko Chikondi/Oxfam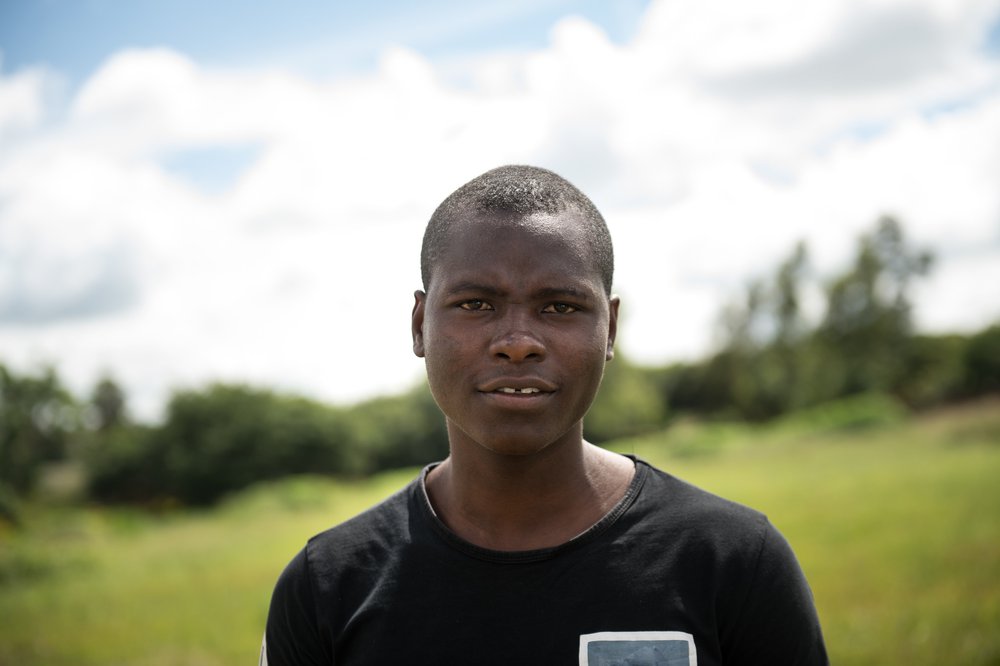 In the UK, they are also experiencing the effects of climate change, but countries such as mine are hit hard by drought, flooding and changes in rainfall pattern – though their emissions remain lower than those from developed countries that use coal to power their industries"

Isaac, climate activist, Malawi
What is Net Zero?
Many countries and corporations have committed to 'net zero' targets. They promise to reduce their carbon emissions by a future date (often 2050). To balance out any of their ongoing emissions. To remove an equal amount of carbon from the atmosphere as they put into it. And to do this by planting trees and developing new carbon-removal technologies.
The long-term goal of net zero was enshrined in the Paris Agreement at COP21 in 2015. It is vital to tackling climate change. But it must be approached in the right way.
'Net zero' should be based on 'real zero' targets that require drastic and genuine cuts in emissions, phasing out fossil fuels and investing in clean energy and supply chains. Instead, too many 'net zero' commitments provide a fig leaf for climate inaction. They are a dangerous gamble with our planet's future."

Nafkote Dabi, Climate Change Lead for Oxfam International
First, if the world is to have a chance of limiting warming to 1.5 degrees, the bulk of emissions reductions must be reached by 2030.
Second, while land and nature are important parts of the solution, the priority for governments and companies must be to cut emissions now. Any schemes to remove carbon from the atmosphere must be realistic. They must be clearly defined. They must be designed so as not to negatively impact those living on and farming the land.
So how do you remove carbon?
There have been a number of attempts to develop new technologies to suck carbon from the air. These are all virtually unproven at scale. And cannot be relied upon to protect us from the worst effects of the climate crisis.
There is only one guaranteed way we know of to remove carbon in sufficient volume. This is to use land to grow billions of trees. And to store carbon in plants and soil. But how much land would be required? And what would the effect be on local communities?
Climate activist Jessy's Mum walks through farmland near their home in Malawi. Image: Thoko Chikondi/Oxfam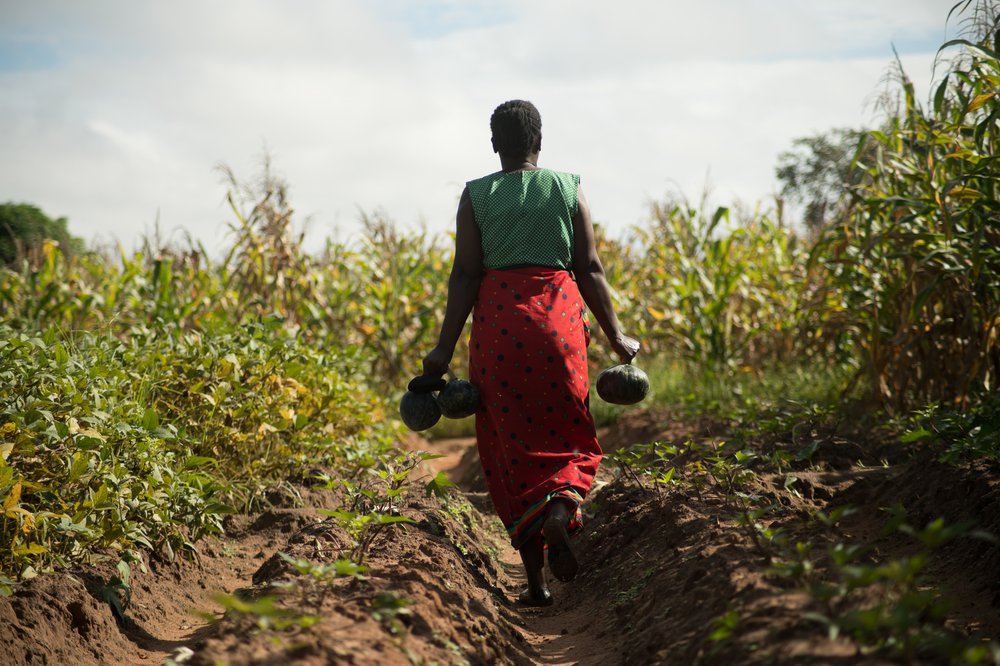 How much land?
To remove carbon produced by oil and gas companies...
At Oxfam, we've analysed the net zero targets of just four of the big oil and gas producers. (Shell, BP, Total Energies and ENI). Their plans alone may need an area of land twice the size of the UK for tree planting to remove carbon. If the entire oil and gas sector adopted similar targets, the land needed might be nearly the size of the Amazon rainforest.

And that's just the oil and gas industry. We see the same story in the net zero targets of high-income countries like the UK.
To remove enough carbon overall...
By our estimate, based on current, global, net zero plans... an area five times the size of India. That's equivalent to all the farmland on the planet.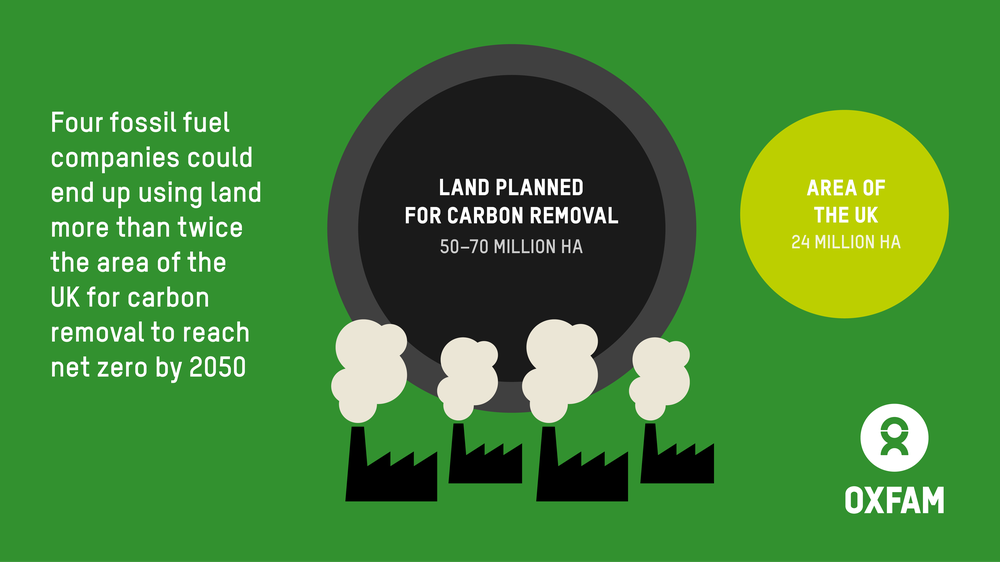 Land is a precious resource
The potential demand for land to remove carbon emissions could mean more people going hungry. We already live on a planet where hunger is growing. 11 people are likely dying every minute from acute hunger linked to conflict, COVID-19, and the climate crisis, among other things. These net zero targets risk people being pushed off their land. Especially in lower-income countries, where land is often cheaper. We must not force people to farm carbon instead of food.
Land is a finite and precious resource. It is what millions of small-scale farmers and Indigenous people around the world depend upon for their livelihoods. We all depend upon the good stewardship of land and for our own food security. The whole world benefits from protecting forests and safeguarding the land rights of farmers and Indigenous peoples."

Nafkote Dabi, Climate Change Lead for Oxfam International
Up to 255 million barrels of oil
In June 2019, Theresa May made the UK the first major economy to set a net zero target in law. Net zero carbon emissions by 2050 was promised. But the UK Government is not walking the talk. Media reports suggest the UK plans to approve a new North Sea oil and gas project at Cambo Oilfield.
The initial plans for the proposed project near the Shetland Islands could produce up to 170 million barrels of oil. But the oilfield has the potential to produce up to 255 million barrels. That would release an estimated 132 million tonnes of CO2e emissions.
To remove these emissions from the atmosphere would require an area of land the size of England or more than 1.5 times the size of Scotland.
The oilfield would be 30% owned by Shell, who as we've already seen above, are setting wildly unrealistic net zero targets to justify business as usual.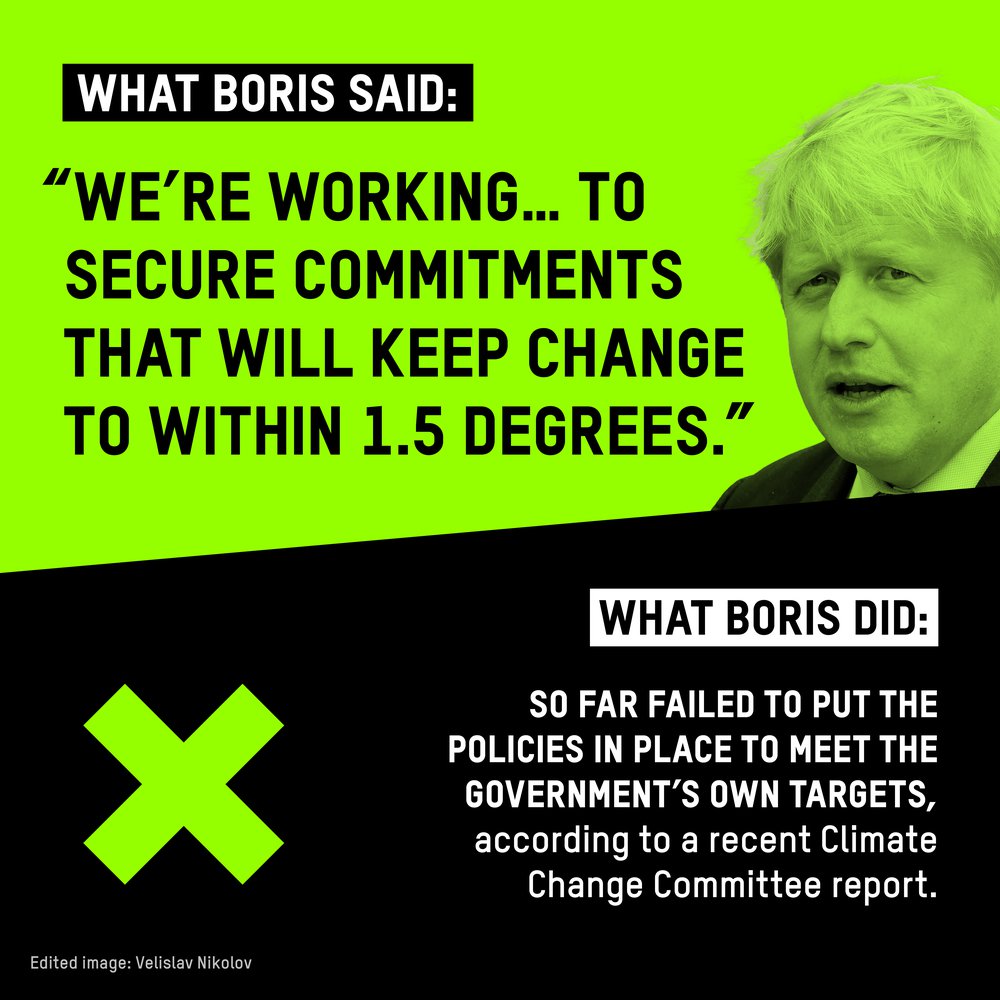 Call for decisive leadership from Boris Johnson ahead of COP26
And say no to the Cambo oilfield!
Less than 100 Days To Go
As we get closer to COP26 climate summit in Glasgow, we'll hear a lot more about net zero. Governments and corporations will compete to showboat their pledges. To show they're doing their bit.
We need to save our planet and prevent millions of people being pushed deeper into hunger and poverty. It is critical that governments and corporations are not allowed to get away with vague net zero targets.
We must ask governments and corporations again and again what their plans are to cut their own carbon emissions. In the next year, in 2025 and in 2030.
And transparent targets should distinguish between reducing and removing carbon, rather than blurring the boundaries.
Land and nature are important parts of the solution, but we must strive for zero hunger as well as zero emissions, while strengthening the rights and livelihoods of local communities and protecting ecosystems.
In short, we must tighten the 'net' in 'net zero'.
This publication has been produced with the assistance of the European Union. The contents of this publication are the sole responsibility of Oxfam GB and can in no way be taken to reflect the views of the European Union.