Pakistan Floods, One Year on
The 2022 floods in Pakistan destroyed 1.7 million hectares of agricultural land.
10.5 million people are food insecure and the situation is projected to worsen.
Families are in the process of slowly getting back to rebuilding their homes.
Here, some people affected by the floods share their stories.
Ghulam's story
"If the shop continues this way I will be able to send my children to school." Ghulam Mustafa. Image: Tooba Niazi/Oxfam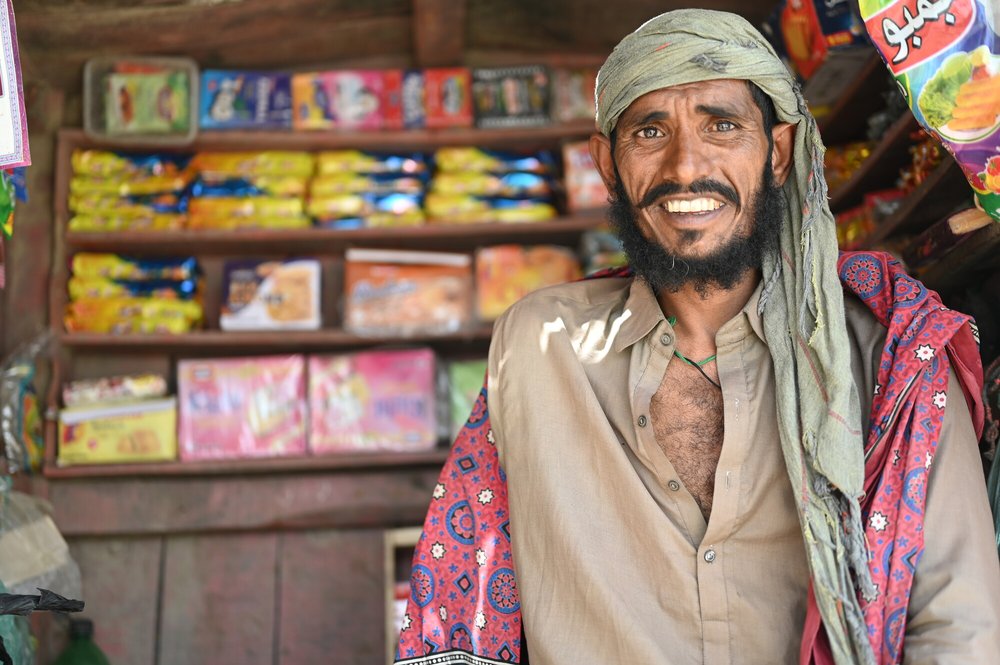 The floods have been devastating for our villages and others as well and it seemed that the communities affected wouldn't be able to recover but we are moving back to life. It rather seems like a miracle."

Ghulam Mustafa, Shopkeeper, Sindh, Pakistan
Ghulam Mustafa, based in Sanghar, Sindh has set up a small shop on the road which connects different villages.
He used cash provided to him by Oxfam's partner, the Strengthening Participatory Organization, to open it.
"I did not have this shop before but I had been wanting to have something of my own and when we got the cash assistance I immediately made this.
"I lost one of my arms to an accident. It is difficult for a person with any disability to work." he says.
He earns a PKR 1000/- (£2.73) every day from his shop.
"If the profit keeps running than I will start another shop as well. Many people who have received this amount have invested it in a business because if such clamities keep on hitting us then we need to think ahead of our times.
"The last year has been very challenging on all of us. None of us knew if we will survive or not.
"The uncertainty of life is the biggest uncertainty.
"I think we are all trying to be mindful with our earning."
"If the profit [from the shop] keeps running than I will start another shop as well." Image: Tooba Niazi/Oxfam
How Oxfam and partners are supporting communities
Multi-Purpose Cash Assistance (MPCA)
Agriculture Grants
Kitchen Gardening
Small Business Grants
Livestock grants and vaccination
Kisban's story
"We never had a toilet here. Imagine going out in the dark with the dogs howling around. It was scary and unsafe." Kisbano. Image: Tooba Niazi/Oxfam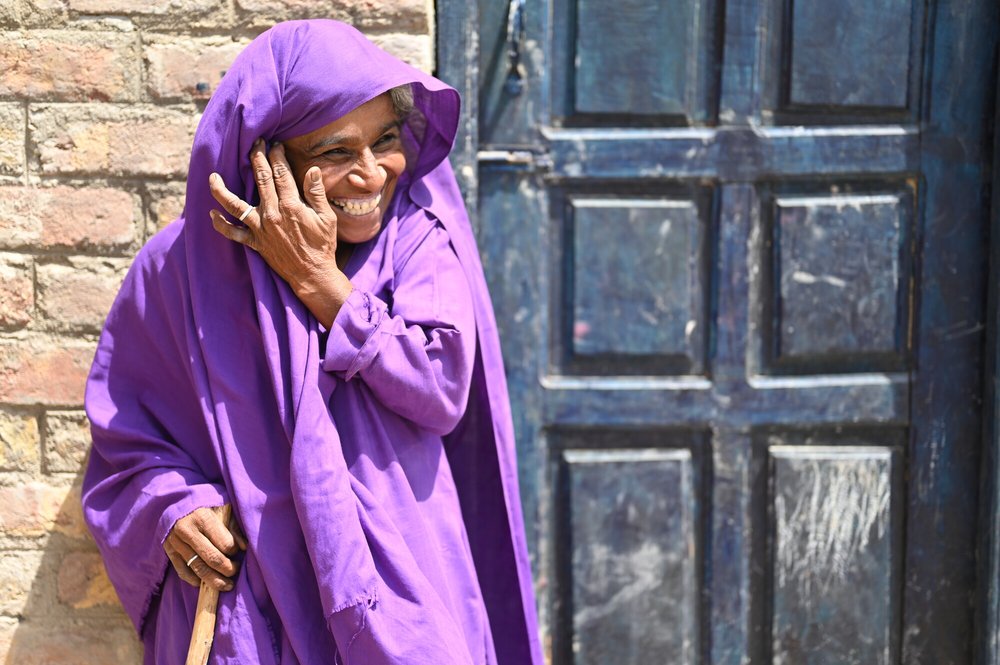 My age has passed but at least I no longer have to worry about my daughter and perhaps many other mothers of the village think the same."

Kisban, Sindh, Pakistan, whose village now has a toilet.
Kizabo and her community had been using a pit toilet for a very long time. The community had no resources to build themselves a toilet.
"We never had a toilet here," Kizabo says.
"Imagine going out in the dark with dogs howling around.
"It was both scary and unsafe."
After the floods people struggled due to the damage to the area. The flood water destroyed pit toilets.
"After sundown I would not let my daughter go out."
As part of early recovery interventions Oxfam with its local partners is constructing facilities in the flood hit areas of Sindh and Balochistan in Pakistan.
"Oxfam and its partner Strengthening Participatory Organization (SPO) have built us these latrines which are not only accessible but safe."
An update from Oxfam in Pakistan
We have seen people living right in front of the rubble of their house because they had this sense of belonging to that place. They didn't want to go far away."
"When a family loses a house, food security is connected to it and there are many other things attached to it." Kanwal from Oxfam Pakistan says.
"The families are in the process of slowly getting back to rebuilding their homes.
"Some of the homes, they are partially made because for rebuilding you need money and here, the most important source of livelihood is agriculture and second is livestock. Both of these suffered considerable damage.
"So they are rebuilding their fields. People lost their livestock. Of course, they are gradually trying to get back to harvesting the crops.
"They need assistance in terms of seed inputs and rehabilitating their land.
"As Oxfam, we are still very much involved in the rehabilitation phase through our early recovery efforts."
This is loss and damage. People are still recovering.
We need climate justice. We need to Make Polluters Pay.
A latrine in a village in Pakistan. Image: Tooba Niazi/Oxfam
Safe spaces, cash and essential items
By July 2023, Oxfam and our partners had assisted 375,377 households with:
More than £500,000 in cash between them
10 safe spaces for women and girls to access psychosocial services
19,000 hygiene kits with soap, tooth brushes, laundry soap
24,400 shelter kits
18,000 water containers for clean water
19,000 dignity kits for women, including menstrual products, and underwear
26,000 mosquito nets
7,000 kitchen packages
720 water filtration units
16,371 kits with blankets, tarps, and warm clothing for winter
References
The UN Food and Agriculture Organization (FAO) reported that 1.7 million hectares of agricultural land had been destroyed
In its latest report, Integrated Food Security Phase Classification (IPC) finds 10.5 million food insecure