Trade unions are key to making sure women are free from financial abuse
Understanding how financial abuse undermines women's economic independence helps understand how all-encompassing violence against women, girls and non-binary people can be.
Good public services, an enabling welfare state, decent work including good pay and conditions, and workplace support for victim-survivors are crucial to tackle financial abuse – and violence against women and girls more broadly. This is why they are a priority for trade unions in the UK.
What is Financial abuse and why are trade unions concerned about it?
Financial abuse is an aspect of coercive control. It happens when a perpetrator uses or misuses money in a way which limits or controls their partners' actions, future choices, and freedom of choice. It rarely happens in isolation, in most cases abusers will use other abusive behaviours to threaten and reinforce financial abuse. Abuse like this can leave women unable to afford basics like food and clothing and can see them burdened with debt built up by perpetrators and without access to their own bank accounts.
Trade unions and domestic abuse organisations that support victim-survivors are concerned that the cost-of-living crisis is worsening financial abuse and preventing women from leaving abusive situations."

Abigail Hunt, Public Services and Nikki Pound, Women's Equality at the Trades Union Congress (TUC) in the UK.
Abusers are using the cost-of-living crisis to harm women
A recent survey from Women's Aid found that in the UK:
Almost all survivors (96%) responding had seen a negative impact on the amount of money available to them as a result of cost-of-living increases.
Two thirds (66%) of survivors told Women's Aid that abusers are now using the cost-of-living increase and concerns about financial hardship as a tool for coercive control, including to justify further restricting their access to money.
Almost three quarters (73%) of women living with and having financial links with the abuser said that the cost-of-living crisis had either prevented them from leaving or made it harder for them to leave. 
The impact of austerity and government policy
Funding for domestic abuse support services has been cut over many years, leaving a fragile funding landscape and a shortage of service provision. This worsened through the pandemic.
Over a decade of austerity that has disproportionately impacted women overall, has also compounded the abuse victim-survivors experience and increased the barriers to accessing support."

Abigail Hunt, Public Services and Nikki Pound, Women's Equality at the Trades Union Congress (TUC) in the UK.
Austerity
Austerity is when governments choose to reduce public spending, increase taxes or both, creating a difficult economic environment.
A Women's Aid report published in 2021 found that in 2019/20, 59 per cent of local authorities in England applied real terms cut to their domestic abuse funding, leaving refuge centres under-resourced and unable to meet demand.
The same report found that in November 2020 there was a shortfall of nearly 25 per cent in the number of refuge spaces that should be available.
Then there is the triple whammy that women experience because of cuts to public services in general.
Women are estimated to have borne the brunt of over 80 per cent of the austerity measures introduced since 2010.
This is in part because women are not only more likely to work in public services and undervalued work, but they are also more likely to rely on the public services that are being cut.
They are also more likely to be the ones who must plug the gaps in care when service provision is cut.
Shutterstock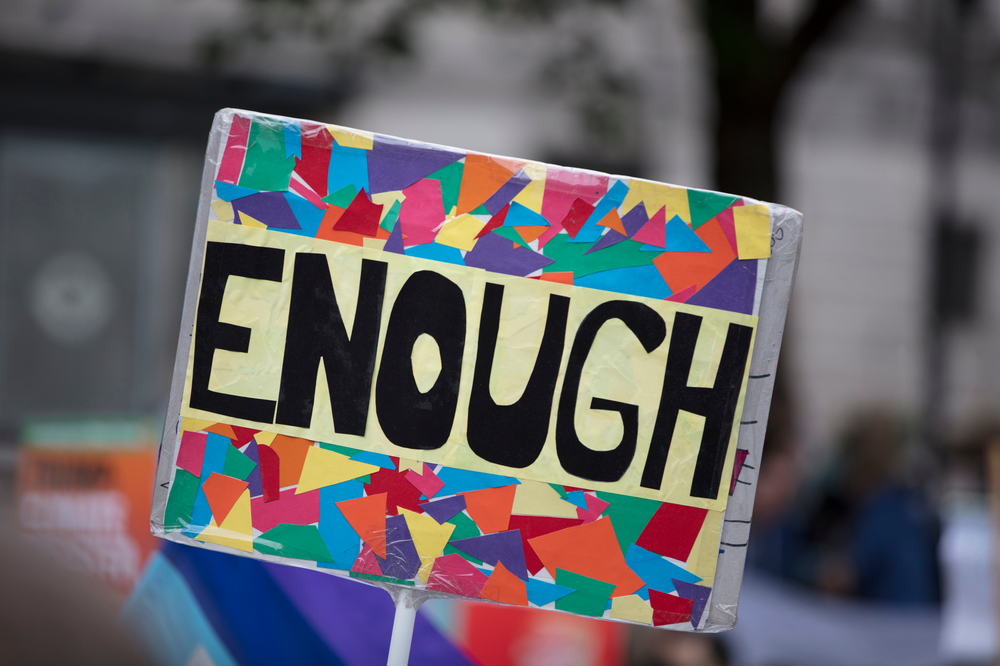 Unequal, unpaid care work
We know that women end up disproportionately taking on unpaid care work including caring for children and relatives, as well as undertaking housework. Resulting time poverty and lack of opportunity reduces women's participation in the labour market and contributes to gender pay and pension gaps. Women often must work part-time because of caring responsibilities, and in jobs that are undervalued and therefore often low paid and precarious, such as social care.
Inadequate social security
Similarly, women are most affected by welfare cuts or restrictions. Our universal credit system is one of the least generous of comparable countries, and 56 per cent of claimants are women. Its design is also problematic to women. The amount paid means claimants often struggle to make ends meet in the cost-of-living crisis. And it can undermine women's financial independence, thereby enabling financial abuse. For example, benefit payments are made to households not individuals, meaning abusers may receive the payment. What's more, the five-week wait for first payments and two-child limit, which restricts support to two children only, leaves many women financially reliant on abusers.
Women are the shock absorbers of poverty.
The 5-week Universal Credit wait
Those who claim Universal Credit for the first time have to wait for around 5 weeks before receiving their first payment. Advance loans are available, but these must be paid back out of future benefit payments.
Women are more likely to live in poverty, more likely to go without when finances are squeezed, and more likely to have their financial independence undermined by an abuser."

Abigail Hunt, Public Services and Nikki Pound, Women's Equality at the Trades Union Congress (TUC) in the UK.
What needs to change
There is no one element or solution to tackling violence against women and girls. We need specific strategies to challenge male violence in all its forms and the cultures of sexism and misogyny that permit it. We also need to ensure support services have the resources they need to deliver trauma-informed services for victim-survivors when they need them.
Policy makers need to recognise the role of wider economic policy in ending violence against women and girls. Closing the gender pay and pension gap, investing in public services, increasing the minimum wage to £15 per hour, raising the basic rate of universal credit and immediately removing elements such as the five weeks wait and the two-child limit, would all contribute to supporting women's financial independence.
The trade union movement is key to making this happen.
The gender pension gap
The gender pension gap is the percentage difference in pension income for women pensioners compared to men pensioners.
We bargain and campaign for decent work and better pay and conditions across the economy especially in low paid, undervalued sectors like social care, where we know women, often Black and ethnic minority women, are overrepresented. We raise awareness of violence against women and girls as a workplace issue."

Abigail Hunt, Public Services and Nikki Pound, Women's Equality at the Trades Union Congress (TUC) in the UK.
The responsibilities of employers through good workplace policies and practices to support victim-survivors and tackle and prevent sexual harassment in the workplace are all priorities for our members and essential to tackling violence against women. And we use our collective voice to hold government and employers to account on the implementation of the new preventative duty on employers regarding sexual harassment and third party harassment, and ILO C190 which commits governments to creating the conditions for a world of work free from violence and harassment including gender-based violence, both of which trade unions were at the forefront of campaigning for.