Bimala Devi Bhatta holds garlic grown by members of her community's women's group. Image: Elizabeth Stevens/Oxfam
They trained us in disaster management and helped us develop as leaders."
Bimala Devi Bhatta of Gaudi, Nepal
Bimala's Story
Bimala is one of many women on the frontline of the climate crisis in her community of Gaudi, Nepal.
A leader in the community
As the risk of drought and flooding continues to grow and the success of traditional farming techniques decline, Bimala's found new ways to build a secure income. Working alongside Oxfam and partner NEEDS, she's introduced a new cash crop better suited to current farming conditions: garlic.
"We harvested the garlic but will store it until the price goes up, probably in a few months."
But Bimala's skills aren't limited to climate-savvy farming– she's now a leader in her community too.
NEEDS taught us to go to our ward office and ask for what we needed. They also trained us in disaster management and helped us develop as leaders."

Bimala Devi Bhatta of Gaudi, Nepal
Women celebrate the success of their garlic farming project. Image: Elizabeth Stevens/Oxfam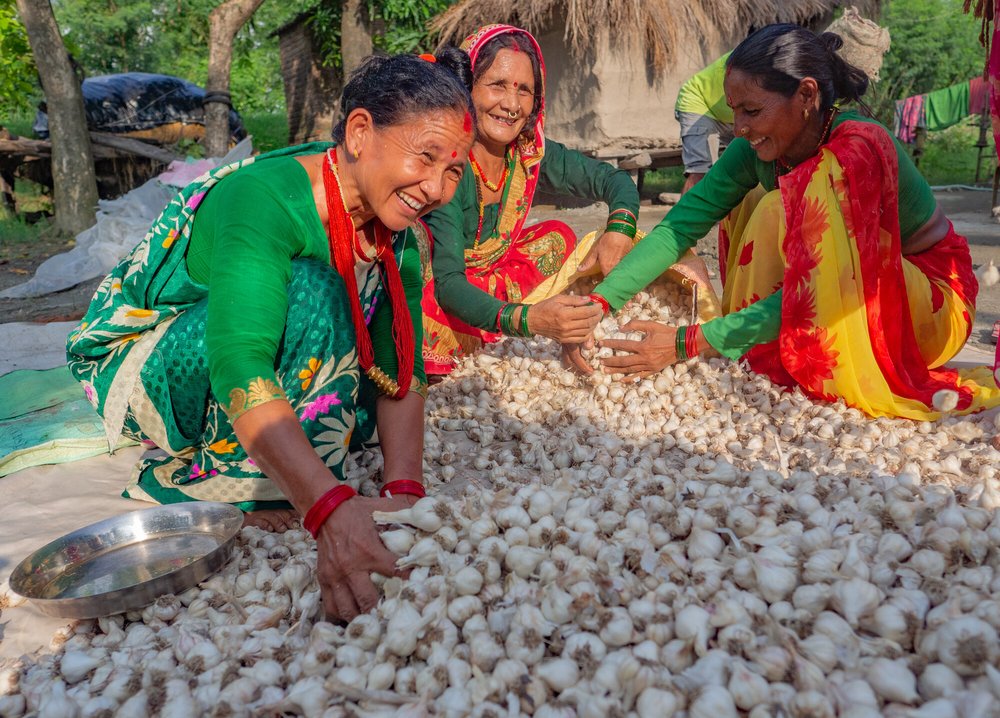 Bimala isn't alone in her newfound leadership, however; she's one of 24 fearless women in Gaudi, Nepal who have formed a self-help group to adapt to the challenges of climate change. They're learning how to prepare for and manage the growing risks of climate emergencies. Together, by using new farming techniques that are more resilient to the changing climate they are making their income more secure.
When we need water there is none, At other times, it comes and takes everything away. It might flood at any time, but here we are talking and smiling, leaving behind our fear by being together."

Maya Devi Sunar of Kutiya Kabar, Nepal
So far Oxfam and NEEDS have helped establish 40 Community Disaster Management Committees in Nepal; 24 of which are chaired by women. A further 40 women's groups have also been created to empower women to develop as leaders, overcome economic oppression and ensure they're included in local decision-making spaces.
Kaushila Sunar's work with a women's empowerment group in her village has helped her become a confident public speaker. Image: Elizabeth Stevens/Oxfam
Kaushila Sunar's work with a women's empowerment group in her village has helped her become a confident public speaker who is active in her community. With trainings and technical support from Oxfam and NEEDS, the women's group, and disaster management committee that she leads have successfully reduced disaster risks.
Women on the Front Line
It's all part of Oxfam's effort to keep disaster management in the hands of people with roots in the communities – the one's who'll be there for the long haul.
"I'm not scared anymore," says Rupar Sunar. "I can talk to anyone and laugh openly."
Kaushila Sunar explains it simply: "The fear that was inside us has vanished."
Supporting struggling communities to adapt to climate change is a top priority for Oxfam. So is ending gender inequality. But it's the women themselves who have done the hard work. They've created the warm embrace that enables a silent member to find her voice and the solidarity that makes these groups a force to be reckoned with.
If you want to see women of the future empowered to take the lead in disaster management and emergency preparedness, consider leaving a gift to Oxfam in your Will.
Because no one is immune to poverty, and no one is above it, but together we can end it.
Leave a gift in your Will