Paige Moeller running for Oxfam at London Marathon 2023. Credit: Richard Blaxall/Oxfam.

London marathon
The TCS London Marathon is an absolute must for your bucket list. The route takes you on closed roads through London, around the capital's spectacular landmarks and past roaring crowds.
Sunday 21 April 2024
Distance: 26.2 miles
Entry free: £100 (Paypal accepted)
Minimum fundraising target: £2000
Minimum age: 18 years old
Join Team Oxfam
Register your interest in running with Oxfam and we will keep you updated with TCS London Marathon news.
Already secured your own place at the event but want to help fundraise for Oxfam? Let us know!
About the event
A marathon is the ultimate running challenge as well as a highly rewarding and memorable experience.
The London Marathon is one of the most famous runs in the world. Travel through the streets of London past some of the most spectacular sites in the capital.
These include Buckingham Palace, the Cutty Sark, Tower Bridge, and the Houses of Parliament.
London Marathon volunteer supporters. Credit: Richard Blaxall/Oxfam.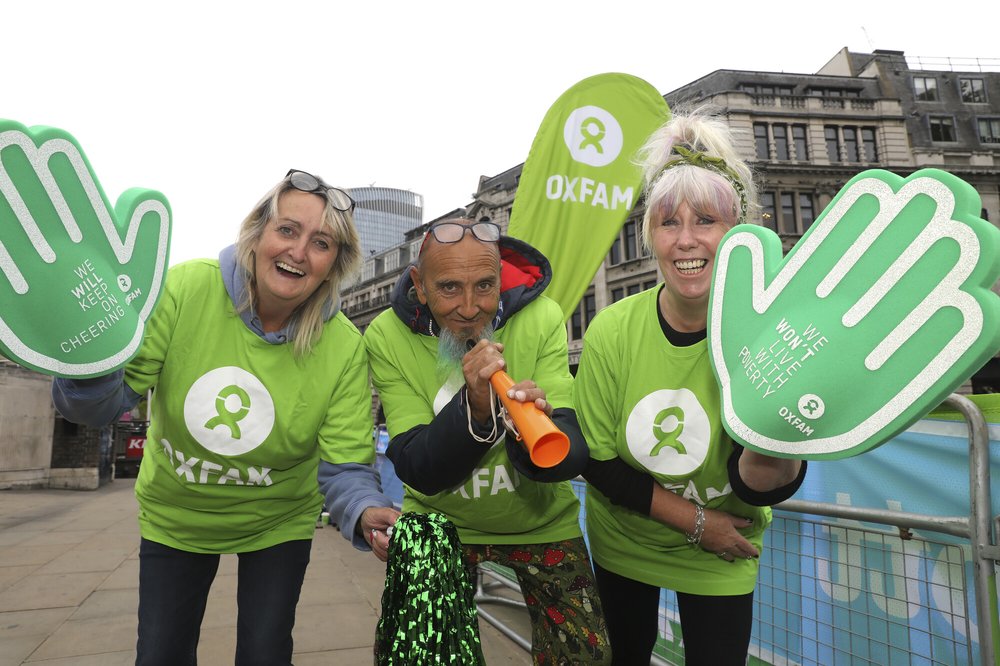 Why run with Oxfam?
Oxfam believes that poverty isn't inevitable. It's an injustice that can be overcome. We are volunteers, fundraisers, shoppers, campaigners, water engineers and more.
As part of Team Oxfam you will be supported through every part of your event preparation. Our national events team will be on-hand to encourage you with your fundraising, answer any questions you have and to thank you for all your hard work.
You will also receive:
Cheering for you at points along the route
An Oxfam running vest or t-shirt and letters
Fundraising and training advice
Talk to the team