Evance Banda a survivor of Cyclone Freddy walks on the site of what used to be his family home in Blantyre, southern Malawi. Photo: Thoko Chikondi / Oxfam
For me the most pressing need is housing. I cannot return because my home is no more and the area is no longer safe."
Evance Banda lost his home when Cyclone Freddy hit Malawi. His mother and two siblings were killed.
Cyclone Freddy
Cyclone Freddy battered southern Africa from 10-15 March 2023, severely damaging homes, crops, roads, schools and hospitals. More than two million people have been affected, with more than 600,000 people having to leave their homes.
How Oxfam is helping
Our focus is currently on three districts — Phalombe, Nsanje and Chikwawa — where Oxfam is already working. We hope to extend this support to Thyolo district as soon as possible.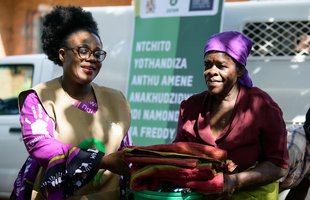 Providing emergency cash
Cash assistance means that where markets are still functional, people affected by the cyclone can buy food and other essentials.
Protecting vulnerable people
In emergencies, vulnerable individuals can lack protection. Our teams help prevent sexual and physical abuse and other forms of harassment.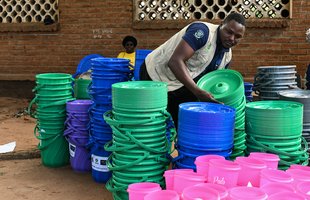 Supplying clean, safe water
The cyclone hit during an outbreak of cholera. We want to limit the spread of the outbreak, especially in crowded camps and homes.
A coordinated emergency response
Oxfam and its partners are working with the local authorities, for example in Phalombe which is prone to climate shocks, to help coordinate an effective response.
The situation
Cyclone Freddy struck southern Africa from 10 to 15 March 2023, causing extensive damage to homes, crops, roads, schools, and hospitals in southern Malawi.
The cyclone worsened an ongoing cholera outbreak, resulting in significant challenges in accessing water, sanitation, and hygiene in affected areas.
Approximately 2.2 million people have been affected, with more than 659,000 individuals displaced and living in crowded camps.
Hundreds of schools are now occupied by displaced people, disrupting the education of almost 275,000 children. Photo: Thoko Chikondi / Oxfam
Schools disrupted
Schools across Malawi are now being used to accommodate people made homeless by Cyclone Freddy. Around 550 schools and almost 275,000 children have been affected.
Naotcha Primary School (pictured) has 4,510 children who are currently unable to attend their classes.
Oxfam's Cyclone Freddy Humanitarian Response is providing aid to 15,500 households in three districts, including food assistance, blankets, buckets, wrappers, soap, and menstrual hygiene kits.
The President of Malawi, Lazarus Chakwera, declared a state of disaster on 13 March, highlighting the urgent need for support. The recovery process for Malawi is expected to be lengthy and will require significant resources and collaboration.
Evance's story
When Evance Banda quit school following his father's death, he learned carpentry for a living. Today, his workbench is the only item that remains after his home was left shattered by Cyclone Freddy.
The rainstorm lasted three days, causing severe flash floods and landslides that ripped apart homes on the slopes of Soche Hill in Blantyre. Evance's mother and two siblings were killed in the night. Nine people in the surrounding homesteads also died.
A portrait of 22-year-old Evance Banda a survivor of Cyclone Freddy taken at a camp in southern Malawi, 2023. Photo: Thoko Chikondi / Oxfam
I feel lucky to be alive, but life won't be easy to survive without them."
Evance Banda's mother and two siblings lost their lives in the flash floods and landslides that followed Cyclone Freddy.
Evance now lives in a crowded camp at Naotcha primary school.
According to the Department of Disaster Management Affairs, there are thousands of people like Evance living in about 750 camps with limited food, safe water, sanitation, hygiene, lighting and privacy.
Cyclone Freddy: counting the cost
2.2m
More than 2.2 million people have been affected by Cyclone Freddy, with more than 650,000 displaced from their homes.
547schools
Almost 550 schools have been affected by the disaster, with 762 classrooms occupied by displaced people. Almost 750,000 children have had their education disrupted.
747camps
Thousands of people are now living in around 747 camps, some of them crowded, with limited food, safe water and sanitation.