We teach local women to manage agriculture with environmentally friendly concepts."
Magda, Project Manager at partner Foundation for Social Studies and Development (YPPS) in Indonesia
How people can have food security
I'm a project manager in Larantuka (Indonesia) working on a Climate and Disaster Resilient Communities project with Oxfam. We mostly focus on climate problems and drought.
Kyo Umareta/Oxfam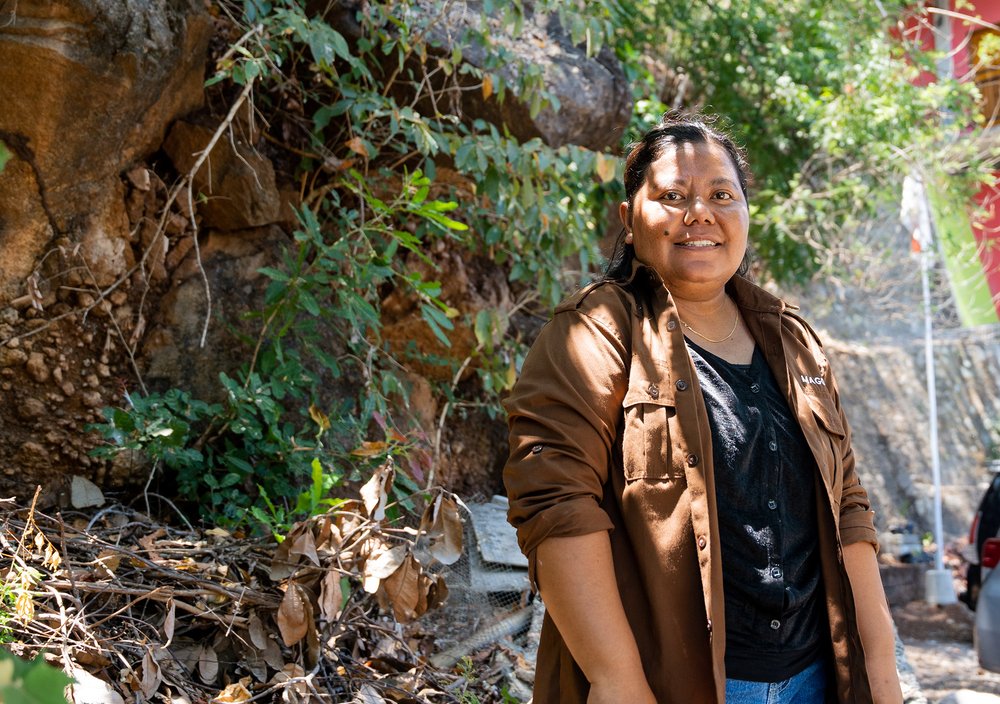 Surviving and adapting to drought
East Flores and Lembata in Indonesia are under threat. Because every year, drought occurs.
I'm working with Oxfam on a project that supports women in rural areas to respond and adapt to natural disasters. Sustainable farming methods help prevent the acceleration of climate change, while also improving food security for families.
The response and adaptive measures are still very limited. My dream for the future is to make this happen for more people.
Now, our portion is to bridge how the people in the Climate and Disaster Resilient Communities project can have resilience and live together with the climate, with drought, so they can survive and maintain stable food security.
This is what Plan She is all about. It's about people around the world standing up, speaking out and creating a fairer, greener planet together. It's women who are most affected by climate change, and it's women who are leading the charge against it.
Information to the people on climate change
Our project has changed the whole mindset of my community. Agriculture has moved away from slash-and-burn, which destroys ecosystems. Now people use garden waste for mulch to restore topsoil after harvesting.
We give information to the people on climate change and its threats. And generally, we also talk about the potential hazards and disasters in the [area].
Kyo Umareta/Oxfam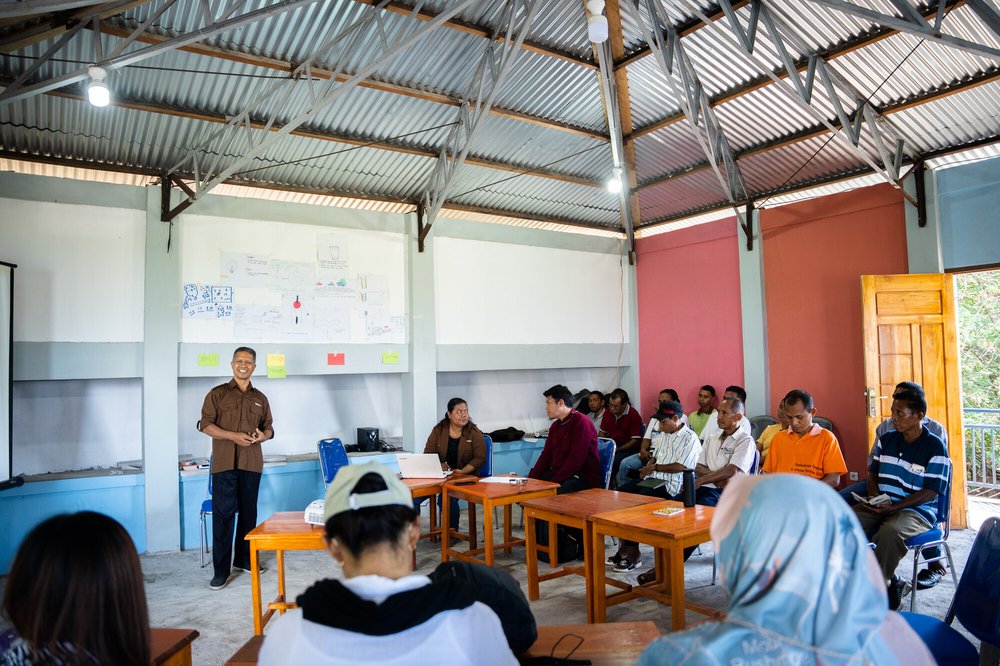 Adaptive measurements
Once [people] understand how the climate is, we try to start the adaptive measurements.
The support includes making two types of farms.
There is the wet season farm, used to cultivate food crops. And its derivative, yard farming, which uses the small yard and limited resources to maintain food security.
Now, in the two farm models, we try to implement the concepts of adaptive farming.
The first is from the plant choices: what types of plants are adapted to drought conditions in East Flores and Lembata.
We arrived with sorghum as a choice, for example. It's a resilient crop that can grow in hot areas with little rainfall and can be used to produce a variety of foods needed for meals – replacing rice or being ground into flour for bread.
Then there are other types of local crops that have been neglected but we have started searching for them again.
This is what was developed by our comrades in the villages.
Then, the yard itself is to meet the requirement of fruits and vegetables that the residents can't get from farming during the wet season. The smaller the planting media, the more focus there is on maintenance.
We focus more on how the people can have food security, so in this kind of climate, they can still survive.
The farming industry can only harvest once, but by choosing adaptive plant types, and choosing a cultivation process that is nature friendly, allowing decomposition without burning, the people can harvest several times from one type of plant.
Kyo Umareta/Oxfam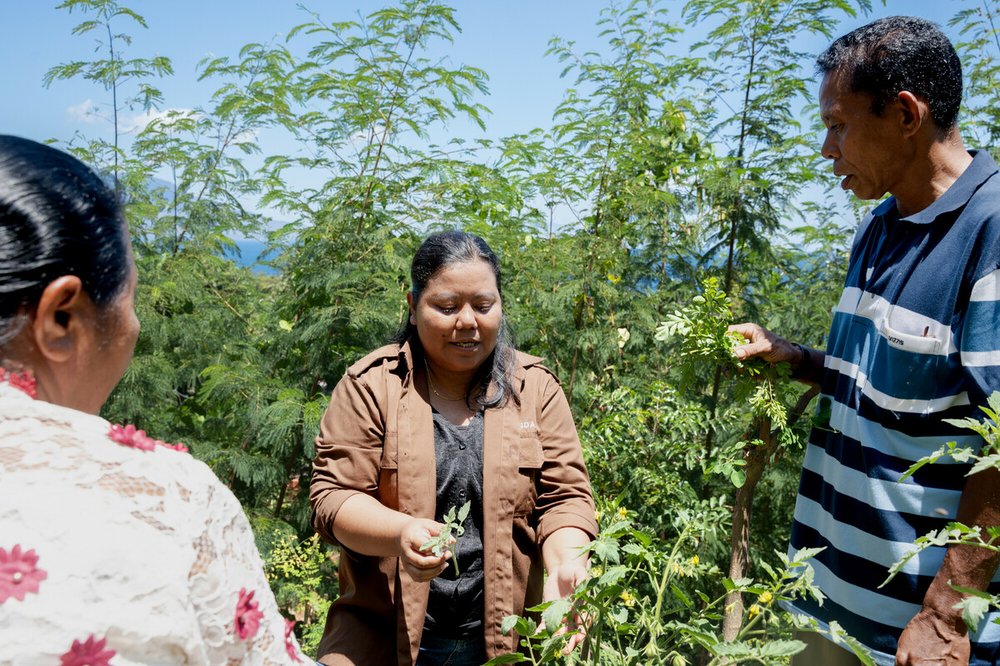 Food security
Our goal is food security, but there are people who can sell their production excess, and some even innovate to make new products, improving their income. All those are a bonus and a success for the farmers.
YPPS hopes that the people really implement the cultivation process that we have shared.
Maybe not only in the eight assisted villages, but for all of East Flores or all of Lembata, so many more will know this concept, so we may be able to prevent the acceleration of climate change, while also improving food security for families.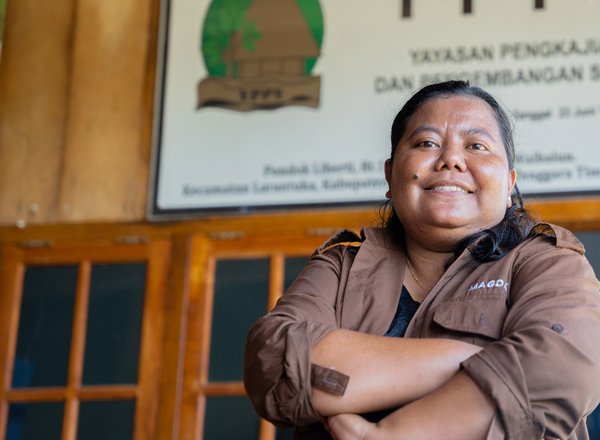 Donate now to support more climate change-beating projects and the women who are leading them.
Back plan she
We may be able to prevent the acceleration of climate change, while also improving family food security.

Magda, Project Manager, YPPS, Oxfam Partner/Oxfam , Larantuka, Indonesia
Training
Other than training related to climate change information, we also directly practice environmentally friendly farming concepts with the people.
One of the examples is the training to improve soil quality by utilising available resource.
We also practice environmentally friendly farming concepts with the people.
When we increase the soil surface mulch from farm waste or household waste for yard farming, they can turn into new humus for the soil.
Other than as fresh humus, we also try to minimise the maintenance process of farming, this is when the mulch helps to reduce the amount of the weeds, thus reducing the amount of work for the farmers when it comes to cleaning weeds.
Other than that, the mulch can be a soil layer that will lower erosion. Because [of] the average elevation of the soil, the sloping is generally above 60 degrees here, so the farmers no longer need to spend money on production tools like fertiliser or growth inducer.
Kyo Umareta/Oxfam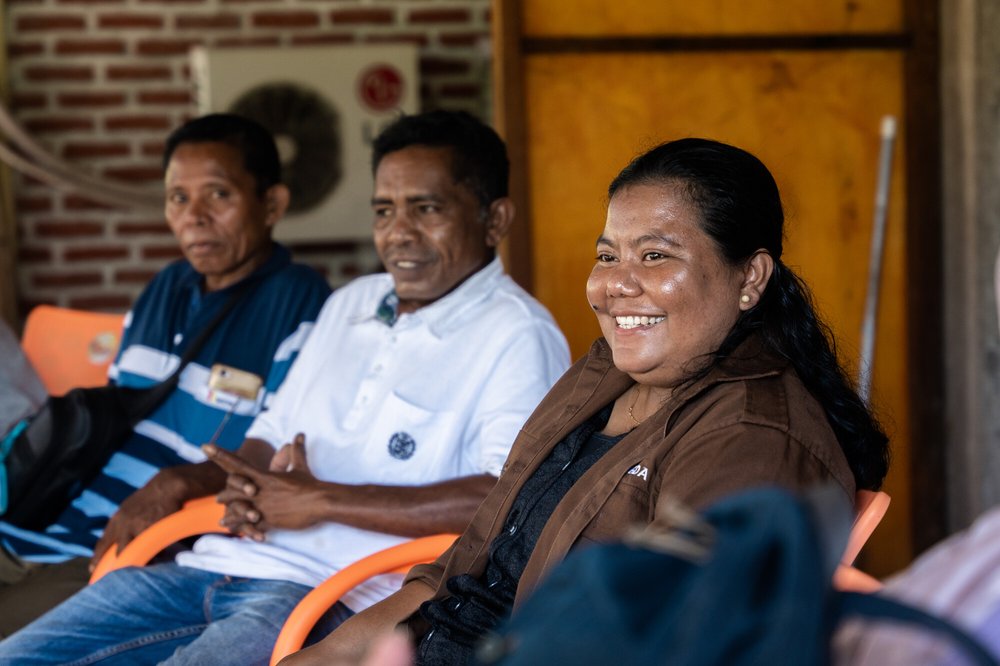 Because many people have changed the way they consume, or their pattern of consumption from local food into more instant food, we also facilitate people to train them on how to process harvested products they have obtained from their farm.
After learning how to plant, they also need to be trained on how to consume them.
[Like with] sorghum processing, here we need to reintroduce them to what kind of products sorghum can be turned into.
Then for the yard farming. We train them on how to prepare a proper planting media. Be it by using bedding or waste media like unused household wastes.
We utilise them into planting media in the year which can then produce vegetables for daily needs.
Discover more
Climate change

stories