Image: Zara Cranfield/ Oxfam GB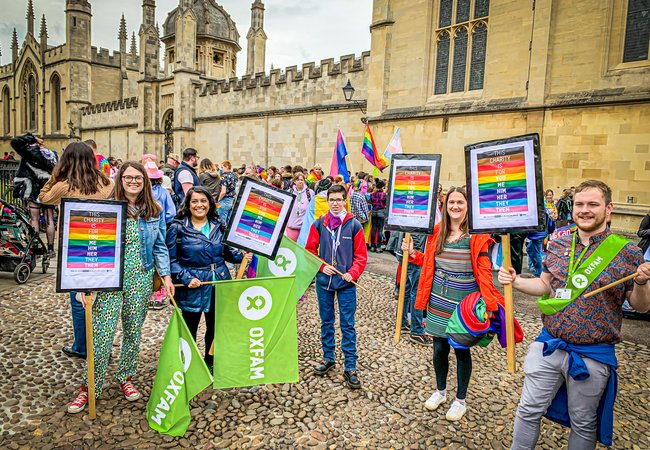 June is LGBTQIA+ Pride month. Each year our shop teams create some amazing, fantastic, and eye-catching displays to celebrate Pride in their local communities. This year we have supported our shops with our Pride campaign.
You can also check out Oxfam's Pride collection. Proceeds will go to projects and partners around the world supporting LGBTQIA+ people.
What's the campaign focus?
This year's campaign focuses on including everyone. Because when we include everyone, we can overcome poverty. By tackling discrimination, and working for a more equal world. For everyone.
Image: Oxfam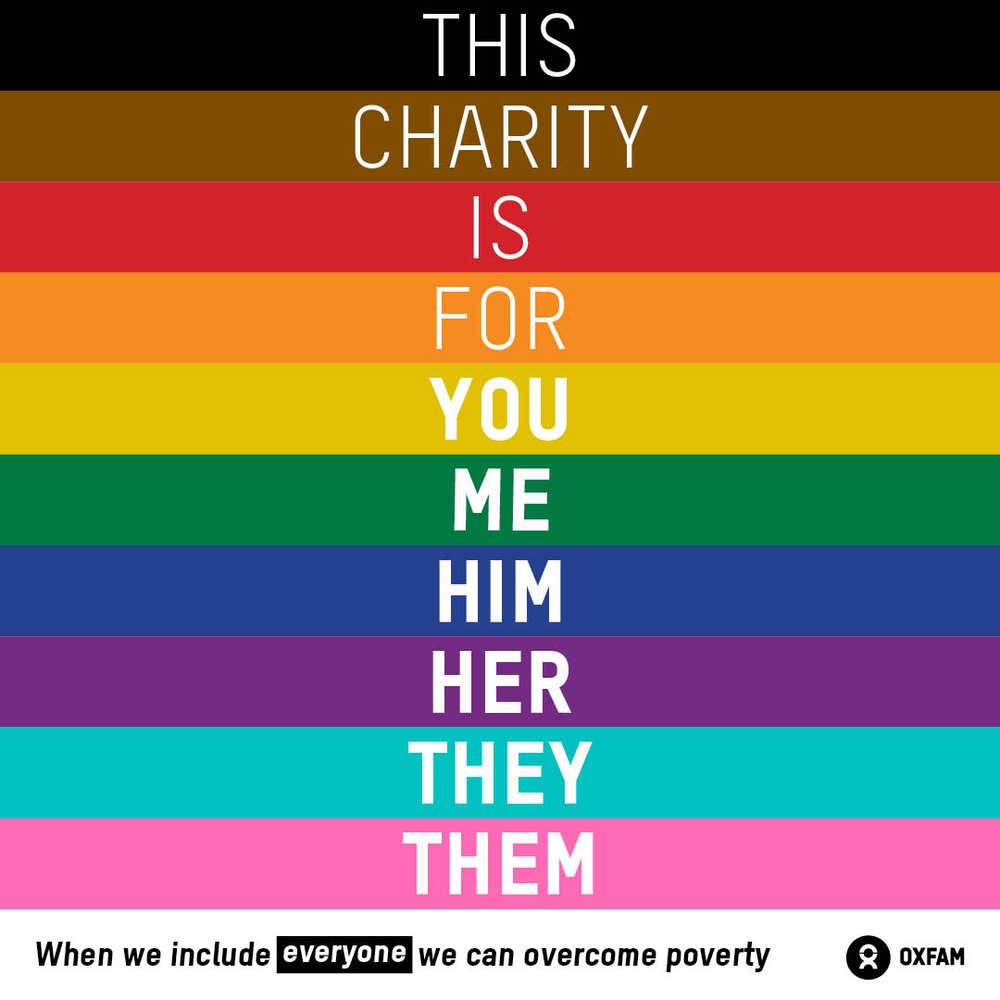 What is LGBTQIA+ Pride Month?
We recognise LGBTQIA+ Pride month as a time to celebrate inclusiveness (one of Oxfam's core values). To stand in solidarity. And to celebrate with our local LGBTQIA+ communities. As part of this, we want to celebrate our shops as safe spaces for all our staff, volunteers, and customers to be their authentic selves, no matter their sexuality, gender identity or gender expression.
How did UK Oxfam staff and volunteers celebrate?
Our local offices and shop teams in Oxford also celebrated at their local Pride event, Oxford Pride Day, on Saturday 4 June 2022. Colleagues, volunteers, and their family members marched in solidarity with the Oxford LGBTQIA+ community. They also held a market stall, supported by our Oxford Superstore. To raise money and awareness of volunteering opportunities.
What is Oxfam doing to promote LGBTQIA+ Rights?
Oxfam does not specialize in LGBTQIA+ rights. But we do work on a small number of programmes to support LGBTQIA+ people. In Lebanon, we are advocating for the rights to access housing and health care for LGBTQIA+ people. In Cambodia and Laos, we support the Voice project, which provides a platform for LGBTQIA+ advocates, as well as people experiencing different forms of oppression.
We also have a blog series which takes an intersectional approach. To shine a spotlight on LGBTQIA+ issues from across the global confederation, from Oxfam staff and partners. The series will also spotlight stories from Guatemala, Colombia, Lebanon, The Philippines and Laos. Lending visibility to the programmes where we support LGBTQIA+ people. Each blog will shine a light on different human rights that LGBTQIA+ people are unable to enjoy due to discrimination, whether legislative, political or social.