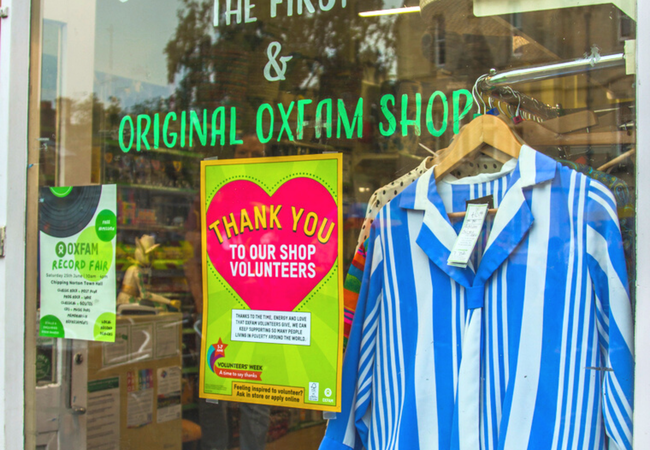 Volunteers are the heartbeat of Oxfam. Your support means Oxfam's work can continue to change the lives of people in poverty worldwide.
Volunteers' Week was a fantastic week of reflections and celebrations within Oxfam's volunteer network. So we wanted to share a few shop volunteer stories and the winners of our annual shop volunteer awards with you all...
Rare banknote spotted by shop volunteer Paul Wyman
Tucked away in Brentwood is a wonderful Oxfam shop that recently sold a rare bank note. For £140,000! (I know, we can't quite believe it either!).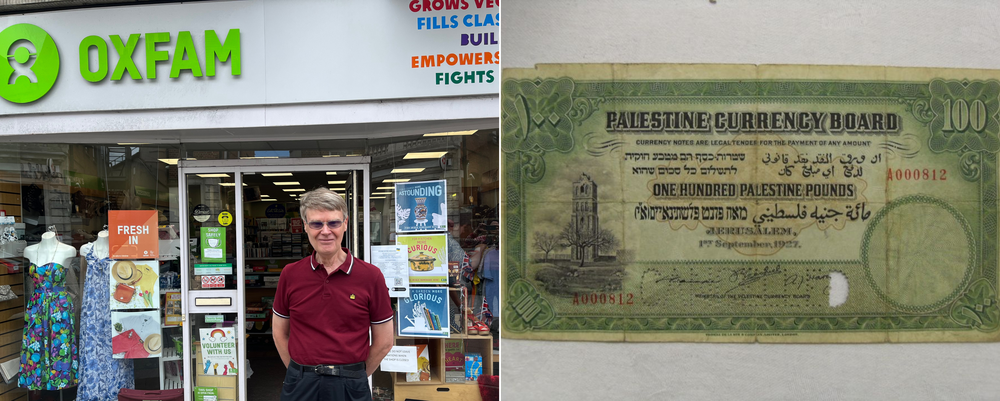 "We've had some great sales over the years but nothing quite as substantial as this one. The banknote itself is an old Palestinian £100 note, one of the most sought-after notes by collectors. An incredible spot from Paul Wyman, our Brentwood volunteer, who 'did not believe the note which had been donated to the shop could be genuine!'" Said Shop Manager, Luiza.

"I realised that I was holding something in my hands that was incredibly rare."

After several lockdowns, Luiza and the team decided it was best to get it checked by Spink, a specialist auction house. They were shocked to discover it was not only genuine but worth a huge amount of money!
The winning bid checked out at a massive £140,000, leaving Luiza, Paul and the team (and the rest of Oxfam) a little bit speechless. We couldn't quite believe it when told the news. So we hope you will join us in congratulating Brentwood on this incredible hidden treasure!

"I couldn't believe it when it went for £140,000. It's brilliant to know I played a part in raising so much money for Oxfam's work, helping the world's poorest." Said Paul Wyman. Paul is the winner of this year's Special Commendation Award.
A poem by Oxfam Pinner Volunteer, Delia Cazzato
One of our wonderful shop volunteers Delia (pictured top right, middle and bottom left) sent us in a poem about her fellow shop volunteer Hannah (pictured top left, middle and bottom right) and why she loves volunteering and we just had to share it with you all.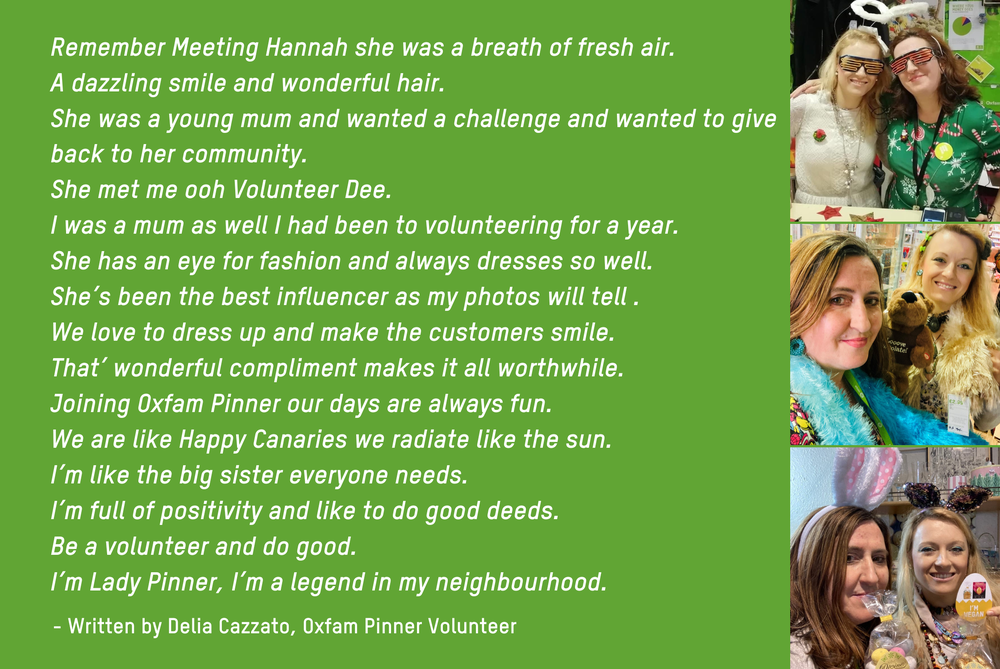 Meet Carol- this year's Volunteer of the Year Award winner
Carol shared some reflections when accepting her award...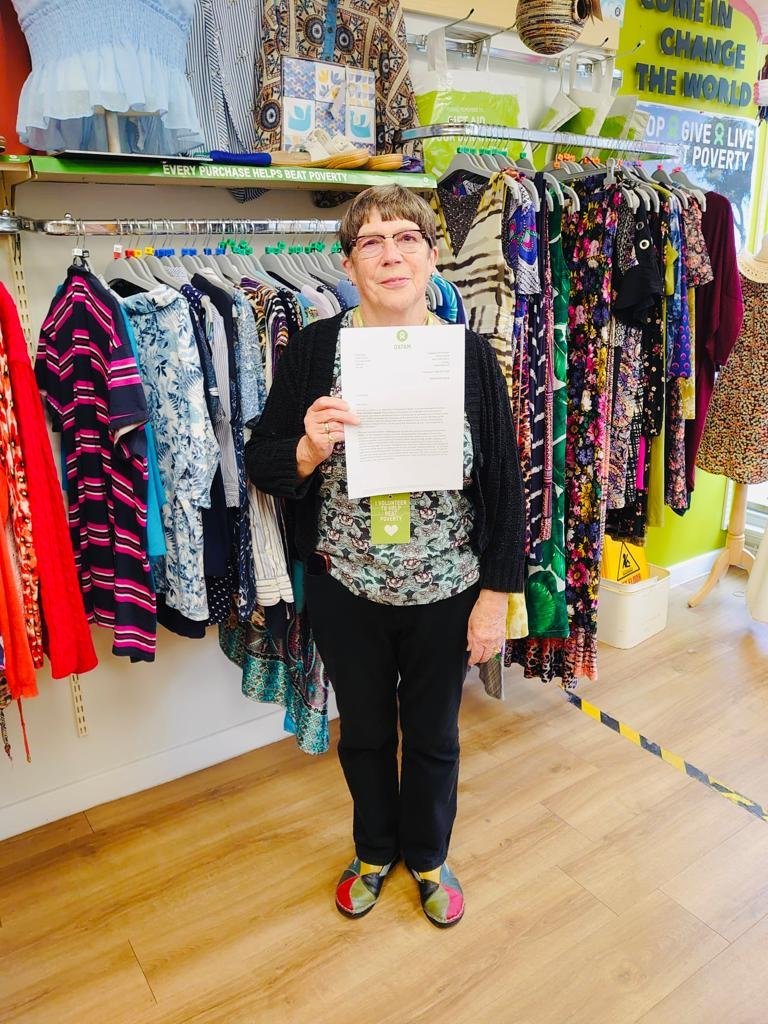 I have to say my mouth fell open with surprise when told of the award but I must thank James, our manager, for the nomination and the panel for selecting me, primarily because I think selection bring recognition of the Swansea shop, the staff and the customers but particularly our very small but amazing team of dedicated volunteer, all of whom need to be recognised and thanked for their hard work and dedication – so thank you!"

Carol, Shop Volunteer of the Year Award Winner- Oxfam Swansea, Union St
The Oxfam Shop Volunteer Awards 2022
Each year, during Volunteers' Week, we take the opportunity to highlight just a few of the dedicated volunteers who keep our shops open. You have now met some of this year's winners in the stories above.
Although there are only a few named winners of the awards, they represent the brilliant commitment shown right across the network, day in day out, by our shop volunteers.
This years Special Commendation Award goes to… Paul Wyman Brentwood Shop
Shop Volunteer Award for Inclusiveness goes to… Elizabeth Logie - Edinburgh Books and Music shop, Nicholson St
"Elizabeth has a steadfast presence in our shop, maybe more so than any other aspect of her contribution is her cheerful, enthusiastic personality, boosting the morale of other team members. Known as "the cake lady", the homemade cakes on a Friday afternoon keep the pricers pricing, the cashiers' tills ringing, and the manager quiet!...Elizabeth understands the importance of hard-working team members taking a break, and everyone benefits from a short pause before going to work. "
Shop Volunteer Award for Empowerment goes to… Roger Baker- Abingdon Shop
"the mainstay of the shop and font of all knowledge". Highly respected by his colleagues, who value his kind, professional manner and great sense of humour. Roger has taken considerable responsibility over the years, particularly as the shop treasurer…and continues to be a loyal promoter of Oxfam in the community"
Shop Volunteer Award for Accountability goes to… Lucy Aspinall on behalf of Petersfield Shop
Fellow volunteer said… ​"Lucy is such a bright and happy person she has energised everyone to do their best and we have raised the shop to amazing levels and have continued in spite of all problems which a shop running with no manager has had to cope with. Well done Lucy and all the Petersfield team!'​".
Shop Volunteer Award for Young Volunteer of the Year (14-17) goes to… Johanna
Johanna said "Oxfam is my happy place and I am so grateful to be recognised for something I love doing. It was massively unexpected as I just feel so lucky that I can grow, learn and be supported when the going gets tough with awesome people! This recognition has been a massive boost to my self confidence and really does mean the world. Volunteering at Oxfam puts a smile on my face! "
Shop Volunteer Award for Young Volunteer of the Year (18-25) goes to… Danni McConnell, Darlington Shop
Rachel Parry (Shop Manager) said: "Over the past five years Danni has developed wide range of skills. She now can run the shop when necessary and brightens up the place with her friendly, happy nature."​
This years Joe Mitty Award for Entrepreneurship goes to... The Byres Road Music Shop
In their deputy manager's words, the team "demonstrate a wide range of talent and expertise ---which is channelled towards raising lifesaving funds for Oxfam.".
This year's Shop Volunteer of The Year is… Carol Sayce - Swansea Shop​
James Doel (Shop Manager) said: "Carol is an absolutely integral part of the Swansea team. She has supported me personally and professionally".
Shop Team of the year award:
This years' finalists were… Yeadon shop team , Burnt Oak shop team and the Cheadle shop team​
The winner for 2022 went to the Cheadle Shop.
"Who have continually shown an outstanding commitment and compassion in their local community and to Oxfam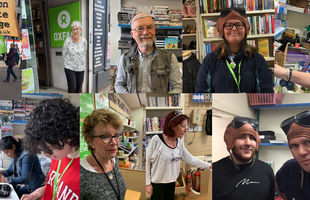 Well done to the Cheadle Shop Team for winning Shop Team of the year and congratulations to all of the winners and thank you to everyone who sent in their nominations. Nominations for next year open in January 2023!
Feeling inspired?
Have you considered becoming a shop volunteer? We would love you to join your local shop team summer. You can make new friends, learn new skills and help others.
If you'd like to join one of our volunteering teams, Apply to volunteer at your local shop.
Emily Stein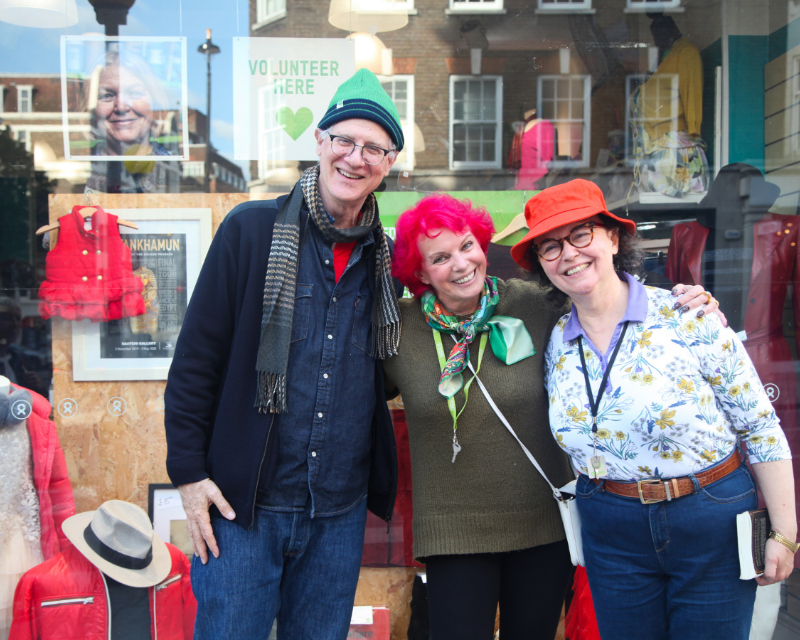 Oxfam relies on thousands of volunteers to run its shops, doing a variety of jobs such as manning the tills, sorting through donations, window dressing, updating social media and listing items for sale online. Oxfam high street shops and the Oxfam Online Shop generate significant funds, and Oxfam is appealing for more volunteers to play a crucial role in raising money to help people fight poverty around the world.