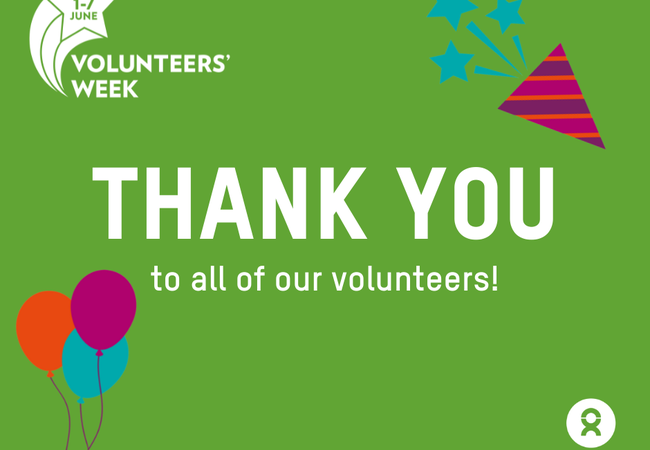 Whether or not you're able to volunteer with us right now, we want you to know that you're the heartbeat of Oxfam. Your support means Oxfam's work can continue to change the lives of people in poverty worldwide.
Watch a special thank you video from Danny Sriskandarajah, CEO of Oxfam GB.
Volunteers' Week this year was very different, but it's more important than ever we recognise the incredible contribution our volunteers make.
It was a fantastic week of reflections and celebrations within Oxfam's volunteer network. So we wanted to share a few volunteer stories and the winners of our annual shop volunteer awards with you all...
A poem about my Oxfamily in Pinner, Greater London
One of our wonderful shop volunteers sent us in a poem about her team and we just had to share it with you all.
Delia Cazzato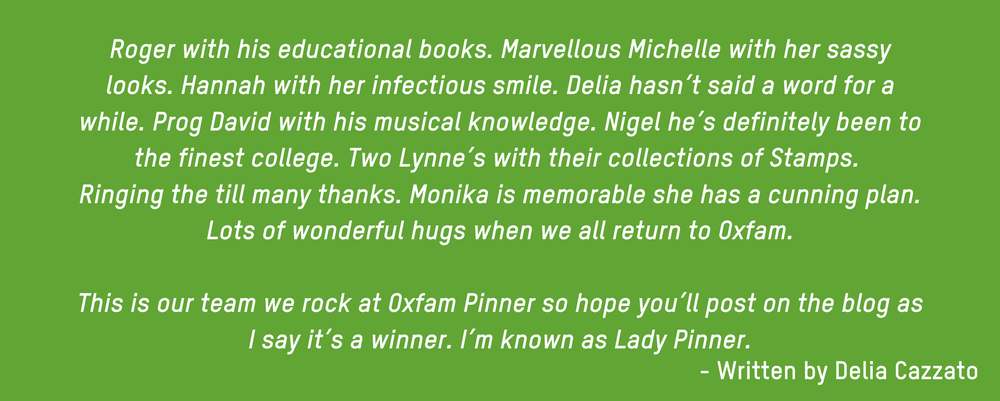 Summertown shop raises £11,500 from scrap!
Janet Willis, Shop Manager from our Summertown Store shared with us an excellent achievement by her and some of the volunteer in the shop.
Over the past months one of our dedicated volunteers has been keeping bits of scrap gold from our jewellery donations. During the spring Covid lockdown she noticed that the value of gold had increased considerably and realised that our collection was now worth a lot more money than she had originally anticipated. She painstakingly weighed and classified the gold - we contacted a reputable jeweller in London who offered to buy it from us...and the result was a staggering £11,500 for Oxfam!!"

Janet Willis, Shop Manager, Oxfam Summertown, Oxford
Well done to our Summertown team for their keen eye and for such a fantastic result.
Linda, our Superstar Sunday Volunteer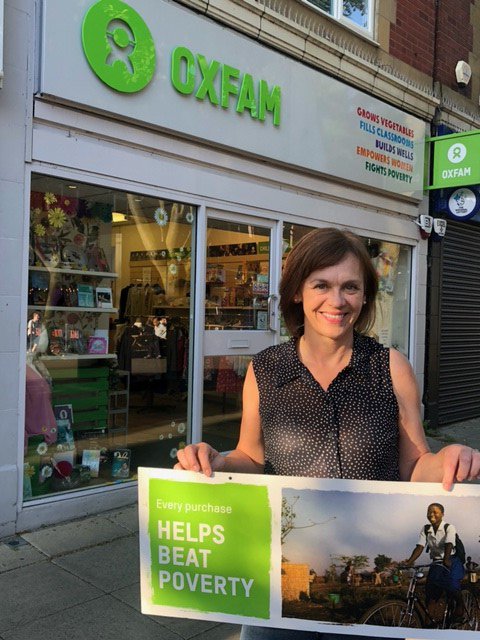 Meet Linda, this year's winner of the Shop Volunteer of the Year Award. Linda was nominated by a volunteer colleague who told us...
Before Linda volunteered, the shop didn't open on a Sunday. It is purely down to her contribution and dedication that the shop has an additional day of trading, making a real impact on turnover and donations of stock. Without her taking on the responsibility of running the shop on Sunday, it would not open. In her absence it does not open, demonstrating that she is a vital contributor to the Oxfam shop. Sunday is often a 'high energy' day when with Linda's guidance, the team will often re-organise the store layout, refresh stock, remove out of season items, and generally take a 'fresh view' of the shop floor…2020 has been a difficult year for everyone. As a professional, working in a large hospital, Linda has had much to deal with. She has never, however let her commitment to Oxfam slip"
Thanks to hard working volunteers like Linda, our Oxfam shops can remain open.
Meet Julie - This year's winner of the Inclusiveness Award, who shared some reflections when accepting her award.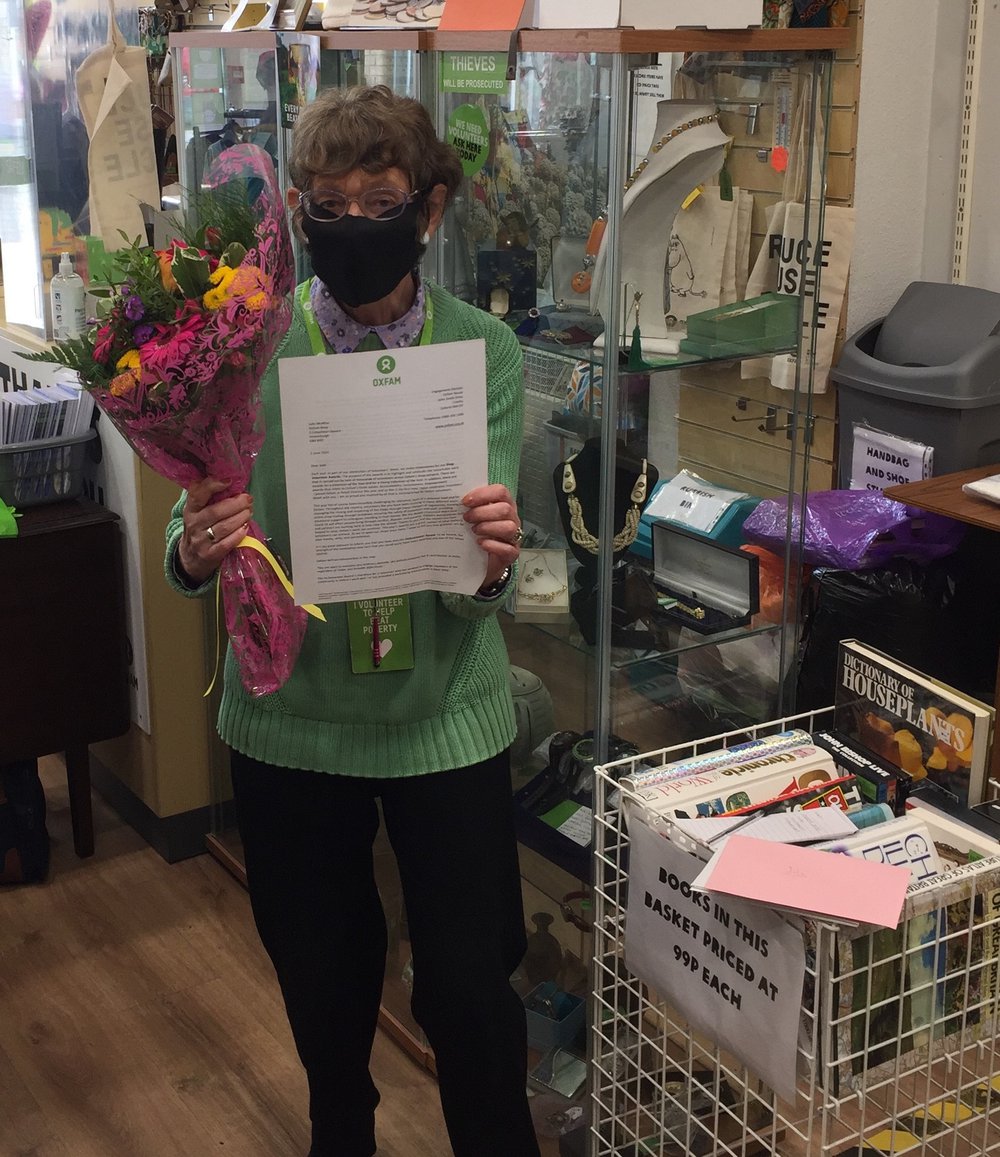 Some years ago, now, when deciding where to volunteer Oxfam attracted me and still does. Due to its breadth of outlook, welcoming everyone. Oxfam's compassion and action for the plight of so many people in this world who are in desperate need. Without basic everyday essentials, no running water near at hand, no electricity at the flick of a switch. I have enjoyed meeting and working with many interesting people of all ages. Teamwork and helping each other is a big part of Oxfam. Thank you to all who nominated me and voted accordingly. I realise I represent all the many volunteers in the UK. Someone had to win this award, and to my great surprise it was me. I feel honoured and privileged, thank you"
Thank you, Julie and congratulations, from all of us at Oxfam.
The Oxfam Shop Volunteer Awards 2021
Each year, during Volunteers' Week, we take the opportunity to highlight just a few of the dedicated volunteers who keep our shops open. You have now met some of this year's winners in the stories above.
Although there are only a few named winners of the awards, they represent the brilliant commitment shown right across the network, day in day out, by our shop volunteers.
Shop Volunteer Award for Accountability goes to… Debbie Elbro - Pangbourne Shop
"Debbie is an incredibly loyal and supportive volunteer, taking on areas of responsibility, being a shift leader, always willing to do extra and think outside the box to find new ways to raise income."
Shop Volunteer Award for Empowerment goes to… Chris Worsfold - Dorchester Shop
"Since Chris' involvement with Oxfam Online Shop … sales have increased exponentially… he has helped across the year, including throughout lockdowns, even while the Shop Manager has been furloughed."
Shop Volunteer Award for Inclusiveness goes to… Julie McWha - Helensburgh Shop
"Julie is a cornerstone to the shop … respected by the whole team…she is what Oxfam is about…learning new skills and empowering others."
Shop Volunteer Award for Young Volunteer of the Year goes to… Becky Earl - Wallington Shop
"[Becky's] maturity, ability, humour, humility and people skills have endeared her to all the team. Becky is the shining example of what volunteering should and can be."
This year's Shop Volunteer of The Year is… Linda Denman - Sale Shop
"[Linda's] exceptional commitment and performance… has made a difference… both financial and practical… she brings life, energy and laughter and a sense of belonging among the volunteers."
Shop Team of the year award:
This years' finalists were… Poulton-le-Fylde, Streatham, Ross-on-Wye ​and Colchester ​
The winner for 2021 went to the Streatham Shop.
"Who have continually shown an outstanding commitment and compassion in their local community and to Oxfam.
Congratulations to all of the winners and thank you to everyone who sent in their nominations. Nominations for next year open in January 2022!
Feeling inspired? Have you considered becoming a shop volunteer?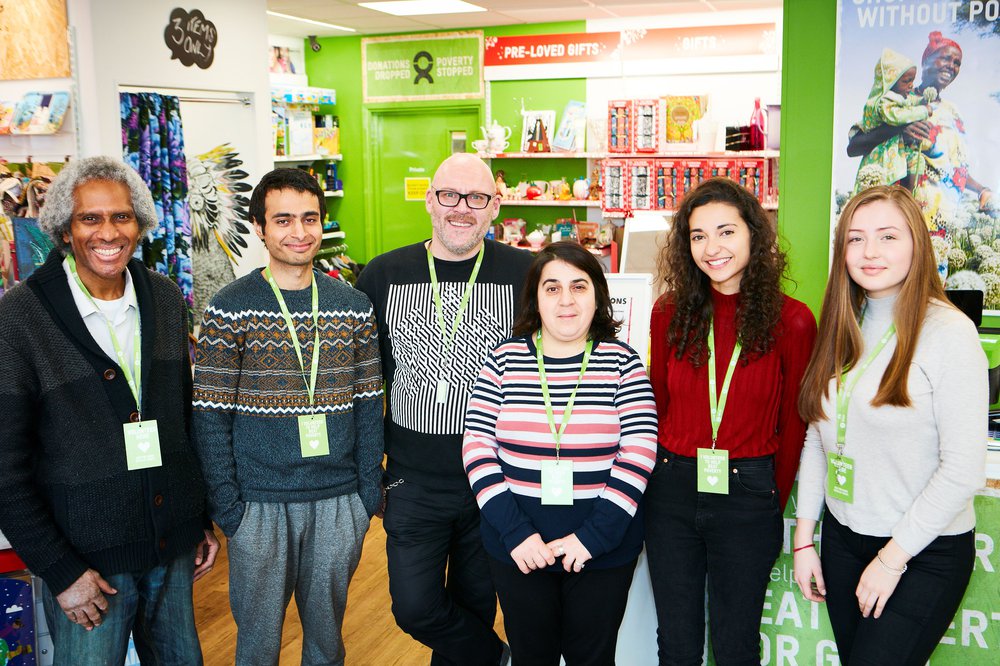 Each Oxfam shop typically relies on a team of 30 volunteers, alongside one or two staff members, to be open for business. The pandemic has meant that some of our regular volunteers are not able to come to our stores for the moment. We have also seen a rise in donations since our shops reopened on 12th April.
We would love you to join your local shop team summer. You can make new friends, learn new skills and help others.
If you'd like to join one of our volunteering teams, Apply to volunteer at your local shop.