Volunteer in your local Oxfam shop
Zara Canfield

Volunteer in an Oxfam shop
People become Oxfam charity shop volunteers for all sorts of reasons. But there's one thing that unites them: they're one-of-a-kind.
Volunteer at your one-of-a-kind local Oxfam shop
Oxfam retail volunteers make a real impact every shift and help us work towards a kinder and radically better world, one without poverty.
You can volunteer in one of our over 500 shops or hubs across the UK from the age of 14. Volunteering at Oxfam is the perfect way to make friends and gain new skills, whether you're looking to improve your CV, take on a new challenge or just have fun!
Oxfam is really a community for me."

Cooper King, Oxfam Shop volunteer
Each Oxfam shop and hub is one-of-a kind and offers a range of different roles. Whatever your skills and experience, there is a role for everyone at Oxfam. Roles available include:
Or you might find yourself in a more specific role such as a Social Media Volunteer, E-Commerce Volunteer, or even a Lead Volunteer.
Other volunteering opportunities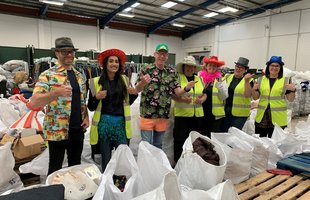 Corporate volunteering
We have some great opportunities for Employer Supported Volunteering across our retail network in the UK. Volunteering offers a great way to have some fun and help Oxfam's work to beat poverty. Find out more about corporate volunteering.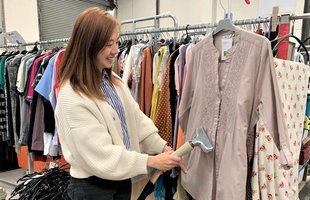 Volunteer placements
From short summer voluntary placements, compulsory work experience modules, to a year volunteering with your course, Oxfam can help you develop the skills you need to start a career in sustainable fashion. Find out more about short volunteer placements.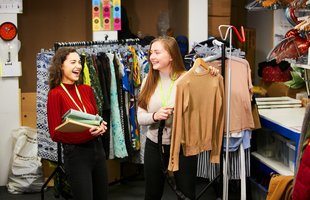 Duke of Edinburgh volunteering with Oxfam
Benefits of working in a charity shop
There are loads of reasons to volunteer in a charity shop...
Working in a charity shop as a volunteer is fun! You'll be joining a community of like-minded people.
Volunteering is a great way to make new friends and is proven to boost your mental wellbeing.
Whether it's a few hours a week or a few days, all our volunteers make a real difference every shift.
Learn new skills and boost your CV — Oxfam was recognised as the 2022 Graduate Employer of Choice' for 'Charity & Voluntary Work' at the Times Graduate Recruitment Awards.
Gabi Torres