Kieran Doherty / Oxfam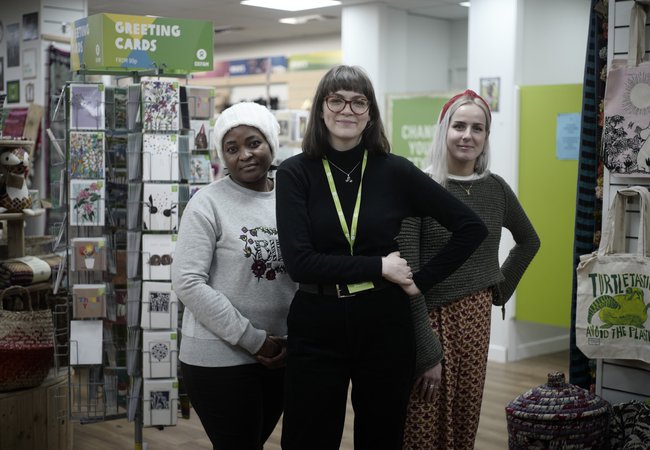 Social media volunteer
An exciting opportunity to support shops with managing different social media channels. With an aim to maximise engagement, promote volunteering and raise awareness of Oxfam's campaigns.
Overview
Oxfam is a global movement of millions of people who share the belief that, in a world rich in resources, poverty isn't inevitable. We respond fast in emergencies, work on long-term projects with communities and campaign for genuine, lasting change. Our volunteers, staff and those we aim to influence are all guided by our values of empowerment, accountability and inclusiveness.
Our shops
With a network of over 500 shops, our diverse volunteers play an integral role in championing Oxfam's value, running the shops and promoting our life saving work to the wider community.
Through the sales of donated goods and our ethical range of new products, Sourced by Oxfam, our shops raise millions of pound each year to fund our crucial work to end the injustice of poverty.
Why is Oxfam raising awareness about sustainable fashion?
Oxfam shops are at the forefront in campaigning for sustainable fashion. Since it opened in 1974, all donated clothing items that do not sell in our shops are brought into our Wastesaver warehouse, where they are sorted and sent to various retail channels such as festival shops, specialist boutiques or Oxfam's Online Shop.
Why do we need you?
Our shops would not be able to raise crucial funds for Oxfam's emergency and development work all over the world without our dedicated volunteers, who provide their time and bring multitude of skills and knowledge. In return, we offer learning and development opportunities, valuable insight into charity retail and a friendly environment to meet new people.
What are your key responsibilities?
This is an exciting opportunity to support shops with managing different social media channels, with an aim to maximise engagement, promote volunteering and raise awareness of Oxfam's campaigns. As a Social Media Volunteer, you will be involved in:
Establishing an/or maintaining active social media accounts.
Researching and creating creative content for different social media channels.
Identifying opportunities to establish relationships with local community groups
Advertising volunteering opportunities in the shop and diversifying online presence by developing other potential social media channels i.e. Pinterest.
Keeping up to date with Oxfam's campaigns and promoting this across the different channels
Thinking of innovative ways to drive online engagement.
Identifying target audiences and being up to date with current trends.
What skills and experience are we looking for?
You do not need specific skills and experience as training will be provided, but the following will be useful:
Commitment to Oxfam's values of empowerment, accountability, and inclusiveness.
Ability to work within Oxfam's policies and shop guidelines.
Experience of using Facebook, Instagram, or Twitter.
Good written communication skills, with accuracy and good attention to detail.
Ability to think creatively when sharing content.
Ability to work collaboratively as part of a team and motivated to work as an individual.
Ability to deal in a professional manner when communicating online.
Basic digital photography experience will be useful but not necessary.
What will you gain from this opportunity?
You will be joining thousands of volunteers who won't live with poverty.
Comprehensive induction, training, and ongoing support.
Valuable experience for those seeking a career in marketing, social media and PR.
Learn about Oxfam's humanitarian, development, and campaigning work.
Opportunity to gain nationally-recognised NVQ qualifications in customer service, warehousing, retail and management (subject to criteria).
Being part of a friendly and diverse team.
Lunch and reasonable local travel expenses can be reimbursed in line with Oxfam's policy and references can be provided to future employers.
Young people and this role
We are proud of having a diverse volunteer base made up of people from different backgrounds and ages. The minimum age for this role if 14 years old. A risk assessment, parental consent and safeguarding considerations will be required for those aged 14 – 17.
Learning opportunities
We will provide you with ongoing support and training throughout your volunteering:
Full induction
Health and Safety
Safeguarding
Data Protection and compliance.
COVID-19 considerations
Shop till areas have protective screens. All shop teams are provided with PPE masks and gloves, hand sanitising stations are on shop floor and in back areas of the shop. Social distancing markers are visible on the shop floor.
What's next?
Once you submit your application, and suitable references are gathered, you will meet with the shop manager for an informal interview. You will then receive a full induction and all the essential training and learning and begin your volunteering journey with Oxfam.
Thank you very much for your interest in volunteering with us. We look forward to having you in our team.
Application process
Search for volunteering opportunities near you and apply online
Application deadline:
Ongoing.
Interview date:
The shop manager will contact you as soon as possible and will arrange a convenient time for you to visit the shop and have a chat about volunteering.
Start date:
As soon as you have had an initial chat with the shop manager and after receipt of suitable references, you can arrange a start date.