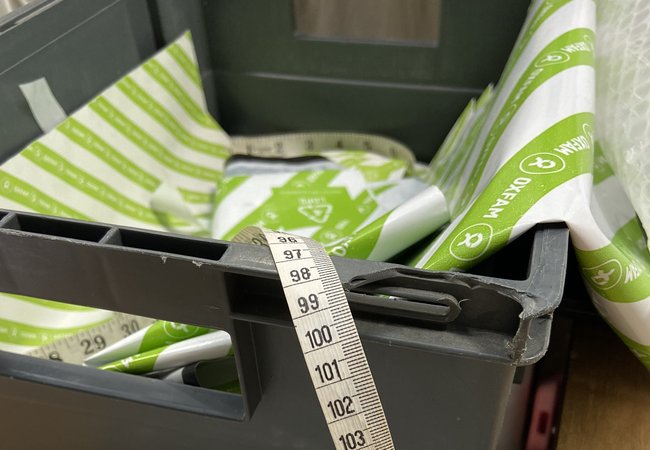 E-Commerce Volunteer
As an E-Commerce Shop Volunteer you'll be behind the scenes in our busy shops or hubs, learning all about selling donated gems through Oxfam's unique Online Shop. You can get involved in everything from researching, describing, photographing, to posting. Best of all you'll be raising vital funds to support people facing poverty around the world.
Our shops
With a network of over 560 shops, the Oxfam Superstore (in Oxford) and Hubs (In Milton Keynes and Batley) our diverse volunteers play an integral role in supporting our high streets and online.
Through the sales of donated goods and our ethical range of new products, Sourced by Oxfam, our shops raise millions of pound each year to fund our crucial work to end the injustice of poverty.
Oxfam shops are at the forefront in campaigning for sustainable fashion. Since it opened in 1974 Oxfam has been championing second hand and as well as our high street shops we have the Oxfam Online Shop full of treasures! Over 100,000 unique items listed on our Online Shop! Every day, our incredible shop teams within many of our high street shops, and two online hubs, work extremely hard to photograph, price and upload items onto our online shop. Each item is completely unique - so once it's gone, it really has gone!
Why do we need you?
Our shops would not be able to raise crucial funds for Oxfam's emergency and development work all over the world without our dedicated volunteers, who provide their time and bring multitude of skills. In return, we offer personal development, valuable insight into charity retail and a friendly environment to meet new people.
What are your key responsibilities?
As an E-Commerce Volunteer you will receive all the training and support you need so you will develop your skills as part of our Online Shop team. You don't need to have any experience – we've got you covered.
As an Online Shop Volunteer, you'll develop transferable skills that boost your confidence as well as:
Researching donated items to find value them
Preparing items to make the most of our donations
Writing accurate descriptions to go on our website
Taking quality photographs to attract online customers
Packing and posting online orders
Putting your passion to good use by specialising in your favourite area
What skills and experience are we looking for?
You do not need specific skills and experience but the following will be useful:
Happy to be part of a team
Excited to learn new skills
Basic IT skills
Good organisational skills and attention to detail
What will you gain from this opportunity?
Improve skills and boost your CV
Grow your confidence and meet new people
We can be flexible around your education, family, work, or health etc.
Chance to improve your writing, IT and language skills
You will be joining a community of like-minded volunteers who "won't live with poverty".
Lunch and travel expenses can be reimbursed in line with Oxfam's policy and references can be provided to future employers.
Young people and this role
We are proud of having a diverse volunteer base made up of people from different backgrounds and ages. The minimum age for this role if 14 years old. A risk assessment, parental consent and safeguarding considerations will be required for those aged 14 - 17. You can find out more information about safeguarding policies on our website.
Learning Opportunities
We will provide you with ongoing support and training throughout your volunteering:
Full induction
Health and Safety
Safeguarding
Data protection and compliance
What's next?
Once you submit your application and suitable references are gathered, you will meet with the shop manager for an informal interview.
You will then receive a full induction and all the essential training and learning and begin your volunteering journey with Oxfam.
Thank you very much for your interesting in volunteering with us. We look forward to having you in our team.
Application process
Search for volunteering opportunities near you and apply online
Application deadline:
Ongoing
Interview date:
The shop manager will contact you as soon as possible and will arrange a convenient time for you to visit the shop and have a chat about volunteering.
Start date:
As soon as you have had an initial chat with the shop manager and after receipt of suitable references, you can arrange a start date.