John Wessels/Oxfam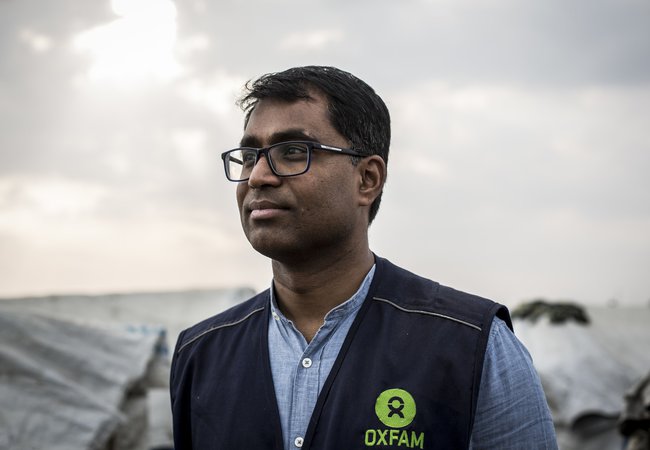 All forms of sexual misconduct are abhorrent and an affront to everything we stand for."
Danny Sriskandarajah, CEO, Oxfam GB
Keeping people safe
Keeping people safe is a vital part of our work worldwide and we are committed to continually learning in order to make Oxfam a safer place for all.
From constantly improving safeguarding policies, to installing solar lights that make refugee camps more secure, to training our staff around the world - we are committed to creating a safer Oxfam. In recent years, Oxfam has made substantial changes to the way that we approach safeguarding. But safeguarding work is never complete, and we recognise there is so much more to do.
Safeguarding in our shops
Oxfam shops are community hubs - welcoming environments where many different people from a broad range of backgrounds collaborate as a team and raise money to fight poverty around the world.
Oxfam takes safeguarding extremely seriously. We have systems in place to protect our shop staff and volunteers from harm, and encourage them to recognise and report issues and allegations of concern.
How we are keeping people safe
We have continued to strengthen our approach to safeguarding by increasing the number of safeguarding specialist staff. We now have dedicated safeguarding focal points in every country where Oxfam is present, who work with staff and communities. We have been adapting to Covid-19 too - creating online safeguarding training tools to ensure that staff, volunteers, and partners are provided with effective support and training during this period.
But we won't stop there, we recognise that there is so much more to do.
We believe that only by being open and transparent about the problem can we tackle it – no organisation can ever say it is free from the risk of abuse and harassment, but we will continue to be accountable in how we manage these risks and respond swiftly when incidents do occur; striving to provide survivors with the right support at every stage.
We know that living our values is every bit as important as what we achieve, and we must not lose sight of that.
Explore the sections below to see what we are doing differently
The Charity Commission
There is no ultimate end point for safeguarding whereby an organisation can say the work is complete, rather an acknowledgement there is always a need to learn, adapt and develop…"

Report on Oxfam's GB's progress on safeguarding, as part of Charity Commission inquiry.
Independent Commission Report
Oxfam's safeguarding and related policies