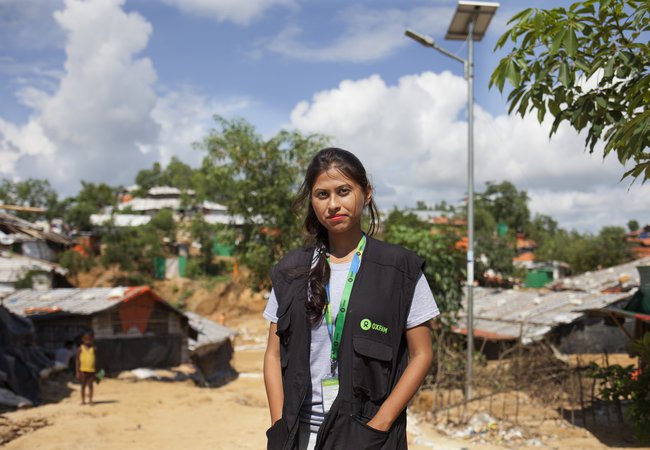 Keeping people safe
From constantly improving safeguarding policies, to installing solar lights that make refugee camps more secure, keeping people safe is a vital part of our work worldwide.
In recent years, Oxfam has made substantial changes to the way that we approach safeguarding. But we recognise that there is so much more that we need to do, and we are committed to continually learning in order to make Oxfam a safer place for all.
Safeguarding in action
Oxfam has recently dismissed some members of staff in the Democratic Republic of Congo (DRC) as a result of an investigation into abuses of power
You can find out more in our press release
We apologise to everyone who has been hurt by these abuses of power and hope the action we have taken demonstrates our resolve to tackle all forms of misconduct.
We are committed to transparency and will continue to report regularly on our progress. Every six months, we publish a report on all safeguarding cases we have completed across the Oxfam confederation.
How we are keeping people safe
We have continued to strengthen our approach to safeguarding by increasing the number of safeguarding specialist staff. We now have dedicated safeguarding focal points in every country where Oxfam is present, who work with staff and communities. We have been adapting to Covid-19 too - creating online safeguarding training tools to ensure that staff, volunteers, and partners are provided with effective support and training during this period.
But we won't stop there, we recognise that there is so much more to do.
We believe that only by being open and transparent about the problem can we tackle it – no organisation can ever say it is free from the risk of abuse and harassment, but we will continue to be accountable in how we manage these risks and respond swiftly when incidents do occur; striving to provide survivors with the right support at every stage.
We know that living our values is every bit as important as what we achieve, and we must not lose sight of that.
Explore the sections below to see what we are doing differently
Safeguarding in our work around the world
Training during the Indonesia Tsunami and Earthquake
Local Oxfam safeguarding lead Cahyanti runs safeguarding training for our local partner organisation, staff and volunteers delivering vital aid. During emergencies, such as the disaster that hit Sulawesi in late 2018, we work collaboratively with local people and organisations to respond to the community. It's vital that everyone involved is equipped to help keep people safe at such a critical time.
Preventing exploitation of the most vulnerable
Nosiba Ahmed works for Oxfam as a Cultural Mediator in Italy. She reaches out to the most vulnerable migrants, helping to protect them from trafficking and violations of their rights to seek asylum. Having come from Sudan as a migrant herself, she really cares about building trust with people in the same situation. "Sometimes we meet people and they are hopeless... We can tell them, 'actually, there is something you can do. You have rights'." 
Breaking down the barriers women and girls face
Grace's two-hour walk to school in rural Malawi made her vulnerable. It was unsafe, she was often late and her work suffered. She used to worry about her journey. But everything changed when she got a bike from Oxfam. These days, it's easier - and safer - for Grace to get the education she needs to overcome poverty.
Our programmes are designed to defend women and girls' rights to an education, a living and freedom from fear of violence. We won't allow anything to undermine that vital work.
The Charity Commission
We have been working with the charity regulators for England and Wales, as they look into Oxfam GB's handling of misconduct in 2011. Learn more
Independent Commission Report
An independent commission of safeguarding experts has reviewed our culture and working practices globally. Read more here.
Oxfam's safeguarding and related policies
Prevention of Sexual Exploitation and Abuse policy (PDF, 358KB)
Digital Safeguarding Policy (PDF, 401KB)
Safeguarding Adults Policy (PDF, 306KB)
Safeguarding Adults Policy Addendum (PDF, 608KB)
Safeguarding Adults Policy - Retail (PDF, 185KB)
Safeguarding Youth Policy (PDF, 288KB)
Safeguarding Youth Policy Addendum (PDF, 150KB)
Safeguarding Children Policy (PDF, 400KB)
Safeguarding Children Policy Addendum (PDF, 431KB)
Safeguarding Children Policy - Retail (PDF, 307KB)
Survivor Policy (PDF, 169KB)