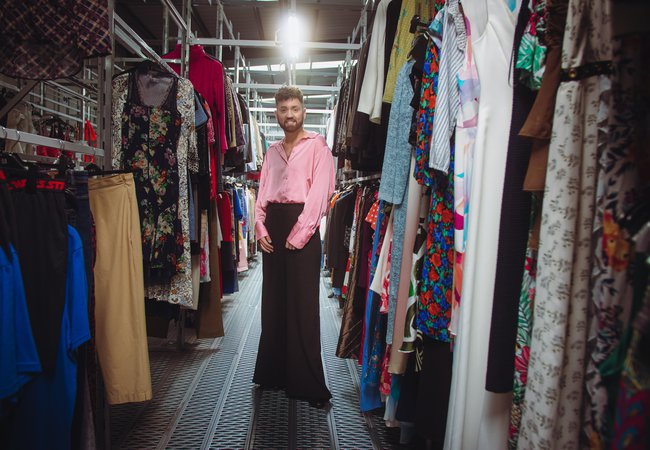 Connor 'The Boy in the Dress' on Secondhand Shopping and Building a Sustainable Wardrobe
Connor Keaney (@conjlk on Instagram), also known as the Boy in the Dress, visited the Oxfam sorting hub recently. It's where some of the pre-loved clothes you donate get sorted.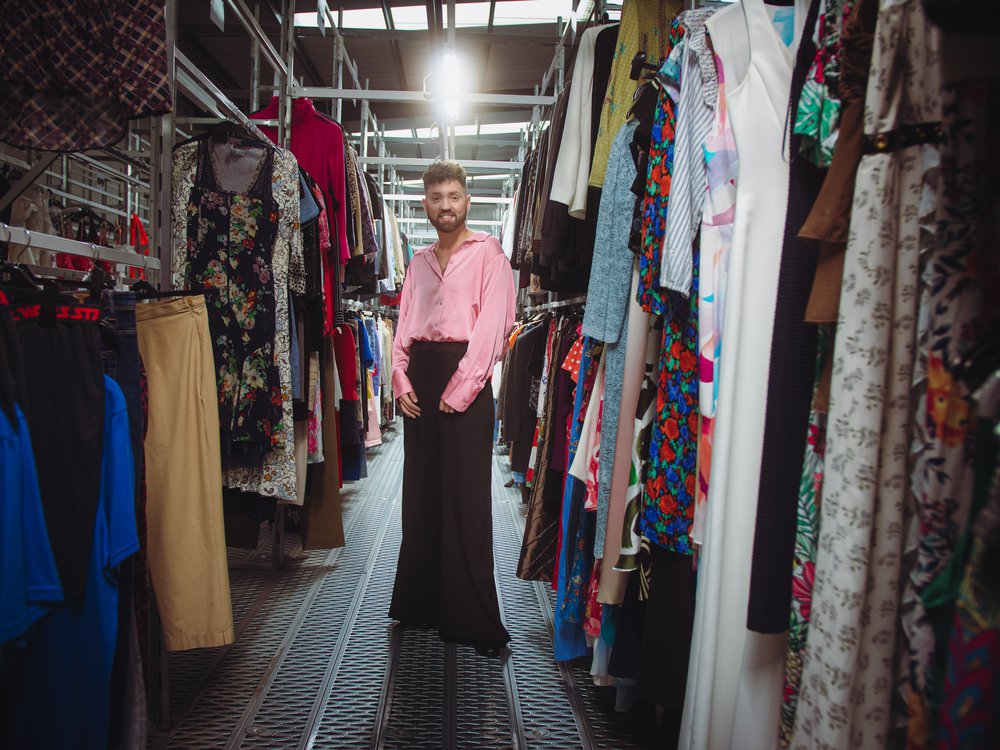 It feels amazing to be surrounded by so many clothes. I feel very at home. This is literally what my wardrobe looks like. Oxfam is somewhere I can buy in the shop and online. So my wardrobe gets pretty full. This looks like my wardrobe. There's men's clothes, there's women's clothes, there's in between clothes. So I feel very at home."
Connor looked through the vast selection of clothing at the warehouse. Then shared tips on how to style second-hand items for the festive party season. He spoke about his love for secondhand shopping. As well as his special tips and tricks on how to find hidden treasures in Oxfam shops, and why he likes to shop with Oxfam so much.
Describing his personal style, Connor says that he likes to try everything, "I wear all kinds of clothes. I don't believe fashion has a gender. So I think just wear anything. Any colour, any print, any size, any fit. I think it's all very acceptable".
As for his favourite item of clothing, he has always enjoyed a good skirt, "My favourite item is a skirt. I especially like a tennis skirt, something you can dress up or dress down, especially for any kind of season, any kind of weather. You can wear a big oversize jumper, cardigan or a nice jacket. Or just wear a skirt like I sometimes do, with the nice T-shirt."
Why secondhand shopping?
Connor listed several reasons why he thinks secondhand is the way to go...
Pre-loved helps our planet
"You're recycling. You're helping the Earth. You're helping an amazing charity that the clothes are coming from. And you're looking good while doing it".
Charity shopping gives you access to a larger range of styles
While Highstreet shops might be trend-driven and offer somewhat similar pieces, charity shops give variety. And access to unique one-of-a-kind pieces.
"This is what I love about charity shopping, especially in Oxfam. You get so many different types of materials, colours and fabrics. You've got crushed velvet, you've got a nice silver, glittery kind. You've got dresses that you'd see on like a runway".
You can get brand new pieces (with tags!) for a fraction of the price
"You can get stuff with a tag on that's brand new. Some of my friends are not always up for going charity shopping. But here you've got lots of new stock with tags still on, at a fraction of the price. So you're not even paying as much".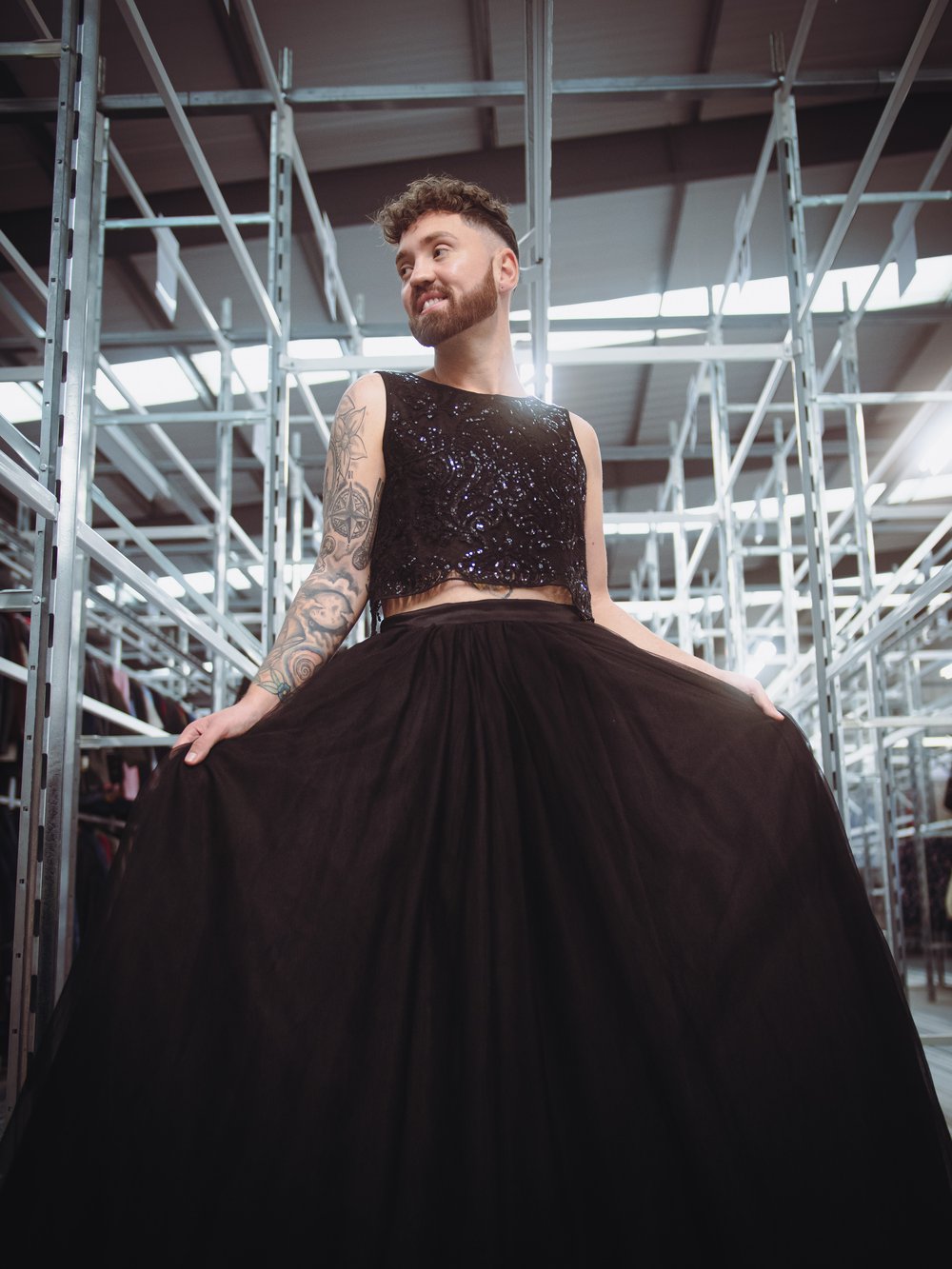 Top tips for secondhand shopping?
As for how to go about secondhand shopping, Connor has a few tips and tricks up his sleeve...
Look thoroughly and carefully
"Always look, don't skip. Don't be lazy. And if you see something, buy it. It's going to charity, it doesn't matter if you sell it on. You're still giving to charity. Recycle and reuse as much as you can".
If you see something you like, get right away, it won't be there for long
"Get it there and then, don't leave it behind! Always get it straight away because if you don't have it, someone else will".
Have an action plan ready
"When I go into a charity shop, I have a game plan, I start on the right-hand side, up to the top, and I go down the left-hand side because you're covering all areas. Then in the middle, I tend to find the best little pieces, so I leave that to last".
I like to give back. I like to recycle, I like to reuse. So I give a lot clothes that I don't wear or I've had photos in quite a few times straight back to charity."
Connor Keaney (@conjlk on Instagram), also known as the Boy in the Dress
Why choose Oxfam for secondhand shopping?
Connor is an avid fan of Oxfam and has been shopping in Oxfam shops for a long time.
"I go charity shopping all the time. I'm guilty of going every two days. And my favourite place to go is Oxfam - that's where I've found my best finds".
One reason Oxfam is one of his favourite places to shop is that shopping with Oxfam can help foster a more sustainable approach to fashion. Connor lists a few ways in which you can help support the cause.
Reduce "Reduce your waste – by purchasing pre-loved- and save it from going to a landfill".
Reuse "Choose something that is secondhand that you can reuse and recycle to make a statement".
Reinvest "Shopping with Oxfam helps support its cause of helping people who are fighting poverty and helping different communities".
Shopping with Oxfam helps fight poverty. A sustainable approach to fashion helps fight the climate crisis. Shop in our stores or on our online shop.