Want a sustainable wardrobe that never goes out of fashion? Then shopping for a capsule wardrobe is for you! And your local charity shop could be the destination for all those essential clothes you've been looking for...
What is a capsule wardrobe?
London boutique owner Susie Faux first came up with the term 'capsule wardrobe' in the 1970s. For Faux, the capsule wardrobe contained essential items of clothing that would not go out of fashion.
In 1985, designer Donna Karan released a 'Seven Easy Pieces' collection, which included interchangeable, essential pieces – for example a bodysuit, skirt, tailored jacket, large scarf, white shirt, cashmere sweater and a dress. A bodysuit may no longer be a staple for everyone (although there's evidence they're making a comeback). But most of us have basics that can be incorporated into any outfit.
And while the number does not have to be strict, the message is clear. You don't need a wardrobe bursting at the seams with this season's pieces to be exciting and on-trend. All you need are a few staple items that will see you through.
Kitty Norwell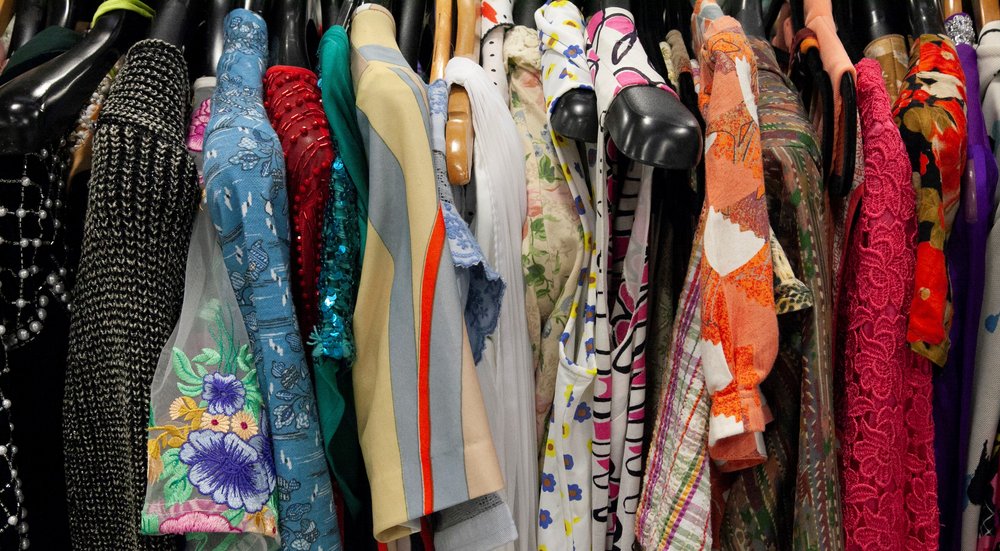 Why you need a capsule wardrobe
Enjoy an uncluttered wardrobe
While you're looking for your capsule wardrobe pieces, it's the perfect chance for you to pick through the items you have already. You may find items that you have never worn, or that you never will wear again. This is a chance for you to free yourself from stuff and donate your unwanted items to Oxfam.
Fewer clothes decisions = less stress + more time
It's a chance for you to free your mind, your clothes are already picked for the day so you have spent less time on deciding what to wear and can concentrate on other things. Now you don't have to agonise about what top goes with what on the bottom – it all goes together!
Save money on clothes
If you love to shop, then now is your chance to save some money. You don't need this season's jeans, put that money towards something else instead.
Now you've discovered how to build a capsule wardrobe and found out what you need one now, it's time to get started. Head to your wardrobe and start sifting through it. Good luck everyone!
How to build your capsule wardrobe
A capsule wardrobe is a clothes collection that only includes essential items. These clothes can be used to form outfits for all occasions, both for life and for work. It's a chance for you to make dressing effortless, giving you more time to focus on other things.
It's important to be aware of the seasons when building a capsule wardrobe. Your Spring / Summer collection will probably feature overlapping items, as will your Autumn / Winter collection.
Use the web to find your style
Inspiration can be found all over the internet. Have a good look around to identify a style that you like. A quick Google image search or Pinterest hunt for 'capsule wardrobe' will give you an idea of what other people have used and enjoy.
Write a wardrobe checklist
Donna Karan had seven items, however, this was created with work in mind. If you're looking to adjust your entire wardrobe, thirty to forty items (including shoes and outerwear) should be enough. Instead, create a list of the items you need for your capsule wardrobe and divide it into Work Clothes, Life Clothes and Accessories.
Look at your current clothes collection
Before you head to the shops, have a look at what you already have. You may already have a jacket, well-fitted jeans or a classic LBD.
Declutter and donate your pre-loved clothes
Building a capsule wardrobe second hand also sometimes means parting with items that no longer serve you. No matter how long you've had them or how much you've tried there's a piece that's never quite found its home in your everyday wardrobe. Don't underestimate how much that piece could be the missing jigsaw to someone else's capsule style.
Now that you're staring more closely at your clothes, it's time to get rid of the items that you really don't need. Take a deep breath and remove any clothes that you haven't worn in the last year, any clothes that no longer fit, and any clothes that can't be mended. Bag them up and take them to your nearest Oxfam Shop or Donation Point. By donating your pre-loved items to your local Oxfam shop or through our online postal service, you're also helping Oxfam to raise money for those facing poverty.
Zara Canfield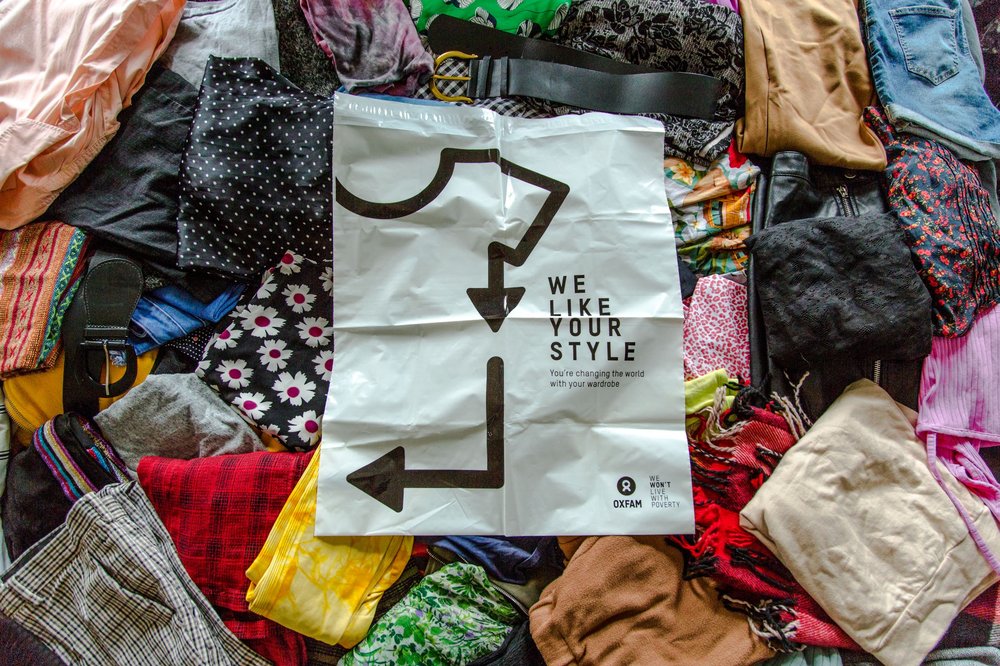 When choosing your items, take into consideration:
Know your body shape
Find the right clothes for you, the more flattering they are, the more likely you are to be comfortable wearing them time and time again. Check out whowhatwear to find out your shape.
Choose your colours
Pick a few base colours such as black, white, grey, navy or brown and get your bags, trousers or coats in these shades. Now you've got the bases covered and you know that they will match with any tops or dresses.
Pick high-quality pieces
As you will be wearing your items in different ways, they will get more wear than usual. Choose high-quality fabrics that will continue to look great.
Look for shapes and patterns
While those purple corduroy bootcut jeans looked great that one summer, they might now be considered dated and ugly. Go for classic shapes and patterns that will last a long time.
Not only is it possible to pick up a classic, wearable piece that goes with all those favourite items you already own but you can shop for it at a fraction of the cost while also being kind to the environment. By buying capsule pieces second hand you're contributing to the circular economy rather than adding to the demand of new items.
Kitty Norwell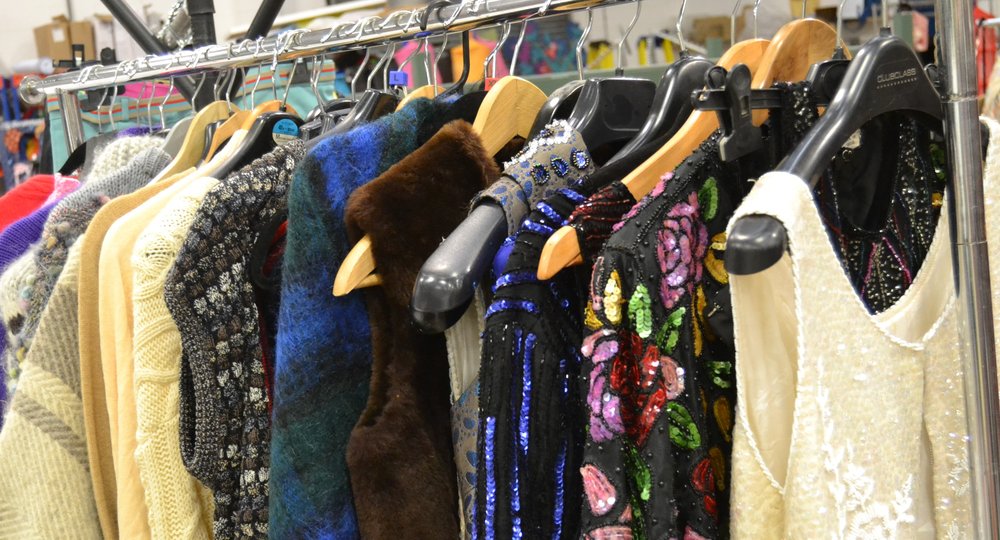 Look for natural, longer-lasting fabrics
You might be surprised what you can find in your local Oxfam shop. Often there's a treasure trove of high quality, natural fabrics from brands you might have never heard of. It's often the unusual, independent, or vintage brands that hold the highest quality. They might have even discontinued but suddenly this golden oldie cashmere gem, barely touched, finds itself in the hands of someone new. Look out for breathable, natural materials that stand the test of time - think organic cotton, breezy linen, and your go-to winter essential wool. It's not unusual to come across cashmere or silk when you know what you're looking for. It happens!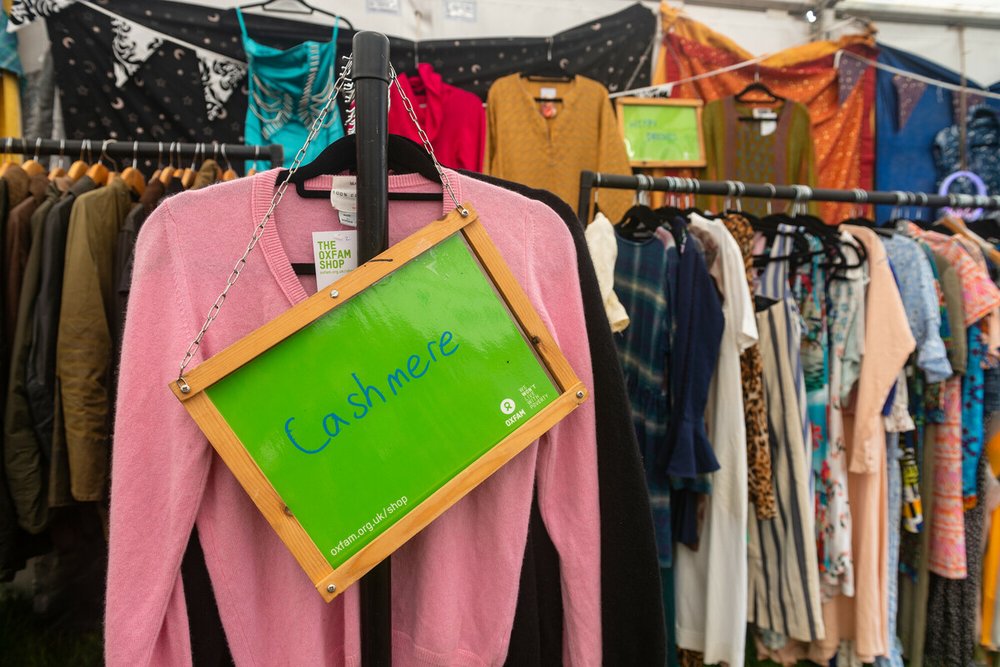 Capsule doesn't have to mean boring
In our eyes capsule doesn't have to mean dressing like everyone else. Maybe you have your own style perfectly orchestrated already and you know what works for you and what your wardrobe is lacking is a few key essentials to pull everything together. There's no need to shy away from colour, patterns, and unique textures you love when you have some classic neutral staples to work with. Capsule items are about pulling a look together so think about the clothes you already own and make a note of what you need to co-exist with them.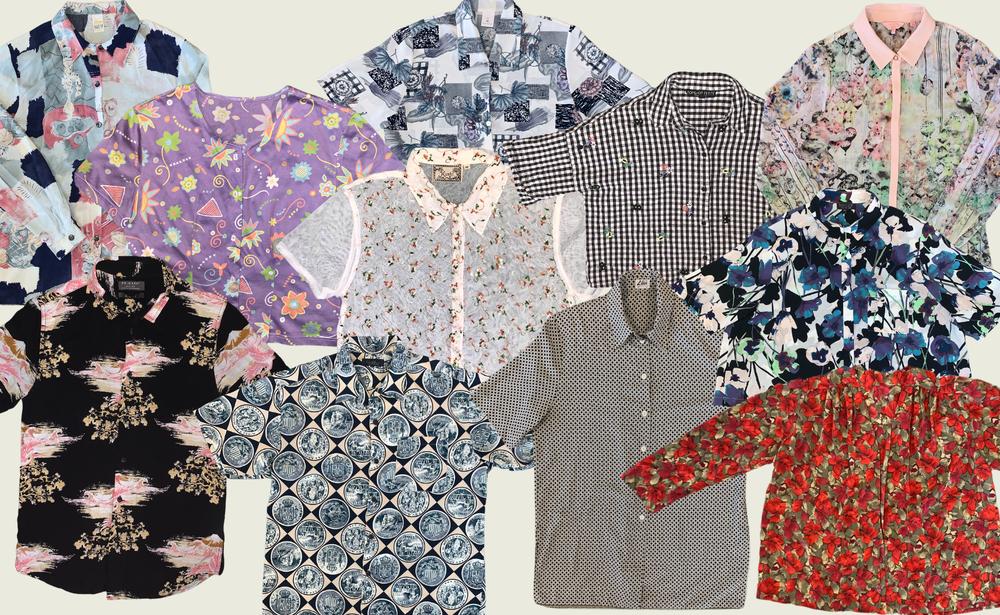 Second Hand Denim
Did you know that when a pair of jeans is made new, an estimated 16.2kg of CO2e is emitted – the equivalent of driving over 58 miles in a car?
Remember, the most sustainable jeans are the ones you already own but if you're on the hunt for replacements then your local Oxfam shop or Oxfam online is home to an array of sustainable denim choices just waiting to be found. High-waisted, low-waisted, skinny, or boot-leg – you'll find jeans of every kind. Not to mention cropped, oversized and biker denim jackets looking to be treasured. If you find that sizing is a problem (it's not quite the right fit or length) then consider taking it to your local dry cleaners or an independent tailor to make the adjustments for a fraction of the price a new pair might cost. It's time to get clever when shopping for denim.