Stand in support with Refugees
The passing of the Nationality and Borders Bill this week has dealt a devasting blow to refugees. Our action to stand together remains vital to build a welcoming Britain.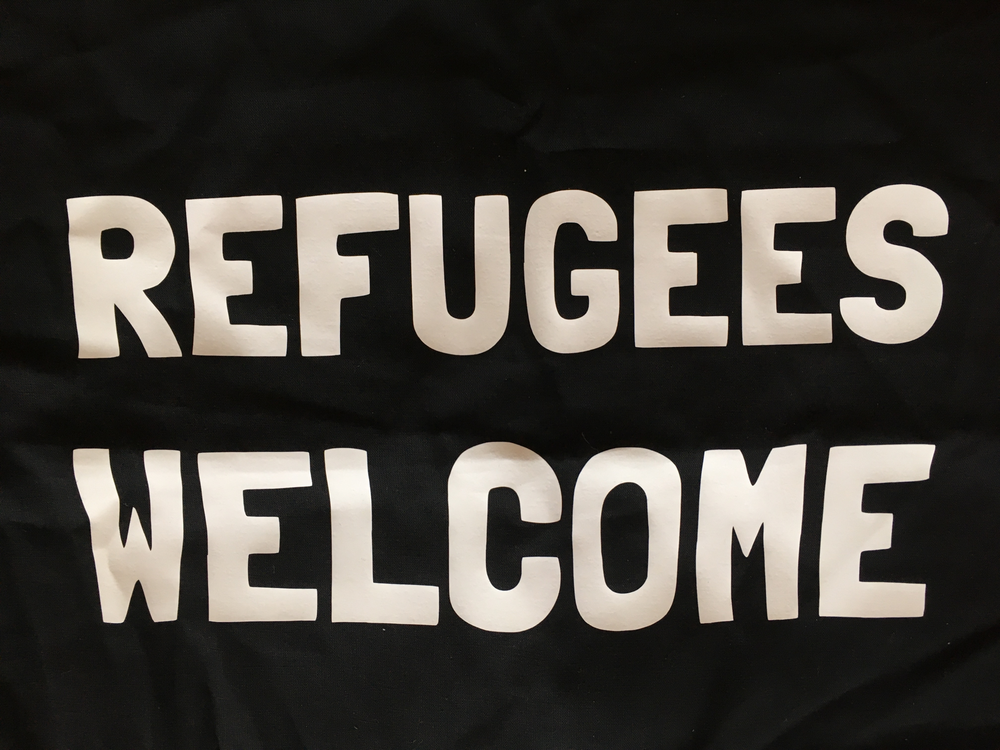 I've been working on Oxfam's refugee campaign for the last 7 years. Through that time, and before, we've seen highs and low of what humanity has to offer.
Too many lives of people simply seeking safety have been tragically lost because our governments refuse to put in place safe and legal routes for refugees. Yet at other times I've seen the best in people through the warmth local communities show to refugees. The Museum Without A Home is a perfect example of how small acts of solidarity can provide a big welcome and every year the Refugee Week festival celebrates with creativity what refugees bring to their new communities.
Too many lives of people simply seeking safety have been tragically lost because our governments refuse to put in place safe and legal routes for refugees."

Sara Cowan, Senior Campaigner, Oxfam GB
This week has seen a devastating blow, as the UK's inhumane Nationality and Borders Bill is going to become law. It could criminalise people seeking asylum or punish them simply for how they got to the UK. And it could force people into "processing centres" in other countries or large scale accommodation centres, when all people want is to live in safety or to be reunited with their families. This is scary news for people seeking safety. Solidarity is needed. As our government seeks to bring in heinous and cruel policies we must all stand together.
Here are 4 ways you can stand for justice...
Stand with Refugees – Keep campaigning
Now more than ever, people need an escape from war, persecution and violence. To find a safe place to rebuild their lives. We are continuing to demand a fair approach with our partners across the UK.
"We're going to get the anti-refugee law repealed" is the rallying call from a new website that asks you to pledge support and demonstrates what these new laws mean for people seeking safety.
The excellent Together with Refugees coalition is committed to a fairer, kinder and more effective approach to refugees. With lots of campaign actions to take locally to demonstrate you stand together with refugees.
There are also campaigns focused on specific changes to our current practice with the Families Together Campaign seeking to improve the rules for refugee family reunion and the Lift the Ban campaign seeking to give people seeking asylum the right to work.
If the Government thinks it can put through this cruel legislation let's add our voices and stand together across these issues to say we won't take it.
Support refugees in your area
Our current asylum system can leave those still in the asylum process at risk of destitution if their claim is turned down and living in poverty while they go through the process with just £40.80 a week to live on and no recourse to public funds. Women can be most at risk.
Providing support to local groups across the UK that are working with people seeking safety can act as a warm welcome and an important lifeline. Whether it's your time or financial support local groups will be able to let you know what's most needed in your area.
Support refugees around the world
Oxfam's emergency response fund helps us respond when emergency hits. In so many emergencies we respond when people are displaced from their homes, sometimes staying within their own country and sometimes fleeing to neighbouring countries.
To be there every time we need your help: donate to our Emergency Fund.
Celebrate what refugees bring
Join Refugee Week in celebrating the contributions, creativity and resilience of people seeking safety.
Join an event in your area or hold your own, refugee week takes place between 20-26 June.