So far, thousands of people have lost their lives in the Turkey-Syria earthquake – with numbers growing each day. But what can those of us here in the UK do to help? By coming together, pooling our resources and expertise, we can help support survivors.
What people really need right now is a roof over their heads and emergency food supplies to feed their children."

Danieh Kareh, Oxfam's Communications Officer, Syria
Rescue teams try to reach trapped residents inside collapsed buildings at Galleria Apartment in Diyarbakir, southeast Turkey. Image: Ahmet Yukus/Depo Photos via ZUMA Press Wire/Shutterstock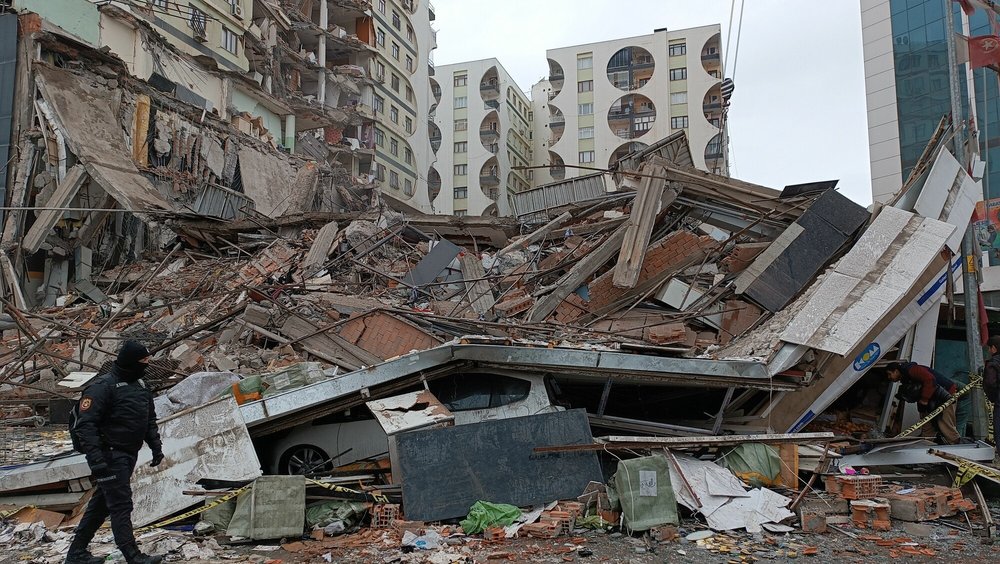 What's happening in Türkiye (Turkey) and Syria?
In the early hours of 6 February, while people slept in their beds, an earthquake hit Türkiye's (Turkey's) southeast region.
It was closely followed by a second quake, then hundreds of aftershocks, causing destruction on a vast scale. At a magnitude of 7.8, the biggest earthquake in Türkiye since the 1930s, neighbouring countries Syria and Lebanon were also left reeling. Neighbourhoods became unrecognisable. Homes, schools, hospitals and roads reduced to mountains of rubble and debris.
Right now, people are in shock. With no time to mourn loved ones, they face severe temperatures without even basic supplies.
Your donation will support local partners and affiliates, like Oxfam KEDV in Türkiye, who are working with women's cooperatives in areas most affected by the quake to reach people with essentials including food, clean water and shelter.
For many the earthquakes are a crisis on top of a crisis.
They come at a time when Syria, home to 6.7 million refugees forced to flee conflict, faces a record number of people in need. In Türkiye (Turkey), the regions hit hardest are home to a large number of refugees already facing difficult living conditions.
Partnerships like these are crucial in a crisis
Oxfam KEDV in Türkiye works closely with women refugee groups so they can not only have a voice but use their expertise to help lead on the response to the earthquake.
But as the death toll grows each day, we don't have any time to lose. Each day brings more people facing trauma, sickness and hunger. And without clean water, the threat of cholera and other diseases grows.
We know that all countries affected by this awful earthquake, and the survivors of it, will need a lot of help and support – not only in the immediate short term, but in the days, weeks, and months ahead."

Meryam Aslan, Oxfam's spokesperson in Ankara
We are stronger together
Your support will help Oxfam teams and local partners to get food, clean water and emergency shelter to affected communities.
By acting in solidarity in times of crisis we can make the biggest impact. Your support for survivors of the earthquake will make a difference to those who have lost so much. Any donation, big or small is welcomed.