Aurelie Godet / Oxfam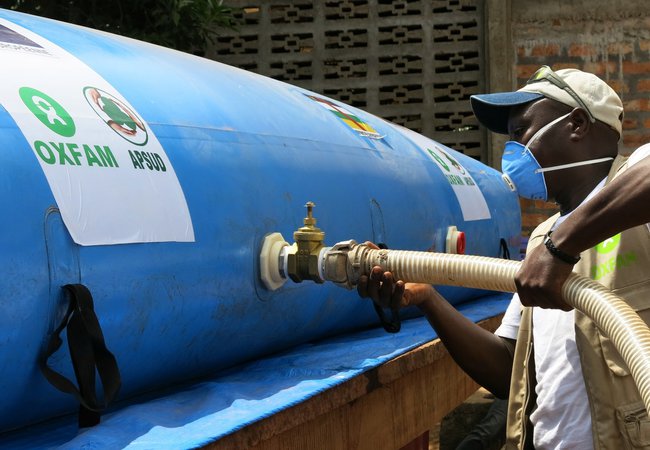 International staff
Oxfam aims to recruit and retain diverse, passionate people who have the necessary skills, knowledge and commitment to meet our vision.
Our pay and benefits package is both competitive in our sector and reflects our values.
This page outlines the package for Oxfam GB employees who work in global roles.
Our benefits package
Salary
A competitive guaranteed net salary which takes into account the international market, internal equity and your skills and competences. An Annual pay review will be carried out for international staff in order to make any adjustments to pay based on international market research, average global inflation, business needs and affordability.
Tax and Social Security 
Because you receive a net salary, we will cover any tax or social security liabilities relating to your net salary whether in your home country or your country of work.
Hours of work and flexible working
Your working hours will be set as per the country staff handbook for the country you will be based in. Your start and finish times will be agreed around the country's core hours. When possible you may be able to have other flexible working arrangements.
Holidays and other leave arrangements
These will be relevant to the country you are working in unless you are working in a roving role in which case leave will be equivalent to 33 days per year (including the public holidays in your host location).
In some countries, where working and living conditions are particularly difficult, stressful or insecure, alternative Rest and Recuperation (R&R) arrangements to local leave may exist, enabling you to regularly take a break from your usual work location. This varies from country to country.
Medical cover
We want to look after our staff and ensure that our staff members have access to basic and essential medical treatment and so will provide this for all employees, their recognised partner and any dependents (if they relocate to the work country with them) up to the Global maximum limits in the Oxfam Medical Plan.  In addition there is unlimited emergency treatment and up to £5,000 per annum for any maternity related costs for you or your partner.
Sick pay
If you are ill, in order to support your recovery and return to work Oxfam will offer you sick pay up to the country agreed maximum (as per the country staff handbook).
Pension 
We believe in the importance of planning for the longer term and retirement, therefore Oxfam GB normally contributes up to a certain percentage of your gross pensionable pay per year towards your retirement.
Life assurance
In order to support your family should the worst happen, you will be covered by the Oxfam life assurance.
If you do not have recognised partner and/dependents; 4.1 × net pensionable annual salary (without Oxfam recognised partner or dependants (up to age 18 years) at time of death)
If you do have recognised partner and/dependents 5.5 × net pensionable annual salary (with Oxfam recognised partner or dependants(up to age 18 years) at time of death).
Leisure travel
We know that it can be difficult to arrange insurance from the Oxfam locations and so Oxfam will provide you and your family with travel insurance when you go on holiday.
Relocation benefits
If you have to relocate to your work country, we will help you move, settle, and stay connected to home.
Flights home for you and your partner/dependents
We know how important it is to keep in touch with family and to maintain links and so flights home may be provided depending on the length/type of contract, to allow you to maintain links with family and friends in your home country.
Removal expenses
We do understand that moving is not cheap and so if Oxfam requires you to relocate we may support removal costs up to an agreed amount.
If you are relocated for a short period of time, stay in shared accommodation with no clothes washing and cooking facilities and no access to transport then we may offer a per diem/expenses set these will be provided to cover reasonable additional costs incurred up to the country limit.
Accommodation
If you are required to relocate to an Oxfam country and depending on the length of your deployment, Oxfam will either provide shared accommodation or reimburse your accommodation costs up to the global maximums (based on family size)
Education
Oxfam understands the impact on children of moving countries and schools and the need to have a globally portable education to support your future global mobility. Therefore if you and your family have to relocate to an Oxfam work country then we may reimburse towards the costs of education in country (up to the agreed maximums).
Expensive Country Allowance
For countries where the cost of living is higher than the UK, and for longer term postings i.e. over a year, we will provide an expensive country allowance.  This allowance varies depending on how much more expensive the work location is, and is reviewed on an annual basis.
Hard to work allowance
This will be provided for postings where the environment may be particularly difficult, stressful or insecure and is reviewed on a regular basis.
We are family friendly
Maternity
We understand the importance of having time off to care for your baby and so we will provide you with maternity leave and pay - this will be as per the country staff handbook.
More benefits
Counselling
We offer counselling to all staff members, their partner and recognised dependants. This is for up to 6 sessions.
We have partnered with Headspace, the world's most popular meditation app, to offer a free subscription to all Oxfam employees.
All Oxfam GB staff members have access to counselling as appropriate, initially with a counsellor experienced in international context through Healix.
Staff events and opportunities
We have events and opportunities for staff over the year, these vary according to where you are based. For example we organise lunchtime talks, visitor talks, team events and celebrations.