Fabeha Monir/Oxfam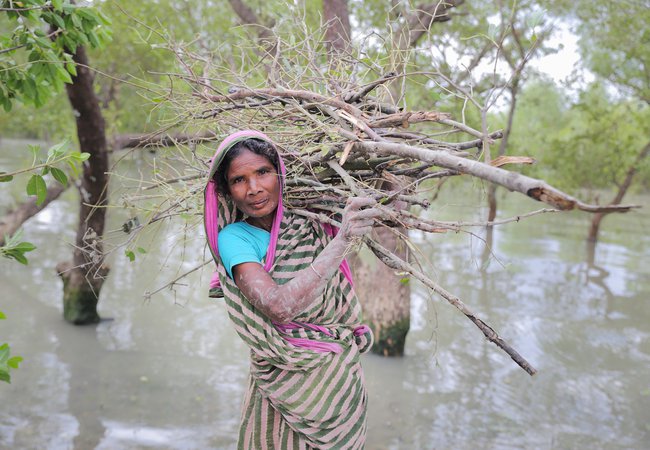 Circling cyclones, tigers and salt water: fears of a community on the frontline of the climate crisis
The staggering statistic that climate fuelled disasters force more than 20 million people a year – one person every two seconds – to leave their home, briefly caught the attention of the world's media in 2019. But people displaced by the climate crisis right now, need much more than a passing headline.
UN Climate Summits have closed without a concrete action plan; we have to ask why world leaders cannot adapt to the changing climate as fast as poor communities have had to.
In 2019, Cyclone Bulbul formed over the north Andaman Sea and adjoining areas of the Bay of Bengal. Sea conditions were forecast to be 'rough to very rough' with 'strong winds and heavy to very heavy rains'.
Oxfam and partners in Bangladesh worked with communities in the predicted path of the storm to prepare for the worst. Water supplies were checked, evacuation drills put into practice, and vital personal documents protected. As the storm swerved away from Cox's Bazar, home to more than 900,000 refugees, it turned towards southern Bangladesh, threatening thousands of people living in vulnerable coastal areas.
Fabeha Monir/Oxfam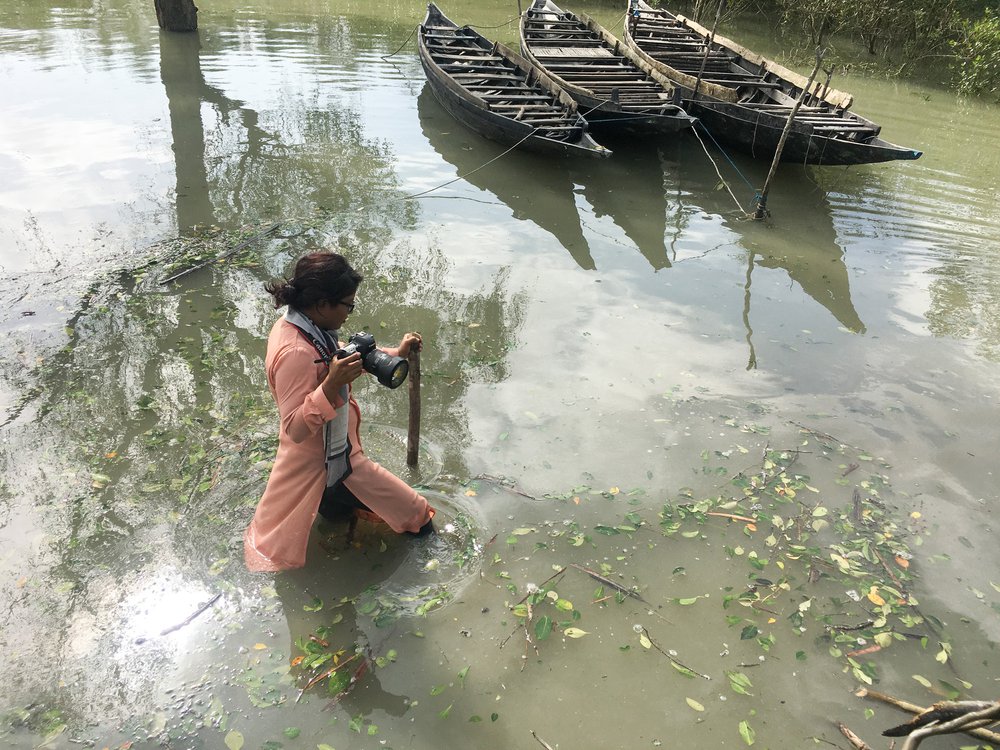 On November 9 2019, visual journalist Fabeha Monir travelled from Dhaka to southern Bangladesh, heading straight towards the path of the storm. Here Fabeha tells us what happened on her journey and the bravery of the people she met.
Journey into the storm
"When I started my journey it was already raining. The weather was getting worse and worse. My family were worried, I told them and even myself there are people who are on the frontline of the storm, that it was my responsibility as a storyteller to bring the story to the people.
"We didn't know our ultimate destination. We had to take a long road because the river ports were closed. We knew it would take more than 24 hours to reach the affected areas.
"When the cyclone hit, it was a very difficult time. We were not directly in the path of the cyclone, but the weather was still very bad; we couldn't see well. The wind was so high it was shaking our car. I remember at one point the driver stopped the car and said we should wait. At that point, I lost the phone connection. It was scary. I was really terrified for the people living on the small islands, because I knew they were vulnerable.
"Flooding is very common in Bangladesh. Every one or two years we experience flooding. I have covered flooding, but not a huge cyclone like this. From July to August, the flooding was devastating. Everything was under water, we had to spend our nights sleeping in boats. But cyclones are terrifying events – you don't know what will happen the next day, or in a few hours. That's the difficulty.
"It was getting dark. If there was another inch of water our car would be under water. I had to make a decision to keep going. Going back was not possible. It was too dark and trees had fallen. The situation would be worse if we tried to go back. We found a place to stay overnight in Faridpur.
"There were lots of people on the road with us, it was safer than staying in the lowland areas. Aid workers and government people were trying to clear the road, removing trees. NGOs were bringing supplies. People were in emergency mode; some people were heading to the shelters.
"Shushulan from Oxfam's partner GM Moniruzzaman was there, he came to find us. He took me to the communities on his bike; the light was going."
People are not just 'subjects' to me, they are human beings with real emotion.
"As soon as we arrived in the worst affected area, I was totally overwhelmed. All the houses were damaged or destroyed; people were crying. It was a very upsetting situation. People are not just 'subjects' to me, they are human beings with real emotion. The people of Satkhira are very brave. They are not afraid of anything. The uncertainty, the 'what will happen next': that was the worst thing.
"People were relieved the cyclone was not circling them. It came like a wave, there was a push and pull but they were worried about it travelling in a circle, like the devastating cyclone Aila which hit in 2009.
"It was good to see Shushulan was able to help people understand their lives were more important than property. Everyone knew his name and understood the instructions he gave. Their property had been damaged, but lives were saved. During cyclone Aila, thousands of people died in the same area. People are much better prepared now.
"The day after the cyclone, many women were fetching water from the Oxfam water station. The sea level is rising, so the ground water is becoming salty and the cyclone made the water salinity worse. 35-year-old Nasima, told me there was no drinking water in her house. She walked two miles to get to the Oxfam water station.
"After a cyclone, it is dangerous to use the water. I really think this is such an awful situation. People can't grow crops; they can't drink or use the water. It's not only the local village benefitting from the Oxfam water station, it serves five to six villages. It's reaching a lot of people.
"People were embracing each other, talking to each other, their houses were flattened, they were like, 'OK, we will manage it.' It shows they have the community support. Previously if you went during the floods, people were very concerned about their houses or possessions. I saw this time they were very conscious of the children and elderly people."
A tiger can swim to your house in five minutes
"In Gola Khali village, in Ramzannagar, 80% of people lost their homes. People were too overwhelmed to speak. Another problem is the wild animals. A tiger can swim to your house in five minutes. All of their houses are made of mud or bamboo. They are very poorly built, because they are very poor. So, the problem is there was only one fence the villagers had to protect themselves from the tigers. It was broken. And their houses were broken. So, not only were they fearing the salt in the water, they feared the tigers. The local guards told me that the wildlife was also in danger because of the cyclone."
The men were in the jungle
"Men were not around when the cyclone hit, the men were in the jungle. All of the men are fishermen. They catch crabs or other kinds of fish. They are always in the jungles in the river or collecting honey. The men told me during the cyclone, the mangroves are safe, but the rivers and sea are not safe. There are some trees and highland inside the mangrove forests where they gather together. They know places to shelter.
"In Gabura, all the women were telling me they did not leave their houses, they told me they needed permission to leave their houses; otherwise they would have been punished. The Oxfam partner organisation went to them to advise them to go to the shelter.
"The day I left, some men were still missing. I read in the local newspaper over 100 men are missing. I met a couple of families who are still waiting for their husbands – they have no idea where they are. It was two or three days and they had no idea still.
"When the men go fishing they can be away for several days. They go in groups to catch fish. They go to the 'city' – village city. They sell things, collect money, and then they come home. They can be away for three to four days. The women are left to look after the households."
The bravery and strength these people have is unimaginable
"These communities are used to natural disasters. They are ready for the 'worst scenario.' It's not right, but the bravery and strength these people have is unimaginable. I cannot forget 45-year old Rahela. She said to me, 'I don't have time to talk to you, if you want to talk, follow me.' Her house was damaged. Her brother-in-law was fixing the house. Her husband Sobed Ali is very sick; he is 85 years old and was attacked by a tiger some years ago. He used to be a fisherman. They couldn't go to the shelter, because she could not lift her husband."
Fabeha Monir/Oxfam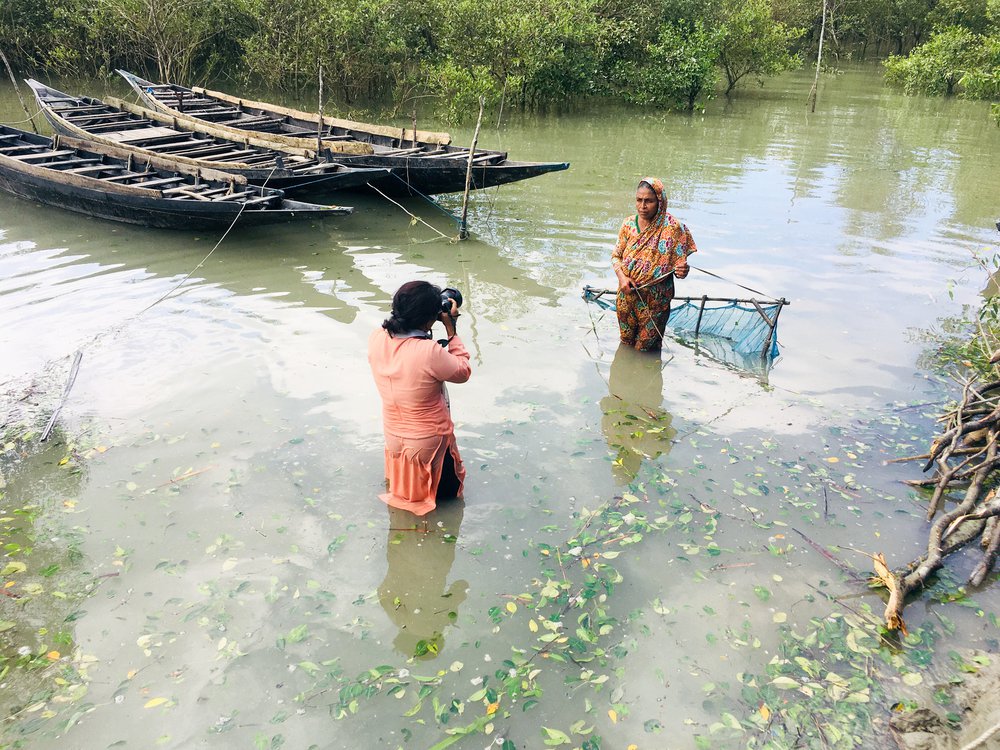 "I saw that the family had nothing at home, everything was gone. Rahela went with her fishing net into the river. I followed her, I wanted to capture her work. She was not able to get enough fish and she was telling me, 'I don't know why we don't get enough fish now. Why, we don't know.' That's when something really clicked: climate change is real. These people are still dependent on water resources, rivers and seas, they always believe even if they lose everything, the water will always be with them, they always believed that. But now, they are not even getting enough fish. Why is this happening? What is the reason?
"Rahela caught a few fish and we came back together. She sat with me and told me 'I don't have anything at home, my house is broken, but I have to feed my husband and my children, so I have to work.' This is the resilience of these people. They know where to pick up their battle and they move on. That's the beauty of their survival, I think."
The people I met don't understand climate change and how it's connected globally. But everyone was saying one thing – we don't know why this is happening very frequently, very regularly.
"The thing is, the people I met don't understand climate change and how it's connected globally. But everyone was saying one thing – 'we don't know why this is happening very frequently, very regularly – what is happening with us? Why is God punishing us? This has never happened before'. This is how they explain climate change. They don't understand global warming. People ask, 'why are we experiencing cyclones? Why are we experiencing floods? Why they are hitting us one after the other?' These are their questions."
During cyclone Bulbul, more than 200mm of rain fell in places, coupled with an extreme storm surge and winds reaching 75 miles per hour. Across Bangladesh, 2.1 million people were relocated to cyclone shelters, but 4,000 houses were damaged or destroyed. About 5,000 trees were brought down in the Sundarbans – the world's largest mangrove forest.
We still have time. We can still do something.
"I really want to show hope. Maybe these images are devastating, maybe it's very distressing for some people to see this reality, but there is hope. We still have time. We can still do something.
"These people haven't left their villages, they haven't left their islands, they are still there, they are still fighting. So, it's still our duty to help them; still our duty to stand by them. We can help them to stand there and face it together. We can help them to rebuild their lives. This is what I want with these images, to bring some change to their lives."
Sign up to our e-newsletter to find out how you can help communities facing the impact of the climate crisis.