How we can help climate change in Pakistan to do less damage
A year on, Pakistan is still coming to terms with the catastrophic floods of 2022 that took lives, destroyed infrastructure, cropland, and forced millions out of their homes and villages.
Those living in the worst-affected regions are still living in tents, lack access to clean drinking water, and, in some areas, water has only just receded. Some farmers have missed a sowing season because of inundated fields.
Meanwhile, climate change continues to wreak havoc in the country.
Pakistan Meteorological Department reported temperatures soaring up to 50 degrees Celsius in parts of the country in June 2023, and these temperatures can lead to early crop maturity, lowering plant yield and increasing food insecurity. The rain spells also led to deaths, urban flooding, damaging infrastructure and disrupting life.
In the same month, both India and Pakistan prepared to face a strong cyclone, which brought with it rains, winds and high sea levels. Fishermen and those living close to the sea in both countries, already leading precarious lives, were ordered to evacuate amidst fears of extreme damages resulting from its landfall.
Climate change causes flooding in Pakistan. Here's what we can do...
What is flooding and why is climate change to blame?
Globally, as temperatures rise, there is a higher chance of rainfall.
In a podcast by Oxfam in Pakistan's Humanitarian team, geography and water expert Professor Dr. Daanish Mustafa explains the science behind flooding.
He explains that as the ambient temperature of the air increases, it has more capacity to hold vapour. Convection becomes stronger with a rise in temperature, and stronger convection means more capacity in the atmosphere to hold moisture - more moisture in the atmosphere, means more precipitation.
Heavy rain over a short period of time can lead to flooding. In Pakistan, a country with a fragile economy, climate change induced flooding is difficult to manage because of poor water management, weak ecological governance, and slow early warning systems.
How does climate change cause flooding in Pakistan?
Pakistan is witnessing extreme weather events such as Glacial Lake Outburst Flood (GLOF) and a change in rain patterns, such as sudden, heavy rains. GLOF and heavy rainfalls are directly linked to climate change.
Then why is the country water-stressed?
Pakistan is water-stressed because lack of plantation, limited water storage facilities and over-use of surface and groundwater by agriculture and other industries does not allow the recharge of groundwater.
''Plantation restricts heavy flow of water and if we build small check or earthen dams across the country, we can store more water and utilise it," says Harpaal Kumar, Water, Sanitation and Hygiene (WASH) Specialist at Oxfam in Pakistan.
"For example, for hydroelectric power generation. However, we have reached the capacity of surface and groundwater sources, our big dams are filled with silt, and frequency of cloud bursts has increased with climate change, so chances of flooding increase as water table remains high.''
Pakistan flooding facts
Floods cause destruction, but causes and mitigation are different for different flooding types.
The most common types of floods are:
Rain or fluvial floods which is when water levels in rains or lakes rises and overflows.
Pluvial floods which occur when drainage systems are strained, causing overflows and leads to surface level flooding and flash floods, which is when there is heavy rain in a short amount of time. Both these instances can cause urban and rural flooding.
Coastal floods which occur when high wind and storm like a typhon or hurricane to push water on land. Coastal cities and villages are vulnerable in this case.
In Pakistan, rain and pluvial flooding is common. The country has witnessed multiple super fluvial floods in its history. Ever since 2010, when there was a major flooding event, the country has experienced flooding almost every year with another major event in 2022.
Climate change flooding in Pakistan map
NASA Earth Observatory images by Joshua Stevens, using Landsat data from the U.S. Geological Survey and VIIRS data from NASA EOSDIS LANCE, GIBS/Worldview, and the Joint Polar Satellite System (JPSS).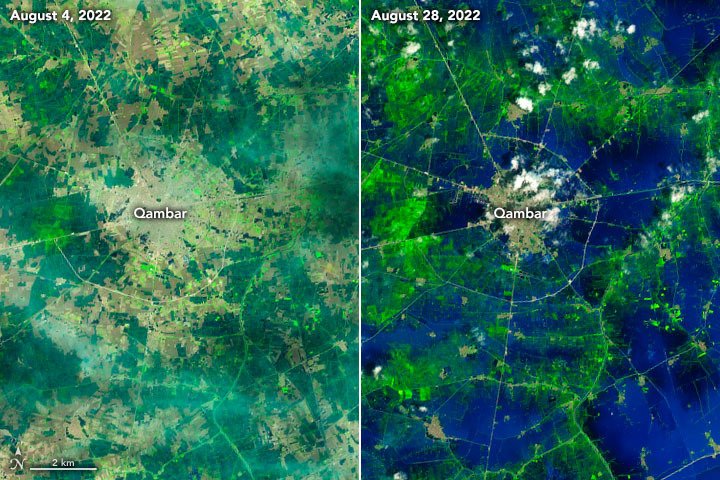 How are Oxfam in Pakistan partners helping stop climate change and flooding in Pakistan?
Oxfam launched its Humanitarian Response in Pakistan in September 2022. The interventions are being done through local non profits and follow Oxfam's partner led philosophy. The response covers 7 districts in Sindh and Balochistan.
The following are the 6 key principles of the approach:
Oxfam Partnership Strategy Principles
Shared vision and values
Complementarity of purpose and value addition
Autonomy and independence
Transparency and mutual accountability
Clarity on roles and responsibilities
Commitment to join learning
Oxfam is partnering with local organizations
Strengthening Participatory Organization (SPO)
Management and Development Foundation (MDF)
Laar Humanitarian Development Programme (LHDP)
Sindh Agricultural Forestry Workers & Coordinating Organization (SAFWCO)
Women Rights Organization ARTs Foundation
Women Rights Organization SHADE

Parallel to the interventions, Oxfam is also building the institutional capacity of the organizations with trainings, and support in financial management, monitoring anti-fraud and corruption, and advocacy work.
In April, Oxfam began influencing work on climate and gender justice with three partner organizations, SPO, Indus Consortium and Sustainable Policy Development Institute (SDPI).
Under its Food and Economy Security (FES) interventions, Oxfam and its partners are reducing the threat of climate change and flooding with
Focus on plantation: Through its cash-for-work intervention, labourers, farmers and community members are being incentivized to grow local plant species.
Promoting use of Alternate Wetting and Drying Tube (AWD), a water saving technology, for agriculture
Creating awareness on Good Agriculture Practices for cotton and rice production and Farmer Field Schools (FFS)
Under Water, Sanitation and Hygiene (WASH), the threat of climate change and flooding impacts are being reduced through:
Constructing WASH infrastructure (hand pumps and latrines) on raised platforms to avoid damage in future flooding events
Constructing sealed septic tanks so sewerage water does not seep into water during flood event
Environment health awareness to community during hygiene sessions such as awareness on solid waster water management, draining of stagnant water and village cleaning campaigns
Images of flooding in Pakistan captured by Oxfam partner organisation ARTS Foundation in Sindh, Pakistan.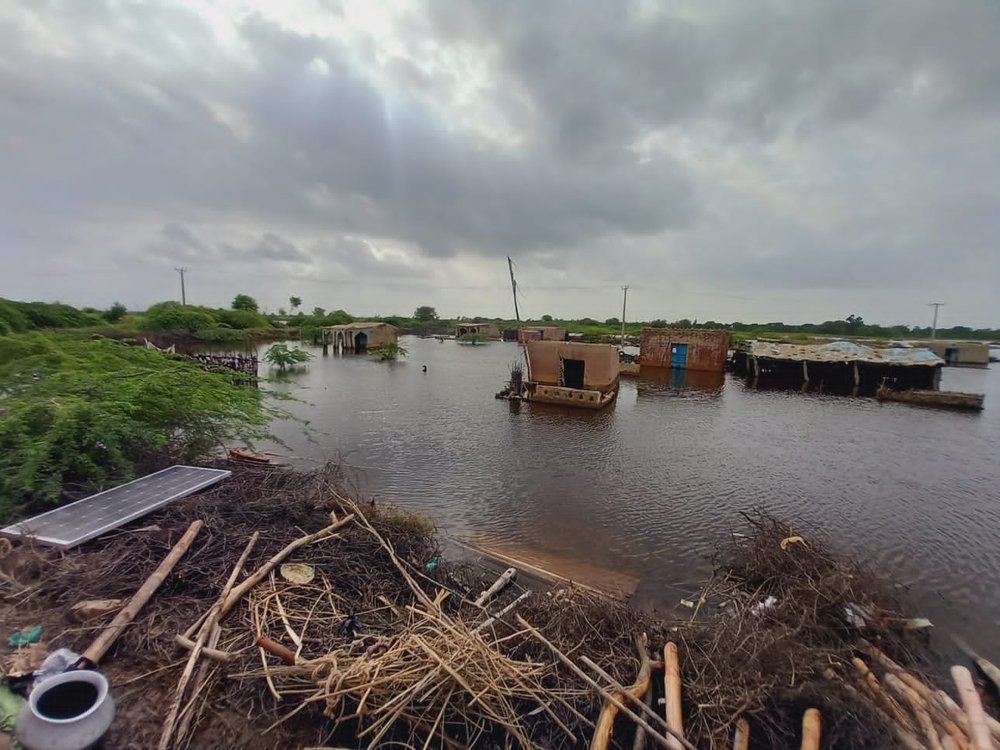 We are pleased to enter a partnership with Oxfam on advocacy. International NGOs do play a critical role in emergencies, but local organizations have a much better understanding of the ground context, issues and ways to tackle them. INGOs have better systems for financial and project management, and when organizations like Oxfam impart that knowledge, it really brings transformative change in local partners"

Dr. Shafqat Munir, Programme Manager of Partnership Influencing Climate Resilience Agenda (PICRA) (OIPs climate advocacy influencing project).
How can I help stop climate change and flooding in Pakistan?
You can play a role in reducing the impact of climate change and flooding in Pakistan.
There are different ways to do this; you can donate to the flood response operation or take part in advocacy actions to raise awareness on carbon emissions, environmental health and climate change.
Take Action Against Flooding
Climate justice is a struggle where multiple, diverse voices can bring change, because it affects so many of us, in so many ways. This is our planet, our home, and its protection is our collective responsibility.
You can take climate action now!
References