This campaign resonates very much in my heart, because it is very powerful. It is an indescribable emotion to be part of this global space, defending our activism.
Maintaining hope in this climate crisis
What moves me to be here is hope, but I am also aware that we cannot live only on emotions and hopes. I have the opportunity to demonstrate my capabilities, and the work I have developed in recent years in defence of nature, with high and low points, but with much sacrifice for wanting to improve and change things that are happening around me.
I see this campaign as a way to go further as an activist."
I feel that this great challenge is like climbing the 1000 meters of the mountain that I had hoped to climb a long time ago. It is the greatest opportunity, not only personally but also collectively, to be able to positively inspire other activists in the jungle, throughout Peru and across Latin America, to demonstrate that we are prepared to face the enormous challenges we have as a human species, and at the same time, to maintain hope in the midst of this climate crisis.
I believe that the "polluter pays" concept is not new. For many years, before our attention was focused on the climate crisis, the rise of extractive industries has been destroying nature and at the same time destroying people."
A context where the dominant economic class violently seized rubber
I want to talk to you a little about the "Rubber Era", dark years where there was no global awareness of these acts, no reparation for the violence and massacres, and no recognition of all that damage by those responsible. At the end of the 19th century, the most dominant economic class, the Global North, seized the natural latex (rubber) from the forests of the entire Amazon because the market demanded them to manufacture tyres for the first industrial series of cars. A knife was worth more than 2 people, a sack of salt or sugar was worth more than 5 people; people, mostly from indigenous communities, were treated worse than animals.
Speaking to the billionaire polluters who inherited wealth stolen from us
The level of violence towards nature and people was so high that many Latin American societies are ashamed of the rubber era, as there were indigenous communities that were annihilated. But others fled and resist until today. In our current context of the climate crisis, Making the Polluter Pay is not only a vindication of this moment, it is clearly a cry of centuries of injustice and abuse to nature and people.
Leslie Searles/Oxfam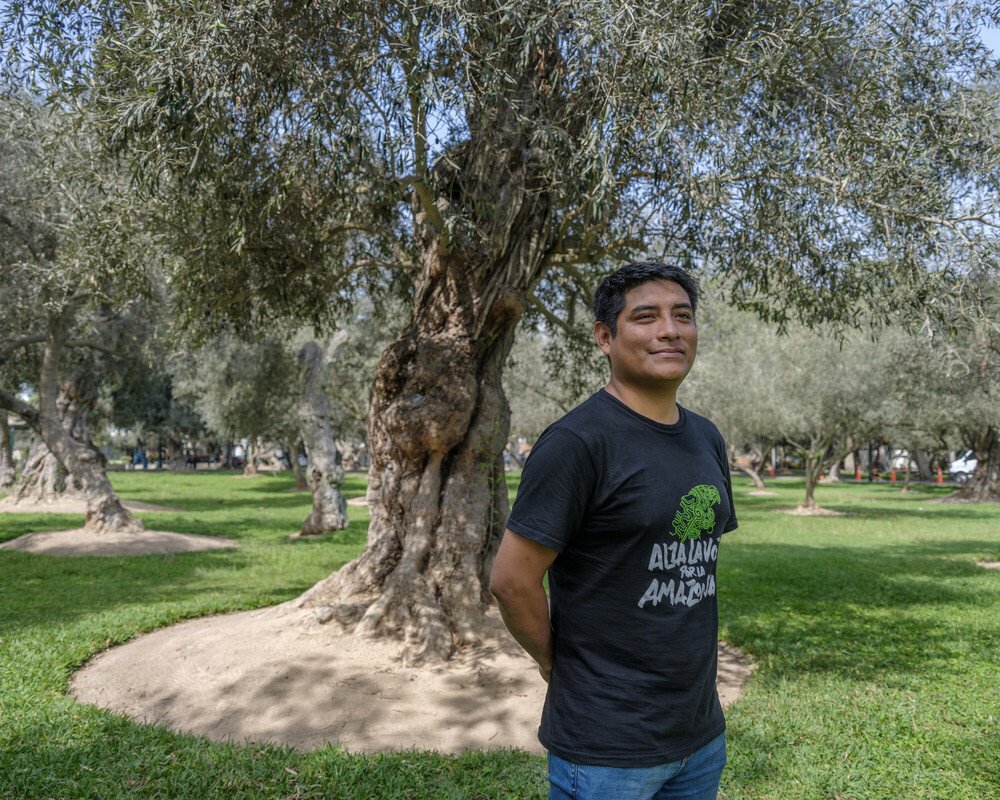 This campaign allows us to speak to these intergenerational and intergeographical injustices. That is why I am involved in this campaign. The billionaire owners of our world, who inherited wealth that was stolen from us, are now also responsible for the situation we are in; a situation that the countries of the Global South never sought. They appropriated resources, they built empires, it was gold, it was silver, it was rubber, now it is oil and gas.
Making the Polluter Pay in this climate crisis
Making the Polluter Pay is the most coherent way to explain the historical crisis we face, because it highlights our call to action and who is responsible for this situation.
Pavel Martiarena is an activist and photographer from Madre de Dios*, where he fights against extractivism in the Amazon region. He is co-founder of "Generación Verde", a collective that is part of Oxfam's Actua.pe platform, with them he won the 'Raise your voice for the Amazon' contest. Pavel also leads various spaces working with indigenous youth.
Leslie Searles/Oxfam