Coming from my country Uganda, climate activism is not a choice, it's a daily struggle. As someone impacted by climate change, I decided I had to stand up, speak up and represent my community in the face of climate change.
We should not have to suffer a crisis we did not create
My country Uganda contributes barely one percent of greenhouse gas emissions but we suffer the brunt of the climate crisis: from rising temperatures, droughts, mudslides, landslides which are claiming people's lives. Every month 10 people die because of climate impacts. We should not have to suffer the impacts of a crisis we did not create.
Our grassroots climate activism
We carry out climate education in schools, in communities at the grassroots, we influence policy on both local and global level. We create activities to engage people such as Clean-ups; birthday tree planting; Mock COP events; and we work with 100 farmers to start up their own vegetable kitchen food gardens and awareness of climate change.
We train fellow activists to present their views to world leaders and pressure them to prioritise climate action and for big oil companies to know that there is a link between humanity and nature and this link is strong. Humanity can only survive if we protect our environment. They should keep fossil fuels in the ground.
Hilda Flavia Nakabuye, climate activist. Photo: Emmanuel Museruka/Oxfam
My ambition is to achieve climate justice, where communities are sustainable and liveable for people. My call to action is for everyone to stand up, speak up and join the campaign to Make Polluters Pay."
The Make Polluters Pay Campaign
For me, the campaign to Make Polluters Pay meshes really well with my existing activism. It's something I see aligned with my own work and in that way, I see that my involvement in the campaign will help my activism and work in Uganda.
I've been involved in campaigns against fossil fuel extractive companies.
Big Oil companies need to put people above profits. For humanity to have a chance of survival, we need to leave fossil fuels in the ground. We need to phase out fossil fuels and invest in renewable energy. And change our consumption and lifestyle behaviours, promote green practices.
Hilda taking part in a clean up sessions in Lake Victoria. Photo: Emmanuel Museruka/Oxfam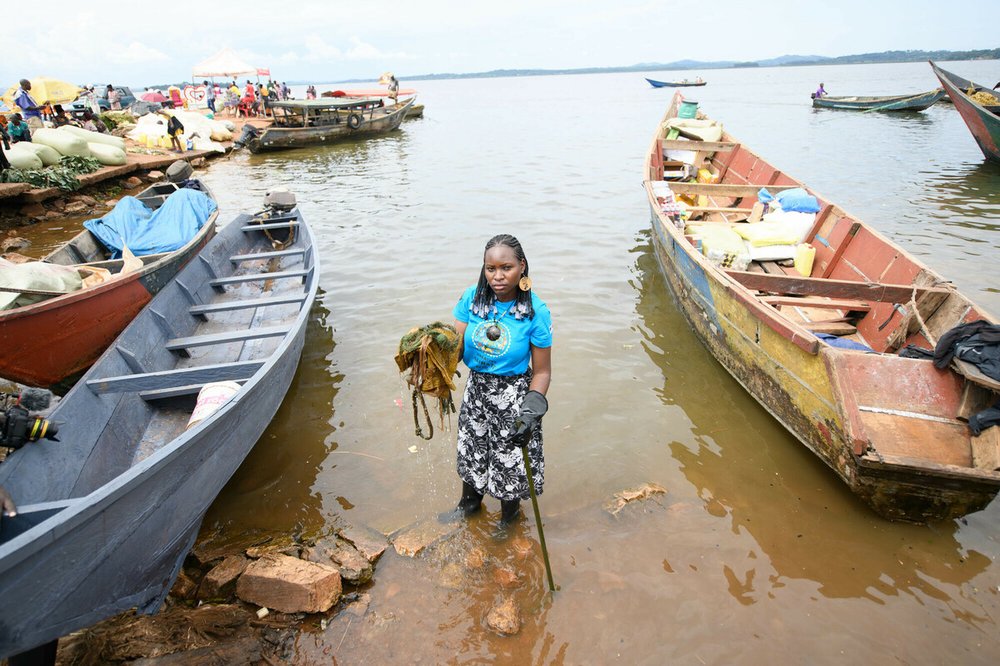 The climate crisis in Uganda
In Uganda, the climate crisis is the greatest threat. The country suffers from heat waves, frequent floods and prolonged droughts. Subsistence farmers in the villages are threatened by famine and commercial farmers make a financial loss.
The surface water of Lake Victoria, the second largest freshwater lake in the world, is also warming up at a very high rate. That threatens many people whose lives depend on the lake."
The only way to create change is to be part of it
These are just a few examples of climate damage: damage caused by climate change. I realised that human behaviour caused these problems.
I began to read more and more about climate change and came across a statement by climate activist Greta Thunberg: "The only way to create change is to be part of it."
I did my first strike all alone, sitting in front of Kampala International University, where I was pursuing a bachelor's degree. People didn't really get what I was trying to do but I kept at it. Several strikes followed. People began to get curious and engaged, wanting to know what I was doing. I shared with them about Greta and climate strikes in other countries. I talked to them about climate change and why governments and people need to take action in Uganda and across the world.
Emmanuel Museruka/Oxfam