I come from a community and a country that is at the frontlines of the climate crisis, and I've seen first-hand the disproportionate impacts of the climate crisis on our people and our natural ecosystem.
Our climate challenges are not our own doing
Our economies are small, our islands geographically isolated, and most of the climate-induced challenges we experience are not from our own doing but have been caused by rich industrialized countries in the Global North. Therein lies the injustice.
the burden is felt and funded by the people most affected
Part of my work has been to hold these governments accountable. It's important to build resilience for Pacific communities, and that needs resources so that communities are able to protect themselves, mitigating and adapting to the impacts of climate change.
Our economies in the Pacific are also struggling with debt crises. Our governments have had to continuously invest in recovery and rehabilitation after every worsening disaster which we know has been caused by climate change and global heating. These disasters are becoming more intense and more frequent, and the burden after disasters is now being felt and funded by the people most affected.
Funds needed for social welfare are spent on rebuilding after climate disasters
The government hasn't got the fiscal space to provide funding for recovery, so it is allowing people to access their pension fund – legally required of any employer and employee – irrespective of where you work you have to make a monthly deduction to Fiji National Provident Fund. Usually, people can use it for things like education, building new homes, and funerals, but now we are seeing that it's being used as a way for people to rebuild their homes and livelihoods after disasters. So, the burden is being transferred to the people who have contributed little to the issue, and if this continues on, they won't have a social net to fall back on when they retire. We're also seeing the redeployment of government funds that should have supported social welfare, education, poverty alleviation, or health, now being used to rebuild big infrastructural damages after a climate-induced disaster.
With the Make the Polluter Pay campaign – I hope to be able to hold rich, industrialised, and large emitting and polluting countries and companies accountable."
If funds flowed to frontline communities
I want to see funds flow to frontline communities so they can reshape their present and future. I want to address the injustice that many communities and people are experiencing in this part of the world.
I come from a coastal community where we witnessed first-hand sea level rise and the impacts of Cyclone Winston in 2016. This was the strongest tropical cyclone to make landfall and wiped out two-thirds of my country's GDP. In the village where I'm from, 75% of homes were fully or partially damaged. Crops were wiped out and in the aftermath, people were heavily reliant on food aid, living in tents for months and their livelihoods disrupted.
I've seen first-hand the experience of these communities in dealing with the climate impacts."
Addressing climate change alongside inequalities and injustices
I've been humbled and fortunate enough to travel across Fiji and the Pacific. I've seen first-hand the experience of these communities in dealing with the climate impacts. I was working in the human rights space and saw the increase in gender-based violence, discrimination, stress, trauma, loss of jobs, and more. This has shaped my work in the climate space to ensure that when we address climate change, that we are also addressing these inequalities and injustices.
Rob Rickman/Oxfam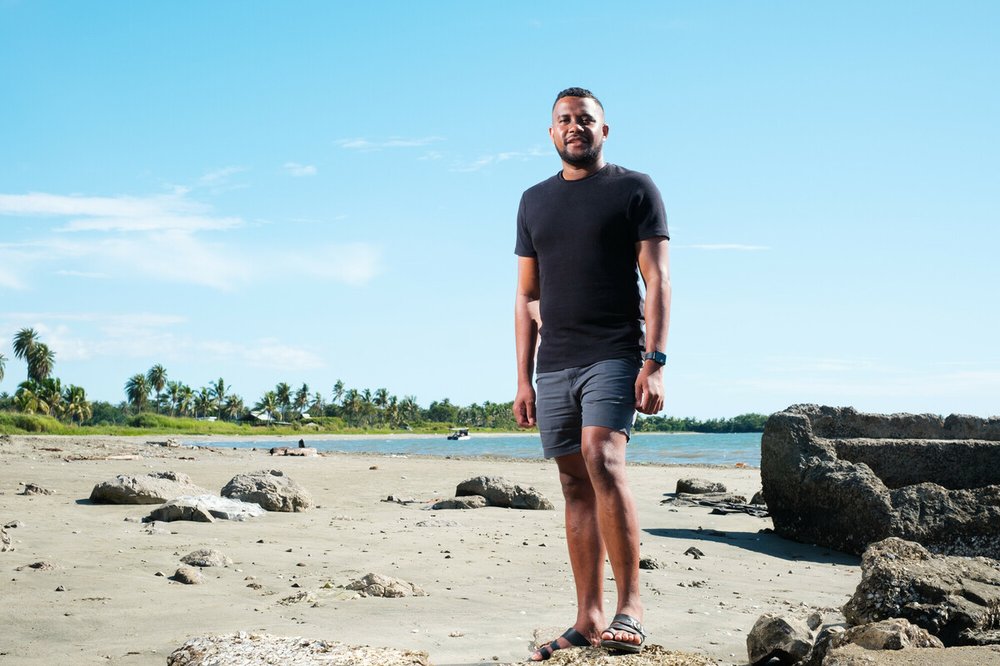 The strength and hope of communities
After Tropical Cyclone Winston, people with sexual orientation, gender identities, and or expressions (LGBTQI+) were blamed for the disaster, and harmful religious narratives spread to vilify these groups, even though they are already one of the most marginalised groups. We will continue to see these kinds of trends as the climate impacts become worse.
Those intersecting injustices and inequalities are why I do this work. But it's also because I'm inspired by the resilience of the people – seeing their strength and hope is also what makes me do this work, and this is why I try to get as many resources flowing to these communities.
Lavetanalagi ('Lagi') Seru is based in Fiji and has a background in youth development and human rights. He is a policy expert in humanitarian response in the Pacific, is the co-founder of the Alliance for Future Generations and currently works for the Pacific Island Climate Action Network (PICAN)
Rob Rickman/Oxfam