Elena Heatherwick / Oxfam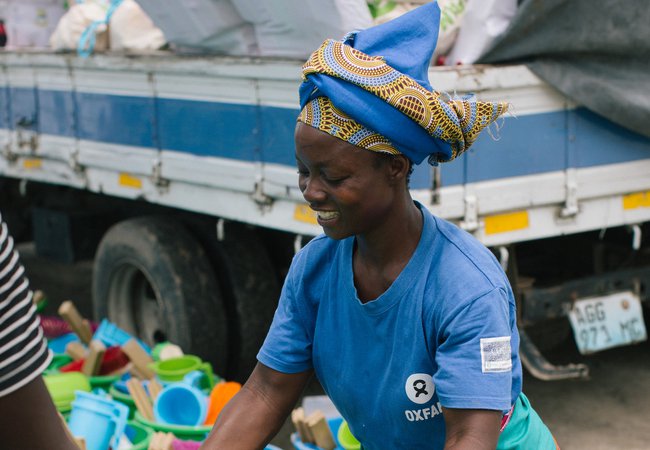 About our partners
From small farming co-operatives to large multinationals, we work with a variety of organisations to help fight poverty around the world.
We know from decades of experience that by working with others — and pooling our expertise and resources — we can achieve much more than we ever could on our own. That might mean working with small, grassroots organisations that have a better understanding of the local context, or joining with other international non-governmental organisations (NGOs) to reach greater numbers of people with our campaign messages.
In summary, our partners include:
Local project partners
Currently, we're working with more than 1,000 partner organisations on our projects worldwide. These are the local NGOs, producer groups, co-operatives and small businesses who understand the issues that keep local communities trapped in poverty. Throughout, our aim is to build local skills and experience, so communities can be in control of their own lives. 
Campaigning allies
To get our campaigning issues in front of the largest possible audience, we work with a whole range of campaign partners. These include environmental and humanitarian NGOs, unions, faith groups and celebrities. For example, the Robin Hood Tax alliance includes charities such as Barnardo's and Friends of the Earth, plus all the major trade unions and faith organisations such as the Salvation Army. 
Corporate partners
Whether it's a small business supporting a specific project, or a larger company looking to give something back, we work with a range of businesses in the UK and worldwide. There are a variety of ways companies help us: through staff fundraising (for example, payroll giving); commercial partnerships (when the company donates a percentage of their income); by arranging for staff to donate their unwanted items; or by donating 'gifts in kind' (for example, flights for aid workers to get to a disaster zone). 
Institutions and governments
We also work closely with, and receive funding from, institutions and governments, including the UK's Department for International Development (DfID), the European Union and the United Nations. In 2010/11, more than 40 institutional donors contributed an all-time high of £173.5 million to our projects worldwide. And, in a year of large-scale disasters including flooding in Pakistan and the Haiti earthquake, institutions contributed a total of £115 million to our humanitarian responses.
Suppliers
Our suppliers deliver the wide range of goods and services we need to support our emergency, development and campaigning work.  We have over 3000 suppliers in the UK, and many more based near to our overseas programmes. Using local suppliers helps us keep operational costs down and supports local economies.