Mohamed Nagi / Oxfam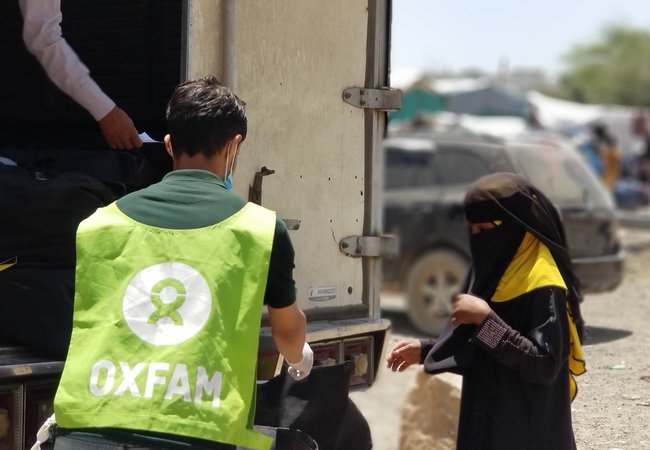 Information for suppliers
Our suppliers in the UK and overseas deliver the wide range of goods and services we need to support our work, including humanitarian supplies, goods for resale in our shops network, corporate supplies, IT, marketing services and much more.
Ethical purchasing
In line with our organisational beliefs and values, we only work with suppliers who share our commitment to ethical purchasing.
We seek to purchase goods and services that are produced under labour conditions that meet the Ethical Trade Trading Initiative's Base Code (ETI) and therefore mitigate and provide redress for any abuse or exploitation of any person. We also seek to work with suppliers who have the most positive impacts and seek to minimise their negative impacts on people and the environment.
Prospective suppliers should first read our Ethical and Environmental Policy and our Anti-Slavery policy which set out OGB's standards for our own operations, our supply chain and implementing partners.
Offers of goods and services
For Procurement Goods and Services
If you believe you have goods or services that could benefit Oxfam, please drop us an email and we will keep you on record for future reference.
For Retail Goods
The Sourced by Oxfam (SbO) team buys all the new products we sell in our online and UK shops. The 'SbO Ethical & Environmental Supplier Framework' applies learning from Oxfam's global programmes and engagement with businesses to guide our everyday retail sourcing decisions. The framework enables us to be more transparent about how we work with our suppliers and outlines what Oxfam considers good practice to deliver sustainable, positive impacts for the people working in our retail supply chain. The framework is helping us to learn from, celebrate and share good practice already demonstrated by our suppliers and we are using it to incentivize our suppliers to work with us to raise ethical and environmental standards in our supply chain over time.
Using Oxfam's framework to guide our conversations, both with Oxfam's sourcing team and with the factories we source from, has really changed how we think things through. Just the other day I was at a conference where I was asked to speak about how we manage our ethical risks and I spoke with confidence in front of so many companies. I would never have felt so confident before! I got so much great feedback from my peers, because they are all trying to figure out how to do what we are doing. The pandemic has accelerated that change and more of our customers are asking."

Sourced by Oxfam Supplier
To discuss the SbO Ethical & Environmental Supplier framework or for resale in our charity shops, email support@oxfam.org.uk
Please note, due to the volume of enquiries we receive we are unable to accept phone calls regarding supplier enquiries and we would kindly ask that you do not contact us to follow up on your offer.  We will, however, review all offers of products or services when our contracts with existing suppliers need renewal.